DANCE STUDIO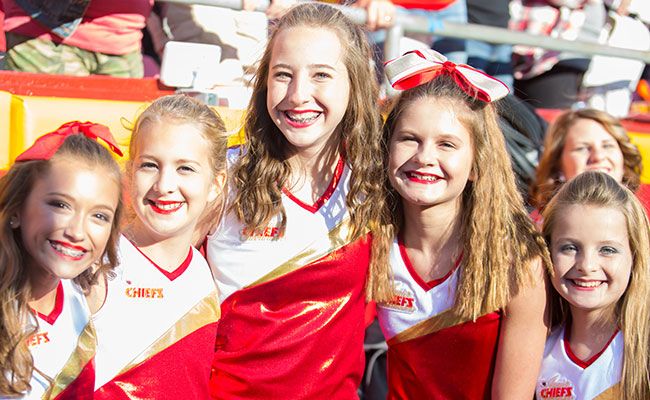 Dance Studio Junior Chiefs Cheerleaders
Be The Exclusive Jr CC Training Center In Your City
Half-Time Arrowhead Performance
Children, Ages 6-17! (Note: Must be 6 years old by 9/1/19)
Dance Studio Owners
You will be the exclusive studio in your city to offer this incredible opportunity to be a Kansas City Chiefs Junior Chiefs Cheerleader. Administered strictly through your studio, your dancers will have the opportunity to perform at Arrowhead Stadium in front of 78,000 fans.
Two Chiefs Cheerleaders will travel to your studio to train your dancers on cheer dance skills and prep for their performance. Students receive a link to instructional materials to rehearse routines at home.
Jr CC Studio Program
Receive two chaperone upper level tickets to the performance
Get an Appearance from 2 Chiefs Cheerleaders at your studio that will come and work with your Junior Chiefs Cheerleaders in a 2 hour appearance/clinic
Build camaraderie in this non-competitive performance program
How To Get Started
Sign up to get the exclusive rights in your area. Pay the $750 studio fee to advertise as the official training site in your geographic area and coordinate the program at your studio. (Annual Fee)
Recruit at least 10 students to pay the $270/$170 membership fee
Coordinate coming to Kansas City for the performance and dress rehearsal prior to the game
Student Fees: The 2019 Program will be using the same uniform design as 2018.
Rookie Dance Studio Fee - $270 (receive uniform & poms)
Veteran Dance Studio Fee - $170 (does not include uniform & poms)
Full payment is required before the Junior CC can receive any of the items listed below.
Jr CC T-shirt
Link to instructional material (note: this will not be in DVD format)
Official Uniform (if a Rookie)
Official Pom pons (if a Rookie)
Jr CC Bag
Group Photo with the 2019 Chiefs Cheerleaders (taken at Dress Rehearsal)
Upper level ticket for performer
Game Dress Rehearsal on Saturday, October 12 (NOTE: Performers MUST be at Dress Rehearsal in order to perform on gameday)
Halftime Game Performance at Arrowhead on Sunday, October 13 vs. Texans (NOTE: The Chiefs cannot control if the NFL flexes/changes game times. No refunds will be issued regardless of game time changing.)
While supplies last, tickets are available for purchase for game performance. NOTE: Parents must purchase a game ticket if they wish to see the halftime performance at the game. Seats are limited and first come, first serve. We cannot save or hold tickets. Do not wait to purchase.
2019 Dance Studio Junior CC Schedule:
Register for the 2019 Program: Deadline is August 15
Measurements & Payment due: 8/15/19 (NOTE: In order to have uniforms in time for the performance this date MUST be met.)
Scheduled your Studio Workshop: Month of September
Saturday, October 12, 1-5:30pm (NOTE: This is a mandatory rehearsal.  All performers must attend this rehearsal in order to perform on gameday.)
Sunday, October 13 vs. Texans – Game Day Performance!
NOTE: All registrations are final. NO refunds will be issued.
IF YOU HAVE QUESTIONS: E-mail: chiefscheerleaders@chiefs.nfl.com or call 816-920-4847
TO REGISTER CLICK ON THE LINK BELOW