TEEN CHEERLEADERS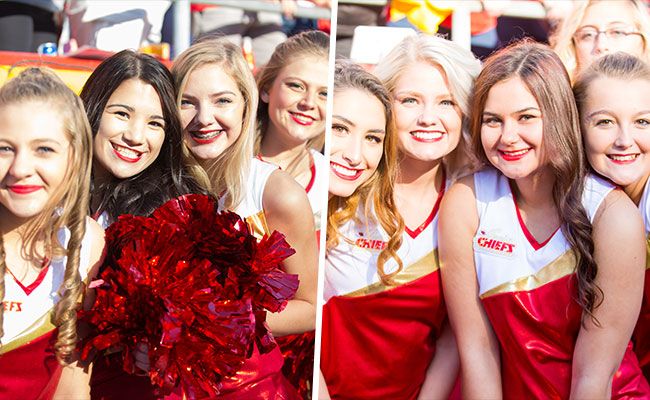 This is a one-of-a-kind opportunity for children ages 13 – 17. Be a part of the famous Teen Chiefs Cheerleaders! Have the time of your life making friends, performing and hanging out with the 2018 Chiefs Cheerleaders once a month from June through November. No tryouts are necessary. Let your child participate in a fun and non-competitive environment.
Cheer At Arrowhead! Jr CC offers a rare opportunity for children to perform/participate during a halftime show for over 78,000 Kansas City Chiefs fans at Arrowhead Stadium. The Jr CCs are scheduled to perform when the Chiefs face the Texans on October 13!
Monthly Clinics: Teen CCs meet one Saturday a month, from June through November, for an incredibly fun, energetic 2 ½ hour clinic taught by the 2019 Chiefs Cheerleaders. Dress rehearsal at the Chiefs Indoor Practice Facility with the Chiefs Cheerleaders is also included before the Arrowhead Stadium performance.
Be a Mentor! Teen CCs have a unique opportunity in our program. They have the opportunity to learn and become role models for our Jr and Angel CCs. The Chiefs Cheerleaders will work with the Teens at being good role models and leaders to our youth. Teens will be invited to help with the Angel Picnic and Angel Halloween Party.
Instruction and Supervision: Program coordinated by Chiefs Cheerleaders. Parents do not stay for class or dress rehearsal.
Location: The 2019 JRCC practices will take place at a convenient YMCA location close to you. The three locations include Blue Springs, Olathe, and Parkville. You pick the location! The Dress Rehearsal will be held at the University of Kansas Health Systems Training Facility (Chiefs indoor practice field).
Registration and Membership Fees: The 2019 Program will be utilizing the same uniform design as the 2018 season. If you are a returning Teen CC from 2018 and your uniform still fits, you will register as a "Veteran" and will not receive a new uniform or poms for the 2019 season. If you are new to the Teen CC program and/or you need a new uniform, you will register as a "Rookie" and will receive a uniform and poms for 2019.
Rookie Teen Chiefs Cheerleader Fee - $345 (receive uniform & poms)
Veteran Teen Chiefs Cheerleader Fee - $220 (reuse 2018 uniform & poms)
Full payment is required before the Junior CC can receive any of the items listed below.
Official Uniform
Official Pom pons
Jr CC practice t-shirt
Jr CC bag
Group Jr CC photo (to be taken at Dress Rehearsal)
Monthly Practice – Cheer and dance technique, performance rehearsal, manners, poise, speaking, organization and teamwork all taught by the 2019 Chiefs Cheerleaders
Autographed poster of the Chiefs Cheerleaders
Link to instructional material (note: this is not in DVD format)
Game Dress Rehearsal on Saturday, October 12 (NOTE: Performers MUST be at Dress Rehearsal in order to perform on gameday)
Halftime Game Performance at Arrowhead on Sunday, October 13 vs. Texans (NOTE: The Chiefs cannot control if the NFL flexes/changes game times. No refunds will be issued regardless of game time changing.)
While supplies last, tickets are available for purchase for game performance. NOTE: Parents must purchase a game ticket if they wish to see the halftime performance at the game. Seats are limited and first come, first serve. We cannot save or hold tickets. Do not wait to purchase.
2019 Junior CC Schedule:
Saturday, June 22 – Class # 1: 1-3:30 pm
Saturday, July 27 – Class #2: 1-3:30 pm
Saturday, August 17 – Class #3: 1-3:30 pm
Saturday, September 28 – Class #4: 1-3:30 pm
Saturday, September 14 – Picture Day (optional) Scheduled times between 8-10:00am
Saturday, September 14 – Help with the Angel Picnic 11–12:30pm
Saturday, September 28 - Class #4: 1-3:30pm
Saturday, October 12 – Dress Rehearsal 1-5:30pm
Sunday, October 13 – Game Day Performance!
Friday, October 18 – Help with the Angel Halloween Party 7-8:30pm
Saturday, November 9 - Class #5/End of the season party 1-3:00pm
NOTE: For the Olathe Location Only, Teen Class will be from 1:30 – 4:00pm.
Questions: E-mail: chiefscheerleaders@chiefs.nfl.com or call 816-920-4847
NOTE: All registrations are final. NO refunds will be issued.