TEAM HISTORY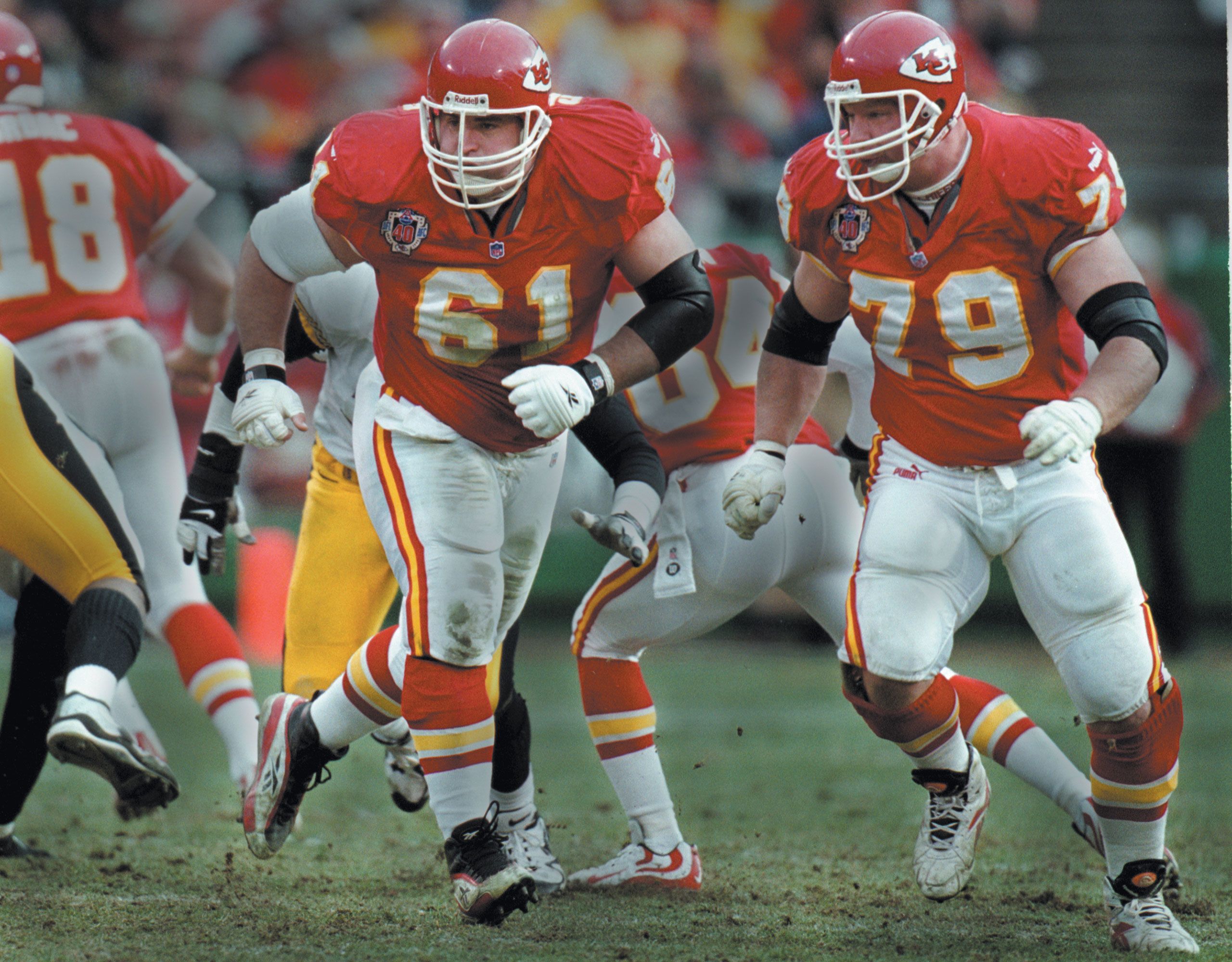 1990
The foundation for the club's formidable offensive line of the '90s gathered two key ingredients when C Tim Grunhard (Notre Dame) and G Dave Szott (Penn State) were acquired in the draft. Construction began on the club's indoor practice facility at the Truman Sports Complex, giving the Chiefs an 80-yard indoor field and weight room facilities upon its completion. DT Buck Buchanan was inducted into the Pro Football Hall of Fame on August 4th. The Chiefs made their initial overseas appearance, losing a 19-3 American Bowl decision vs. the L.A. Rams at Olympic Stadium in Berlin, Germany (8/11). Schottenheimer's club got out of the starting gate quickly, winning three of their first four games. The club then struggled, splitting its next six contests.
Free agent RB Barry Word produced a team-record 200-yard rushing outburst in a 43-24 victory vs. Detroit (10/14). Kansas City led the NFL with a franchise-record 60.0 sacks, including a team-record 20.0 by LB Derrick Thomas. Thomas established an NFL single-game record with 7.0 sacks in an inspiring Veterans Day performance vs. Seattle (11/11), a game the Seahawks miraculously won, 17-16, on a last-second, 25-yard TD pass to WR Paul Skansi by future Chiefs QB Dave Krieg. That loss brought on the furious stretch run which saw the club record victories in six of its last seven outings. Behind DeBerg's offensive leadership (23 TD passes with just four INTs) Kansas City finished the year with a franchise-best +26 turnover differential. The Chiefs clinched their first postseason berth since '86 with a 24-21 win at San Diego (12/23) and finished the year at 11-5, marking the franchise's best finish since '69.
1991
The Chiefs suffered a heart-breaking, 17-16 loss at Miami (1/5) in an AFC Wild Card Game as K Nick Lowery's potential game-winning 52-yard FG fell short with 0:56 remaining. On July 27th, K Jan Stenerud became the first pure placekicker to be inducted into the Pro Football Hall of Fame. The Chiefs became members of Wisconsin's "Cheese League," moving their training camp to the University of Wisconsin - River Falls after spending the previous 28 summers at William Jewell College in Liberty, MO. The club's 14-3 win vs. Atlanta (9/1) on Opening Day initiated the 109-game sellout streak at Arrowhead that carried into the 2004 campaign. The Chiefs were featured on Monday Night Football three times, including a 33-6 victory over the defending AFC Champion Buffalo Bills before a raucous crowd at Arrowhead (10/7), marking the club's first home MNF contest in eight years. The club finished the regular season at 10-6, marking the first time since '68-69 that the franchise had qualified for the playoffs in consecutive seasons. A 27-21 victory at the L.A. Raiders (12/22) in the regular season finale gave the Chiefs the right to host the Silver and Black just six days later in the inaugural postseason game in Arrowhead's history. Thanks to six Los Angeles turnovers, the Chiefs registered their first postseason victory since Super Bowl IV with a 10-6 win in an AFC Wild Card Game (12/28).
1992
The Chiefs lost a 37-14 decision at Buffalo (1/5) in an AFC Divisional Playoff matchup as the Bills dynamic offense proved to be too much for the Chiefs. A longtime nemesis with Seattle, "Plan B" free agent QB Dave Krieg was signed as the club's starter on March 19th. A melancholy off-season awaited the Chiefs, who mourned the passing of Player Personnel Director Whitey Dovell on May 22nd and Hall of Fame DT Buck Buchanan on July 16th. Both Dovell and Buchanan lost courageous battles with cancer. Six-time Pro Bowl S Deron Cherry who originally joined the club as a free agent punter, announced his retirement in July after registering 50 interceptions in 11 seasons with the franchise. The Chiefs retired the jerseys of Buchanan (86), LB Willie Lanier (63) and K Jan Stenerud (3) in a ceremony prior to a preseason contest vs. Buffalo (8/24).
First-round draft pick CB Dale Carter (Tennessee) won the Bert Bell trophy as the NFL's Rookie of the Year. The very first time Carter touched the ball in an NFL contest, he registered a 46-yard punt return TD in a 24-10 win at San Diego (9/6). RB Christian Okoye surpassed Ed Podolak as the all-time leading rusher in team history vs. Seattle (9/13). Injuries eventually made the '92 campaign Okoye's last with the Chiefs after he compiled 4,897 rushing yards with the franchise. The club got off to a 3-1 start, but was faced with a 4-4 record at the season's midpoint. Despite four consecutive victories, the club's postseason hopes still came down to the season's final contest. Owning a 9-6 record and needing one more victory to secure a playoff berth, the Chiefs defense tallied three TDs, while Krieg tossed a pair of scoring passes as Kansas City claimed a 42-20 win vs. Denver (12/27) to finish the season at 10-6.
1993
The Chiefs made a quick exit from the playoffs as Krieg was sacked 7.0 times in a 17-0 AFC Wild Card loss at San Diego (1/2). The Chiefs spent the off-season installing the "West Coast" offense under the direction of new offensive coordinator Paul Hackett, who at one time served as QBs coach to Joe Montana in San Francisco. On April 20th, the Chiefsjoe montana marcus allen traded for Montana, who directed the 49ers to four Super Bowl victories. G Will Shields (Nebraska) was selected with the club's third-round draft choice, rounding out the "law firm" of Grunhard, Szott and Shields which anchored the interior of Chiefs offensive line for most of the decade. On June 9th the club signed another future Canton enshrinee, inking unrestricted free agent RB Marcus Allen, who had spent 11 seasons tormenting the Chiefs as a member of the Raiders. Montana and Allen made their debuts in a 27-3 win at Tampa Bay (9/5), marking Montana's first Opening Day appearance since '90. Shields initiated a franchise-record streak of 175 consecutive starts the following week at Houston (9/12). Thanks to a pair of Monday Night Football wins at Arrowhead, the club owned a 6-2 midseason mark. Before taking the field in a Sunday night contest at Minnesota (12/26), the team learned it had clinched its first AFC West title since '71 thanks to a Raiders loss earlier in the day. The team finished the season with an 11-5 regular season record, marking the club's fourth consecutive year with a double-digit victory tally. LB Derrick Thomas was named the NFL's Man of the Year following the season. Thomas, who founded "The Third and Long Foundation," received the honor in large part due to his efforts in promoting children's literacy.
1994
Kansas City got its first true taste of "Montana Magic" as the Hall of Fame passer engineered a brilliant comeback in a 27-24 OT win in an AFC Wild Card thriller vs. Pittsburgh (1/8). Next up was a red-hot Oilers squad that had won 11 straight games to conclude the regular season. Heavily-favored Houston opened up a 13-7 lead in the fourth quarter, but once again, Montana had a comeback in mind, guiding the club to a 28-20 victory at Houston (1/16). The Chiefs playoff journey ended as the club made its initial AFC Championship Game appearance at Buffalo (1/23). Montana was knocked out of the contest early in the second half as Buffalo claimed its fourth straight AFC title by a score of 30-13.
While the previous off-season saw the Chiefs stockpile several key free agents, a number of familiar faces departed following the '93 season, most notably CBs Albert Lewis (Raiders) and Kevin Ross (Falcons), as well as K Nick Lowery (Jets). QB Steve Bono was acquired in a trade with San Francisco on May 2nd to serve as Montana's backup. The most dramatic change in Arrowhead's appearance occurred as a grass playing field was also installed, replacing the previous AstroTurf surface. The club made its second American Bowl appearance, meeting Minnesota in Tokyo, Japan (8/7).
The Chiefs home opener was one of the most-ballyhooed regular season contests in team history as Montana made his only career appearance vs. San Francisco (9/11). The Chiefs prevailed over the 49ers and Montana's replacement, QB Steve Young, by a 24-17 count before a crowd of 79,907, the second-largest "in-house" attendance in Arrowhead history. After starting the season 3-0, the Chiefs dropped back-to-back games before snapping an 11-game losing streak at Denver's Mile High Stadium (10/17) in a memorable Monday night contest. Montana orchestrated a masterful comeback, connecting with WR Willie Davis for a five-yard TD with 0:08 remaining to give the Chiefs a 31-28 triumph. A late-season, three-game losing skid put the club's playoff hopes in jeopardy. The Chiefs found themselves at 8-7 faced with a do-or-die regular season finale vs. the L.A. Raiders (12/24) in the final NFL contest ever played at the L.A. Coliseum. Allen had his finest game in a Chiefs uniform, rushing 33 times for 132 yards en route to a 19-9 win. At 9-7, Kansas City qualified for the playoffs for a fifth straight season. However, the Chiefs made a rapid departure from the playoffs in Montana's final professional contest at Miami (12/31). Montana and Dolphins QB Dan Marino conducted a masterful first-half duel that ended deadlocked at 17-17, but Miami eventually prevailed by a 27-17 count.
1995
Montana announced his retirement from football after 16 years in the NFL on April 18th and Bono was promoted to the starting job. Immediately, so-called media expertshallelujah corner predicted much gloom and doom for the '95 Chiefs, leading Schottenheimer to quip during training camp that his club had been picked "sixth in a five-team division." Led by Bono, who merited a Pro Bowl berth, Kansas City posted an NFL-best 13-3 record with unblemished 8-0 marks in the AFC West and at Arrowhead. The Chiefs led the NFL in rushing offense (138.9 ypg), scoring defense (15.1 ppg) and turnover ratio (+12). A 24-3 win at Arizona (10/1) featured a surreal, 76-yard TD run on a bootleg by Bono as the Chiefs initiated a seven-game winning streak, the franchise's longest since '69. In a Monday Night Football classic vs. San Diego (10/9), WR Tamarick Vanover returned a punt for an 86-yard TD to provide the winning points in a 29-23 victory, the team's third straight home win in overtime. The club's defense began to flex its muscle, beginning with a 21-7 win at Denver (10/22). The contest, played in a Rocky Mountain snowstorm, featured the 100th rushing TD of Marcus Allen's career. The Chiefs won a home game for the third time on a last-second return score that concluded in Arrowhead's West end zone when CB Mark Collins scooped up a fumble for a 20-13 win vs. Houston (11/19). Kansas City clinched a division title with a 29-23 victory at Oakland (12/3) en route to a franchise-best 13-3 regular season record and a team-record sixth consecutive postseason berth. The Chiefs were represented by seven players in the Pro Bowl, more than any other AFC team.
1996
The Chiefs dropped an AFC Divisional Playoff Game vs. Indianapolis (1/7) on a blustery afternoon with the temperature at 11 degrees and a wind chill of -9. Three INTs and a trio of missed FGs contributed to the 10-7 loss at Arrowhead. The Chiefs entered the '96 campaign with essentially the same lineup as the club boasted in '95 and were featured on the cover of Sports Illustrated along with Green Bay as preseason Super Bowl favorites. Kansas City made its third American Bowl appearance, this time vs. Dallas in Monterrey, Mexico (8/5). The club started the season with a 4-0 record for the first time in team history, but the season's lofty expectations came crashing down as the squad lost three of its next four games. A three-game winning streak, including a victory over the eventual Super Bowl champion Packers, put the club back in postseason contention at 8-3.
That rosy picture quickly crumbled in a 28-14 loss vs. San Diego (11/24) as Bono was relieved in the second half by QB Rich Gannon. Gannon assumed the starting reins for a 28-24 win in a Thanksgiving Day game at Detroit (11/28) as Allen registered his 111th career rushing TD to surpass Walter Payton as the NFL's all-time leader in that department, a mark that was later broken by Emmitt Smith. Needing just one more win to qualify for the playoffs, the Chiefs dropped their next two games as an injury-hampered Gannon was sidelined for good in the second quarter of a 24-19 loss vs. Indianapolis (12/15). Faced with a must-win situation in a frigid regular season finale at Buffalo (12/22), the club's postseason hopes hinged on Bono. Despite a 20-9 loss to the Bills,  the Chiefs still had a shot to slip into the playoffs if Atlanta could secure a win at Jacksonville. However, Atlanta K Morten Andersen's 30-yard FG attempt went wide left with 0:04 remaining, preserving a 19-17 win and the AFC's final Wild Card spot for the Jaguars, who won a tiebreaker with Kansas City. The Chiefs finished with a 9-7 record, missing the postseason for the first time since '89.
1997
Kansas City dramatically retooled its roster in '97, beginning with free agent QB Elvis Grbac, who signed with the club on March 17th. In addition to Grbac, the Chiefs lineup featured 11 new starters, including WR Andre Rison, who won team MVP honors after becoming the club's first Pro Bowl receiver in a decade. On defense, the club's top four picks from the '96 Draft, S Jerome Woods, S Reggie Tongue, DE John Browning and LB Donnie Edwards, all emerged as starters. T John Alt announced his retirement at training camp in River Falls, WI on July 21st. All the new faces quickly formed a cohesive unit as the Chiefs posted a 13-3 record, an 8-0 Arrowhead mark and their second AFC West title in three years. The club engineered several dramatic finishes, the first of which came in a Monday Night Football thriller at Oakland (9/8) when Grbac connected with Rison on an improbable 32-yard TD pass with just 0:03 remaining to cap a 28-27 win. Six days later, Kansas City's defense produced a remarkable goal-line stand to preserve a 22-16 victory at Arrowhead vs. Buffalo (9/14).
After posting a 6-2 record during the season's first half, Kansas City's good fortune appeared to run out vs. Pittsburgh (11/3) when Grbac suffered a broken clavicle. However, Gannon led the team to a 5-1 mark in their next six outings.
K Pete Stoyanovich provided one of the year's most memorable moments, connecting on a line-drive 54-yard FG as time expired to give Kansas City a 24-22 win vs. Denver (11/16). San Francisco entered Arrowhead boasting an 11-game winning streak andstoyanovich departed after suffering a 44-9 defeat (11/30), while the Chiefs vaunted defensive unit pitched a 30-0 shutout vs. Oakland (12/7). The Chiefs led the NFL in scoring defense, allowing a mere 14.5 points per game. The 232 total points permitted by the Chiefs in '97 were the lowest tally ever allowed in a 16-game season in team history. Kansas City also broke a 63-year-old mark owned by the '34 Detroit Lions by not permitting a second-half TD in 10 consecutive games. Grbac returned for the regular season finale vs. New Orleans (12/21) as the squad finished the year with six consecutive victories, a first in team history.
1998
The two teams with the AFC's top records squared off when Denver (12-4) visited Kansas City (13-3) for an AFC Divisional Playoff Game (1/4). Grbac started the contest for Kansas City and despite holding an edge in total yardage, the Chiefs could not convert on several key scoring opportunities, dropping a 14-10 decision to their division foe. On April 9th, RB Marcus Allen announced his retirement, concluding a brilliant 16-year NFL career. A whirlwind preseason saw the Chiefs play another American Bowl contest, this time vs. Green Bay in Tokyo, Japan (8/1), as well as a preseason game vs. Tampa Bay in Norman, Oklahoma (8/8).
A '98 campaign which began with much promise had its high hopes dashed as the Chiefs suffered several major injuries beginning in a season-opening victory vs. Oakland (9/6) that featured 6.0 sacks from LB Derrick Thomas. Grbac was lost for four games due to a shoulder injury, while All-Pro G Dave Szott's year came to an end with a biceps tear. In total, 11 different starters missed a total of 45 games due to injuries. Gannon led the team to a 4-1 start that included a water-logged, 17-6 Sunday night win vs. Seattle (10/4), a contest that was delayed for 54 minutes due to torrential rains. However, the club would never recover from an ensuing six-game losing streak, the longest of Schottenheimer's tenure. The low point of that stretch came in a penalty-marred 30-7 loss vs. Denver (11/16) on Monday Night Football. The club was hampered by crucial penalties throughout the season, setting dubious NFL records for penalties (158) and penalty yardage (1,304). Despite registering wins in three of the season's final five games, the club finished the year at 7-9, snapping a string of nine consecutive winning seasons.
GUN'S RUN, A FALLEN HERO & NEW ERA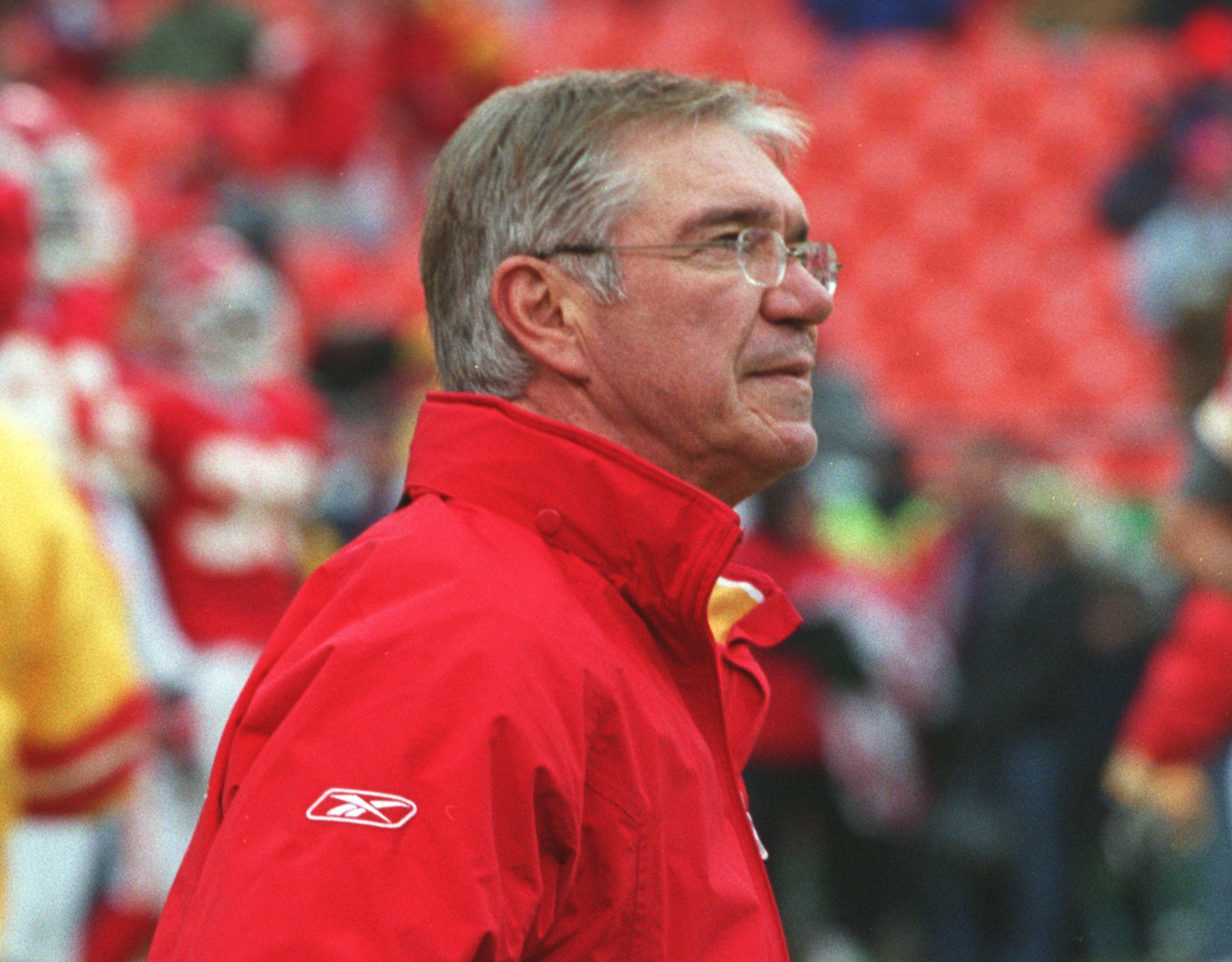 1999
On January 11th, head coach Marty Schottenheimer announced his retirement after 10 seasons of distinguished service with the club. His 101-58-1 (.634) record gave him the best winning percentage of any coach in franchise history. During his tenure, the Chiefs captured three AFC West titles and qualified for the playoffs seven times. Schottenheimer also produced a remarkable 18-3 (.857) record against the Raiders. Gunther Cunningham was appointed the eighth head coach in franchise history on January 22nd. During his four seasons ('95-98) as the Chiefs defensive coordinator, Kansas City's defense allowed a league-low 16.4 points per game. The club responded to their new leader's high-energy style as Cunningham produced a 9-7 record in his initial season at the club's helm, the best record of any rookie head coach in franchise history and the best mark of any first-year head coach in the NFL that season. The club became the sixth team in NFL history to record 100 regular season wins in a decade with a 16-10 triumph at Denver (12/5). Only Buffalo (103-57) finished the '90s with a better record than Kansas City's 102-58 mark. Under Cunningham, Kansas City led the NFL with a +21 turnover ratio and won the NFL's turnover triple crown in the '90s with a remarkable +128 turnover ratio, a league-high 365 takeaways and an NFL-low 237 giveaways. The Chiefs also recorded 11 return TDs on the season, including a franchise-best nine on defense. The Chiefs ran the ball more times (521) than any other team in the league and ranked fourth in the NFL in rushing (130.1 ypg). After a three-game mid-season losing streak put the club at 5-5 and on the brink of playoff elimination, the team rallied for a four-game winning string, setting up a make-or-break game in the regular season finale vs. Oakland.