TEAM HISTORY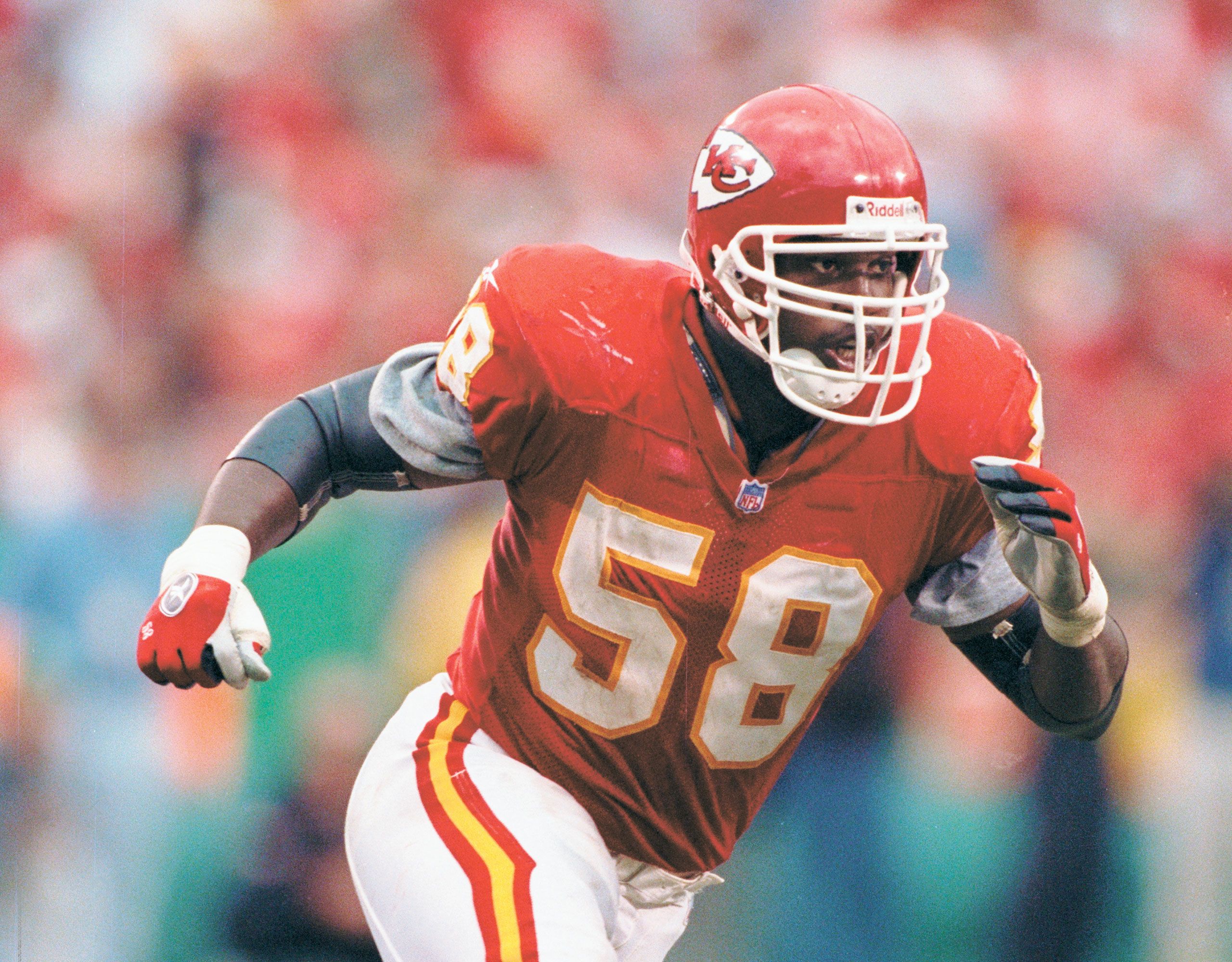 2000
The Chiefs needed a win vs. Oakland at Arrowhead (1/2) in the regular season finale to seal the AFC West title, while a loss would mean postseason elimination. Kansas City leapt out to a 17-0 lead, but a blocked punt turned the momentum in the game which was eventually won by Oakland 41-38 in OT. That loss provided an ominous start to a year which turned tragic on January 23rd when nine-time Pro Bowl LB Derrick Thomas was seriously injured in an auto accident.
Despite an 0-2 start, Kansas City bounced back to win five of its next six contests to sit 5-3 at the season's midway point. The Chiefs faced Seattle (10/2) in a Monday Night Football contest which was simulcast to 4,391 fans in Kauffman Stadium. The 82,893 fans assembled at Arrowhead and Kauffman Stadiums marked the largest on-site attendance figure in team history. The club's early-season success was also highlighted by a 54-34 win over the defending Super Bowl champion St. Louis Rams (10/22), a contest which featured the most points ever scored at Arrowhead. However, a stretch of five road games over a six-week span took its toll on the club as the Chiefs dropped five straight contests to fall out of playoff contention, finishing the year at 7-9.
2001
After compiling a 16-16 record in two seasons, Cunningham was relieved of his duties on January 5th. Dick Vermeil, who guided St. Louis to a win in Super Bowl XXXIV following the '99 season, was named the ninth head coach in franchise history on January 12th. On April 20th, the club acquired QB Trent Green in a trade with St. Louis and also signed unrestricted free agent RB Priest Holmes.
The initial regular season victory of the Vermeil era came in convincing fashion at Washington (9/30) when the Chiefs defeated their former head coach Marty Schottenheimer and the Redskins by a 45-13 margin. Although the club finished its initial campaign under Vermeil at 6-10, the team began to take shape down the stretch, winning three of its final four games. Holmes provided a spark to the offense, becoming just the second player in franchise history to lead the NFL in rushing, amassing 1,555 yards to break Christian Okoye's previous single-season record of 1,480.
2002
The club initiated a season-long series to commemorate the franchise's 40th Anniversary Season in Kansas City in 2002. On April 15th, the Chiefs Honor Grove of over 40 stately Giant Redwoods was established in the Southeast corner of the Truman Sports Complex to epitomize the deep and lasting roots the organization has developed in Mid-America. Hunt's inspiration for the honor grove was a quote from Vikings QB Joe Kapp, who was knocked out of Super Bowl IV. "The Chiefs defensive line was very active and looked like a Redwood Forest," Kapp said after the game. On April 25th, members of the Chiefs coaches, players, staff and cheerleaders visited numerous locations throughout the greater Kansas City community, thanking them for their support of the franchise.
In a season filled with wild comebacks and fantastic finishes, the Chiefs pulled out a remarkable 40-39 Opening Day win at Cleveland (9/8). Starting with that contest, virtually every game was a nail-biter with all but one of the club's eight losses being decided by seven points or less. But despite leading the NFL in scoring for the first time in team history with 467 points and setting a franchise record with 6,000 yards of total offense, the club finished 8-8 to miss the postseason in Vermeil's second season. The team remained in playoff contention until the season's final game thanks to its explosive offense that broke nine team records. The Chiefs also set NFL records by fumbling just seven times and losing just two of those loose balls. Holmes continued the torrid pace he began in 2001, earning NFL Offensive Player of the Year honors from the AP and surpassing his own team record with 1,615 rushing yards. The club's special teams were bolstered by WR Dante Hall, who produced three kick returns for TDs and became the first Chiefs return man to earn a Pro Bowl berth since J.T. Smith following the '80 season.
2003
Hank Stram and RB Marcus Allen were enshrined in the Pro Football Hall of Fame on August 2nd. "Voice of the Chiefs" Mitch Holthus broadcast his 151st game as the club's play-by-play announcer at Houston (9/21), breaking Kevin Harlan's previous record (150). The Chiefs started the regular season with a 9-0 record for the first time in team history, becoming just the ninth team since the AFL-NFL merger to accomplish that feat. That hot start to the season was sparked by Hall, who tied an NFL single-season record by registering four kick return TDs over that span. Hall also became the first player in league annals to accomplish that feat in four consecutive games. The Chiefs overcame a 17-point fourth-quarter deficit for the first time in team history, pulling out an improbable 40-34 OT win at Green Bay (10/12). Kansas City's winning streak came to an end in a 24-19 loss at Cincinnati (11/16).
The Chiefs clinched their first AFC West title since '97 with a 45-17 win vs. Detroit (12/14) as QB Trent Green became the first player in team history to register a "perfect" 158.3 passer rating in a game. Kansas City concluded its 13-3 regular season with a 31-3 victory vs. Chicago (12/28), marking a perfect 8-0 record at home and the club's 13th consecutive regular season victory at Arrowhead Stadium. In that win, Holmes set a trio of TD records. He finished the season with 27 rushing scores, establishing NFL single-season records for both rushing TDs and total TDs. Holmes (61) also bypassed WR Otis Taylor (60) for the most career TDs scored by a player in Chiefs history. The Chiefs five-game improvement in the win column from the previous season tied as the best mark in franchise history. Kansas City became the first AFC team to lead the NFL in scoring in consecutive seasons since San Diego in '81-82 as the club produced a franchise-best 484 points. The team also led the NFL with a +19 turnover differential. Nine Chiefs players received Pro Bowl recognition, the third-highest total in team history, while the club's six offensive Pro Bowlers marked the most in club annals. G Will Shields earned his ninth consecutive Pro Bowl berth and extended his franchise-record string of starts to 175 consecutive games.
2004
The Chiefs hosted an AFC Divisional Playoff Game vs. Indianapolis (1/11) in which neither team was forced to punt. Sensational performances by Holmes (176 rushing yards, two TDs) and Hall (208 kickoff return yards, 1 TD) weren't enough as the Colts recorded a 38-31 victory. Defensive coordinator Greg Robinson resigned on January 13th. Vermeil agreed to a two-year contract extension on January 16th. On January 20th, Vermeil hired Gunther Cunningham, who returned to Kansas City as the club's defensive coordinator. On January 30th, Shields was named the Walter Payton NFL Man of the Year, becoming the fourth Kansas City player to win that prestigious accolade.
2005
TE Tony Gonzalez earned his sixth consecutive Pro Bowl berth and finished the season with a flourish, setting a single-game franchise record with a 14-catch performance in the regular season finale at San Diego (1/2). Gonzalez became just the third tight end since the AFL-NFL merger to lead the league in receptions (102), the highest total ever amassed by a member of the Chiefs. Despite Gonzalez's record-setting performance, a 24-17 loss to the Chargers brought a disappointing 7-9 campaign to a close.
A daunting early-season schedule faced the Chiefs during the 2005 regular season with three playoff opponents from 2004 and a pair of prime-time road contests in the season's first four weeks. Kansas City finished that stretch with a 2-2 record after claiming a convincing 27-7 home win vs. the N.Y. Jets (9/11) and winning a 23-17 Sunday night decision at Oakland (9/18). However, the club would suffer a 30-10 loss at Denver on Monday Night Football and was handed a 37-31 loss vs. Philadelphia (10/2) as the Eagles erased an 18-point Chiefs lead to leave Kansas City's record at 2-2 entering the bye week.
Hurricane Wilma forced the Chiefs to play their first regular season Friday night game since '64 as a game originally slated for October 23rd was hastily rescheduled. Kansas City actually flew to Miami on the day of the game and defeated the Dolphins by a 30-20 margin. Two weeks later, trailing by three points with only five seconds left and the ball on the one-yard line, head coach Dick Vermeil eschewed a potential game-tying FG attempt and went for broke, putting the game in the hands of RB Larry Johnson vs. Oakland (11/6). Johnson burst into the end zone to give the Chiefs a memorable 27-23 win as Kansas City's record stood at 5-3 at the season's midway point.
The Raiders contest marked the initial start of the season for Johnson, who opened the final nine games of the year in place of RB Priest Holmes, who was lost for the year following a head/neck injury at San Diego (10/30). Johnson went on a rushing rampage during the second half of the year, topping the 100-yard barrier in all nine of those contests. He finished the season with 1,750 rushing yards, the highest single-season total in franchise history.
Shields continued his assault on the record book, as well. The club's contest at Buffalo (11/13) marked the 200th consecutive start of Shields' career, making him just the fourth player since the AFL-NFL merger to accomplish such a feat. In addition to pushing his string of consecutive starts to 207 games by season's end, he was also rewarded with his 11th consecutive Pro Bowl berth, extending another franchise record.
A three-game late-season winning streak boosted the club's postseason hopes, beginning with a 45-17 win at Houston (11/20). Johnson established a franchise record of his own with 211 rushing yards against the Texans en route to earning his initial Pro Bowl berth. Kansas City then registered convincing home victories against a pair of playoff-bound teams with wins vs. New England (11/27) vs. Denver (12/4), putting the club at 8-4 with four games remaining. However, a pair of road losses put the club's postseason hopes in peril. A 20-7 win in a Christmas Eve quagmire vs. San Diego (12/24) meant the club would need a win in its regular season finale and some help in order to qualify for the AFC playoff field.
A NEW BEGINNING & A FINAL CHAPTER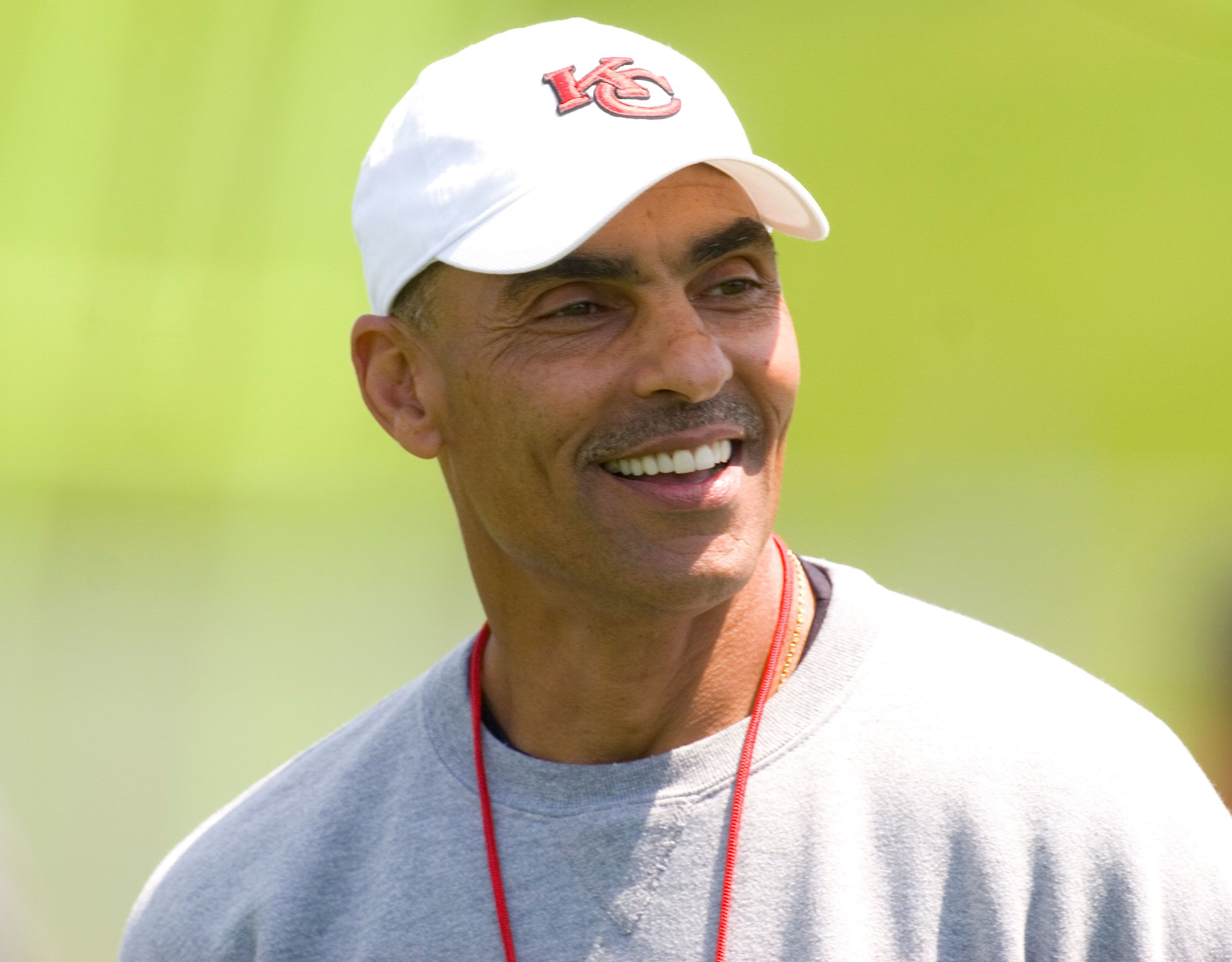 2006
After registering a convincing 37-3 win vs. Cincinnati in the club's first-ever regular season New Year's Day contest, the winds of change blew into Kansas City. Head coach Dick Vermeil publicly announced his retirement following the win over the Bengals, ending season-long speculation about his future. Kansas City finished the season at 10-6, becoming just fourth team since '90 to miss the postseason with a double-digit victory total.
Vermeil conducted a final farewell press conference on January 3rd. He concluded his five-year run as Kansas City's head coach with a 44-36 (.550) record, giving him the third-highest victory tally in team history. Under his guidance, the Chiefs established 34 single-season team records and 14 single-game team records, leading the NFL in total offense by averaging 380.9 yards per game from 2001-05. Despite those many notable offensive accomplishments, the club returned to its defensive roots with the selection of its next head coach.
On January 9th, Herm Edwards was appointed the 10th head coach in franchise history. Edwards returned to Kansas City after serving as both a scout and an assistant coach with the Chiefs during the '90s. He rejoined the Chiefs organization after a five-year stint as head coach of the N.Y. Jets, leading that franchise to five postseason game appearances. He initially left the Chiefs to serve with former Kansas City assistant coach Tony Dungy in Tampa Bay, where that duo helped restore the Buccaneers franchise to NFL prominence.
On January 24th, the Chiefs and Royals both signed 25-year leases with Jackson County officials to keep both clubs at the Truman Sports Complex. On April 4th, Jackson County voters approved a 3/8 cent tax measure that was anticipated to raise $425 million in improvements to the Sports Complex, including $325 for Arrowhead. Those renovation plans also included a new practice facility and office complex for the Chiefs, thanks to contributions from the Hunt family.
The Edwards era got off to an inauspicious start on Opening Day vs. Cincinnati (9/10). QB Trent Green suffered a severe head trauma in the third quarter when he scrambled and went into a hook slide. Bengals DE Robert Geathers delivered a blow to the Chiefs signal caller, whose head violently bounced off the turf. Green lay motionless on the field for several minutes before he was taken to a local hospital. The Chiefs would lose the contest by a 23-10 count.
For the first time since 2000, a quarterback other than Green started a contest for Kansas City as backup QB Damon Huard served as field general the following week at Denver (9/17). Kansas City would drop a tough 9-6 OT decision to the Broncos as the club fell to 0-2.
After an early bye week, Kansas City got its intial victory of the Edwards era in convincing fashion with a 41-0 win at Arrowhead vs. San Francisco (10/1). Huard guided the club to a 23-20 comeback win the following week at Arizona (10/8), but a 45-7 drubbing at Pittsburgh (10/15) left the club's record at 2-3 entering a pivotal two-game homestand.
K Lawrence Tynes drilled a game-winning 53-yard FG to give Kansas City a 30-27 victory vs. San Diego (10/22). That triumph sparked a three-game winning streak to put the club's record at 5-3 at the season's halfway point.
Huard compiled a 5-3 record as a starter in Green's absence, throwing 10 TDs and just one INT over that eight-game span. After several weeks of practice and countless medical tests, Green finally made his return to the lineup in a 17-13 home win vs. Oakland (11/19) in what would be the final game witnessed in person by Chiefs Founder Lamar Hunt, who was admitted to Presbyterian Hospital in Dallas on November 22nd.
Hunt had long lobbied the NFL for a third game on Thanksgiving and those persistent efforts were rewarded as the fifth-largest paid crowd in Arrowhead history (79,484) packed the stadium for a holiday spectacle. Kansas City won its second contest at Arrowhead in five days as the Chiefs defense turned in a masterful performance in a 19-10 primetime win vs. Denver (11/23), a contest that also marked the initial live game telecast by the NFL Network. 
Owning a 7-4 record, Kansas City appeared poised to make a serious run at the postseason, but a three-game losing streak that began with an unlikely 31-28 OT loss at Cleveland (12/3) put those hopes in serious jeopardy. The month of December proved particularly gloomy for the Chiefs as the health of the franchise's patriarch steadily declined.
After originally being diagnosed with prostate cancer in '98, Hunt quietly and bravely underwent many treatments and surgeries in the ensuing years without complaint. On December 13th, he peacefully passed away in Dallas, surrounded by his family. Memorial services celebrating the life of Hunt were conducted on the SMU campus in Dallas on December 16th and at the Community of Christ Auditorium in Independence, Missouri on December 19th.
A mourning team would return to the field the following Sunday and capture a 20-9 win at Oakland (12/23) to keep the Chiefs playoff hopes afloat entering the regular season finale vs. Jacksonville (12/31). The Chiefs prevailed by a 35-30 count against the Jaguars as RB Larry Johnson established a NFL record with 416 rushing attempts on the season and broke his own franchise single-season record with 1,789 rushing yards. After Cincinnati and Tennessee lost earlier in the day. The Chiefs officially got their ticket to the postseason punched when San Francisco won an unlikely 26-23 OT decision at Denver (12/31) to eliminate the Broncos from playoff contention.
2007
The Chiefs made their first postseason appearance on the road since '94 in an AFC Wild Card Game at Indianapolis (1/6). Despite enjoying the support of a throng of Kansas City fans who made the trek to the RCA Dome and a valiant first-half performance from the Chiefs defense, Kansas City lost a 23-8 decision.
An artist's rendering for the club's new office complex and practice facility was unveiled in March, while design work and plans for Arrowhead's rehabilitation continued. On June 2nd, the club announced that it was partnering with HBO Sports and NFL Films to produce Hard Knocks: Training Camp with the Kansas City Chiefs - a five-hour documentary series. On June 6th, QB Trent Green was traded to Miami, ending months of speculation about his future. Green concluded his successful six-year run with the franchise owning a team-record 87.3 passer rating.
The summer months were highlighted by a pair of groundbreaking ceremonies at the Truman Sports Complex. A private, staff-only groundbreaking session for the Chiefs new office and practice headquarters was conducted by Clark Hunt on July 25th. In addition, the Hunt Family, Chiefs officials, Senator Kit Bond, Jackson County Executive Mike Sanders and other county legislators participated in a groundbreaking ceremony for the "New Arrowhead" on August 22nd.
On the field, Kansas City overcame an 0-2 start to register a 4-3 record at the bye week, securing sole possession of first place in the AFC West standings. That early-season turnaround was highlighted by a 30-16 comeback win at San Diego (9/30) that served as coming out party for WR Dwayne Bowe who set a Chiefs single-game rookie record with 164 receiving yards, including a 51-yard TD catch. Bowe would shatter the franchise's single-season rookie receiving records with 70 catches for 995 yards, figures that led all NFL rookies. Meanwhile, TE Tony Gonzalez became the NFL's all-time TD catch leader among tight ends in a 27-20 win vs. Cincinnati (10/14).
However, Kansas City could not maintain any of that positive momentum after the bye week. The downward spiral began when RB Larry Johnson suffered a season-ending right foot injury in a 33-22 loss vs. Green Bay (11/4). That setback began a nine-game losing streak to conclude the regular season. Second-year QB Brodie Croyle supplanted QB Damon Huard in the second half the following week vs. Denver (11/11).
Croyle enjoyed a solid debut in his initial NFL start in the club's next contest at Indianapolis (11/18). That game that would mark the final chapter in the illustrious career of RB Priest Holmes, who announced his retirement on November 21st. The all-time leading rusher in franchise history with 6,070 yards made a remarkable comeback after missing almost a season-and-a-half of action. He returned to play four games in 2007, including two starts, before eventually hanging up his cleats for good.
Despite the mounting losses, the defense continued its improvement. Kansas City led the NFL in third-down defense (31.3%), while ranking second in both Red Zone defense (37.2 TD %) and defensive TD efficiency (14.5%) by allowing just 28 offensive TDs on 193 opponent drives. DE Jared Allen led the league with 15.5 sacks and became the club's first Pro Bowl defensive end since '95.
After suffering a thumb injury at Detroit (12/23), Croyle returned for the season finale at the N.Y. Jets (12/30) as Kansas City suffered a 13-10 OT setback. Gonzalez recorded his 820th career reception in the game, the most catches of any tight end in NFL history. Gonzalez earned his ninth straight Pro Bowl berth and finished the year with 1,172 receiving yards.
2008
Head coach Herm Edwards named Chan Gailey his offensive coordinator on January 16th. CB Emmitt Thomas was elected to the Pro Football Hall of Fame on February 2nd and was officially enshrined in Canton on August 3rd.
Kansas City and Minnesota orchestrated a major trade on April 23rd as the Chiefs sent Pro Bowl DE Jared Allen and a sixth-round pick to the Vikings. In exchange, Kansas City received a first-round selection, two third-round picks and a sixth-round selection. Upon the team's return from training camp in August, the club's football operations moved into the organization's new practice facility. The rest of the franchise's administrative staff completed the move from Arrowhead by season's end.
On the field, the Chiefs owned the dubious distinction of becoming just the fourth team since the AFL-NFL merger to start three different quarterbacks in the season's first three weeks in a non-strike season. TE Tony Gonzalez surpassed TE Shannon Sharpe (10,060) for the most receiving yards by a tight end in NFL history at Carolina (10/5).
After QBs Brodie Croyle and Damon Huard both suffered season-ending injuries vs. Tennessee (10/19), the club eventually turned to QB Tyler Thigpen for good for the season's final nine games. The Coastal Carolina product showed flashes of promise and set a single-season franchise record for QBs with 386 rushing yards. Thigpen outplayed QB Brett Favre, but the Jets signal caller rallied his club as the Chiefs dropped a 28-24 decision at the N.Y. Jets (10/26).
That Jets contest marked the first in a series of excruciating losses. Kansas City squandered a 21-point lead in a 30-27 OT loss vs. Tampa Bay (11/2) and lost a 20-19 decision at San Diego (11/9) as a botched PAT and a failed two-point try doomed the club.
Thigpen's lone victory of the season was a 20-13 win at Oakland (11/30), but the losses continued to mount, including a second one-point setback vs. San Diego (12/14) as the Chargers overcame an 18-point deficit, scoring the game's final 19 points.
On December 15th, President/General Manager and CEO Carl Peterson announced his resignation, effective at the end of the season. The Chiefs dropped a 38-31 decision vs. Miami (12/21). Based on wind chill of -12 at kickoff, it was second-coldest contest in Arrowhead history. A four-game losing streak to end the season closed out with a 16-6 loss at Cincinnati (12/28) as the Chiefs finished the year at 2-14.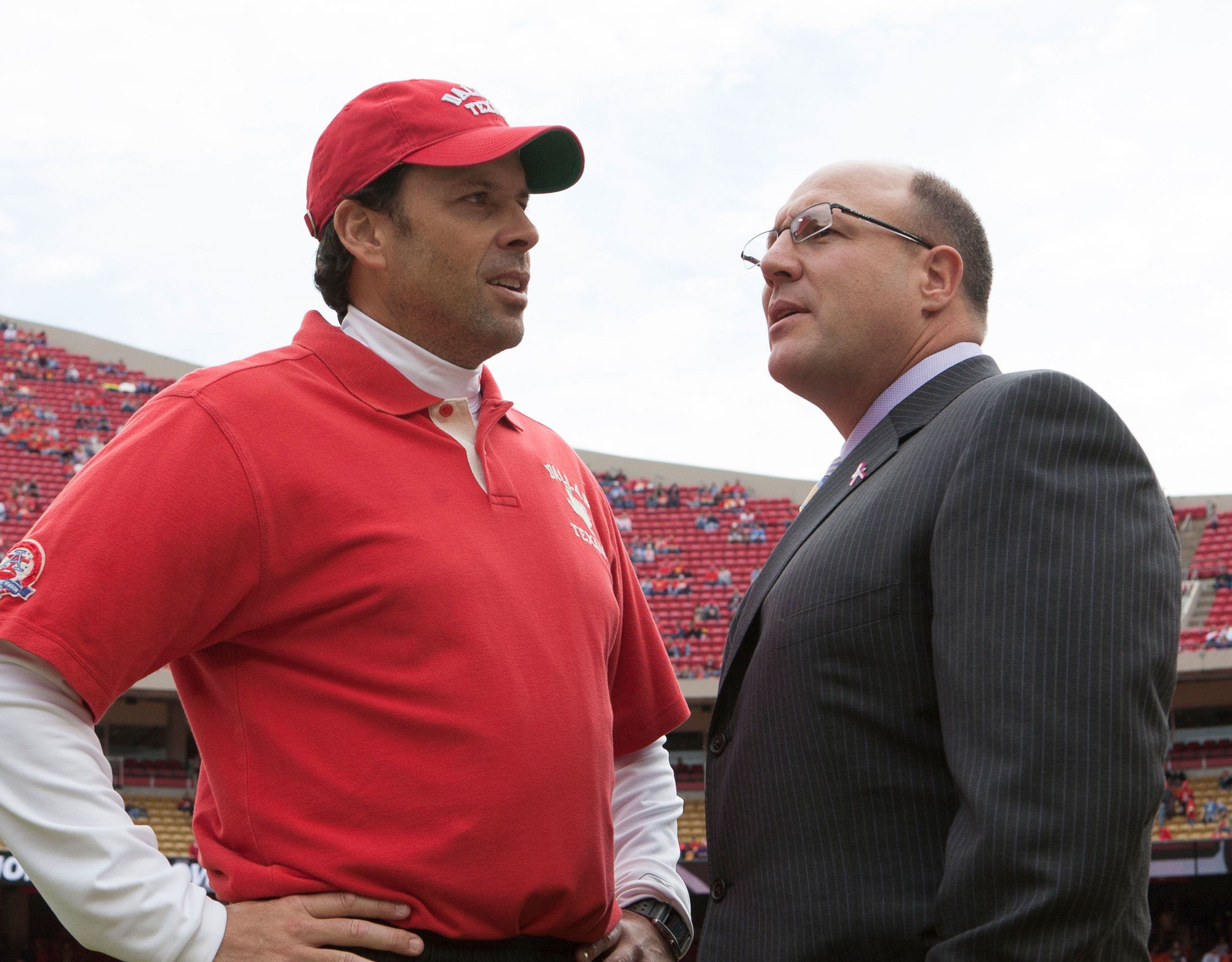 2009
Peterson officially concluded his 20-year tenure with the franchise on January 6th with a farewell press conference. Under Peterson's tenure, Kansas City amassed a 176-143-1 (.552) regular season record, made nine playoff appearances, won the AFC West four times and reached the AFC Championship Game in '93.
On January 13th, longtime New England Patriots executive Scott Pioli was named by Chairman of the Board Clark Hunt as the fifth General Manager in franchise history. During his tenure in New England, the Patriots won Super Bowls XXXVI, XXXVIII and XXXIX, claimed the Lamar Hunt Trophy four times as the AFC Champion and won six AFC East titles. During Pioli's tenure from 2000-08, the Patriots compiled an NFL-best 102-42 (.708) regular season record.
On January 23rd, Herm Edwards was relieved of his duties as head coach. He produced a 15-33 regular season record in three seasons guiding the franchise. The late LB Derrick Thomas was elected to the Pro Football Hall of Fame's Class of 2009 on January 31st. Thomas became the 10th member of the Chiefs to be enshrined in Canton. He joined LBs Bobby Bell (Class of '82) and Willie Lanier (Class of '86) as the third linebacker in that esteemed group.
Hunt and Pioli introduced former Arizona Cardinals offensive coordinator Todd Haley as the 11th head coach in franchise history on February 6th. He helped the Cardinals reach Super Bowl XLIII, marking the franchise's first NFL title game since '47. The son of longtime NFL personnel executive Dick Haley, the younger Haley oversaw an Arizona offense that registered a franchise-record 427 points in 2008. The Cardinals ranked fourth in the NFL total offense, averaging 365.8 yards per game. The first major move of the Chiefs new leadership team came on February 28th when the club acquired QB Matt Cassel and LB Mike Vrabel in a trade with New England.
The club unveiled its 50th anniversary logo on April 14th as the team began a year-long commemoratation of the franchise's 50th season, as well as the 50th anniversary of the creation of the American Football League by Lamar Hunt. On April 23rd, the Chiefs traded 10-time Pro Bowl TE Tony Gonzalez to Atlanta. Gonzalez finished his Chiefs career with the most receptions (916), receiving yards (10,940) and TD catches (76) in franchise history. On May 8th, Hunt named Denny Thum as the fourth President of the Chiefs. Thum is just three employees in team history to serve with the team during the tenure of every head coach in franchise history.