After three weeks of the 2013 season, how would you describe the Kansas City Chiefs?
What have you learned from the team, approaching Sunday's matchup with another NFC East opponent, the New York Giants?
Following Monday's practice, Chiefs head coach Andy Reid addressed the media, describing what he's learned about his team, after its early 3-0 start.
"They work hard," coach Reid said. "They're going to compete; they're tough guys. I appreciate that attitude and again, we're still early in the season. We're talking about the third week, going into the fourth week, so you're not even a quarter done with it, the season. It's important that we continue to work and get ourselves better. These guys are wired to do that."
Coach Reid also mentioned areas he wants to see the Chiefs improve.
"You want to see consistency all the way around," coach Reid said. "You want to eliminate some of (their) big plays and then, you want to increase some of the big plays on the offensive side."
New to the Chiefs in 2013 is CB Sean Smith, who from the minute he signed in the offseason, has noticed the team-wide 'hard-work' mentality at One Arrowhead Drive. In 2013, he has nine tackles and one interception, coming last Thursday against the Eagles. Smith revealed what he's learned about the 3-0 Chiefs.
"This team is tough," Smith said. "I think if you take a look at all three of our wins, this team was definitely in some tough situations in all three of them. To get a win in the NFL is very tough and we put everybody in the position to where you have to do your job and if you don't do it, that's when big plays happen. In our three wins, we had to be tough mentally and physically. We've played some very talented teams and held our ground."
Chiefs Pro Bowl LB, Derrick Johnson is leading the team in tackles (21), but instead of talking about individual play, DJ described the team's collective progress, following its first three games.
"We're tough and smart," Johnson said. "We're still learning about our team but right now, I think us winning just helps give us more confidence each and every week. We have a lot of great players on this team, sometimes they don't get enough credit, but as long as we're winning, they'll get the credit."
Playing alongside DJ is Chiefs LB, Akeem Jordan, who has been a big part of the team's defensive success this season (11 tackles); he spoke about the winning mentality of the 2013 squad.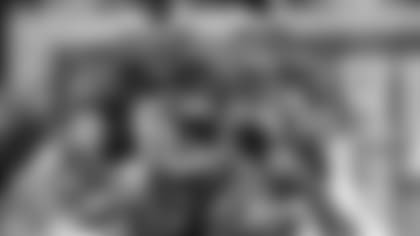 "This team is determined to win," Jordan said. "Everybody is hungry; everybody's on the same page and wants to win and everybody's working to win, every day."
The answer was no different on the other side of the ball; Chiefs WR Donnie Avery, who finished with seven catches for 141 yards on Thursday night, says the Chiefs are on a mission.
"We have great determination," Avery said. "We keep on fighting, keep on punching until the end and good things will come our way, if we keep that attitude. We can't take anything for granted."
From offense, to defense, to special teams, the Chiefs are a team with great resolve, as described by kicker Ryan Succop.
"One of the things you see from this team is that we're resilient and we're sticking together," Succop said. "Not everything's gone perfect but during games, we've been able to stick together and the results have shown. That's one of the things I like about this team; we're a group of guys who have all bought in and we're all sticking together."
After the league-wide players' day off on Tuesday, the Chiefs hard work continues Wednesday, when further preparations take place for Sunday's matchup with the G-Men.