Chiefs Front Office Staff | Kansas City Chiefs - Chiefs.com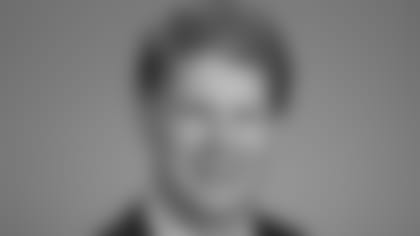 Clark Hunt
Chairman and CEO
Clark Hunt has been involved in the leadership of the Kansas City Chiefs for nearly two decades and currently serves as the club's Chairman and CEO.
Hunt has been the driving force behind the resurgence of the Chiefs, transforming the iconic franchise into one of the most successful teams in the National Football League. Since taking over as CEO in 2010, the Chiefs have earned seven AFC West Division championships and made nine playoff appearances. Hunt has twice hoisted the award that bears his father's name – the Lamar Hunt Trophy – as the club claimed two consecutive AFC championships following the 2019 and 2020 seasons and earned consecutive Super Bowl appearances for the first time in franchise history. The club secured its second Lombardi Trophy by winning Super Bowl LIV following the 2019 season.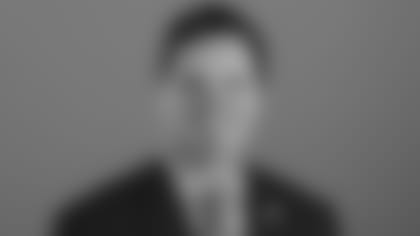 Mark Donovan
President
Entering his 24th season in the National Football League and his 14th season in Kansas City in 2022, Mark Donovan is the fifth president in Chiefs history. As president, Donovan is responsible for all aspects of the club's business operations and reports directly to Chairman and CEO Clark Hunt.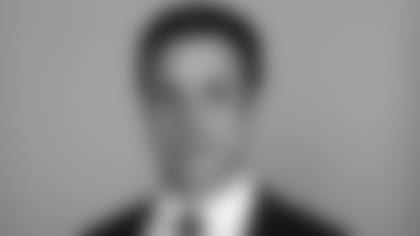 Brett Veach
General Manager
Brett Veach enters his sixth season as the Kansas City Chiefs General Manager and his 16th year in the National Football League in 2022. Veach was named the seventh general manager in Kansas City Chiefs history on July 10, 2017, reporting directly to Chiefs Chairman and CEO Clark Hunt on all player personnel matters. Prior to being elevated to General Manager, Veach served as Co-Director of Player Personnel for two seasons.
Football Operations
Mike Bradway

Senior Director of Player Personnel

Willie Davis

Senior Personnel Executive

Jalen Myrick

College and Pro Scout

Kunal Tanna

Assistant to the General Manager

Anthony McGee

Player Personnel Assistant

Tim Terry

Director of Player Personnel / Pro Scouting

Ryne Nutt

Director of Player Personnel / College Scouting

Pat Sperduto

Co-Director of College Scouting

Terry Delp

Senior College Scouting Executive

David Hinson

Co-Director of College Scouting

Greg Castillo

West Regional Scout

Jason Lamb

Southwest Regional Scout

Jonathan Howard

National Scout

Cassidy Kaminski

Northeast Area Scout

Will Christopherson

NFS Scout

Madison Aponte

Player Personnel Assistant

Mitchell Reynolds

Director of Team Operations

Brock Baumert

Football Operations Manager

Evan Craft

Assistant Athletic Trainer

David Glover

Assistant Athletic Trainer

Tiffany Morton

Assistant Athletic Trainer

Julie Frymyer

Assistant Athletic Trainer

Allen Wright

Equipment Director

Chris Shropshire

Assistant Equipment Manager

Cale Kirby

Assistant Equipment Manager

Jay White

Assistant Equipment Manager

Holt McKenney

Assistant Equipment Manager

Niko Barber

Equipment Assistant

Logan Love

Equipment Assistant

Pat Brazil

Director of Video Operations

Ken Radino

Assistant Director of Video Operations

Josh Schmidt

Video Assistant

Erich Corcoran

Video Assistant

Jack Wolov

Football Administration Coordinator
Player Engagement
Ramzee Robinson

Director of Player Engagement

Candice Dominguez

Player Engagement Coordinator
Business Operations & Marketing
Jordan Giesler

Creative Director

 Jenny Jones Latz

Sr. Director of Brand Strategy & Fan Development

Chad Carson

Manager of Tours and Events

Jackson DeLay

Marketing Manager

Gelsomina Picariello

Brand & Creative Project Manager

Katie Kemmerer

Executive Project Manager

Amanda Brisso

Graphic Designer

Drew Morris

Graphic Designer

Erron Holley

Executive Projects Coordinator

Caleb Bishop

Copywriter
Administration
Carolyn Messick

Human Resources Manager

Samantha Angel

Human Resources Generalist

Lauren Gramlich

Human Resources Generalist

Cyndi Sloan

Receptionist

Brandon Donaldson

Staffing Manager

Mike Davidson

Team Historian

Bob Moore

Team Historian
Media & Production
Glenn Connelly

Director of Production

Brad Young

Director of Live & Gameday Production

Stephanie Judah

Director of Entertainment Teams

Steve Sanders

Director of Photography

Joe Helder

Director of Production, Special Projects

Mitch Holthus

Voice

Kristen Pugh

Game and Event Entertainment Manager

Dane Van Why

Manager of Production

Anna Tobkin

Lead Producer

David Kelsey

Producer

Joseph Baker

Producer

Daniel Luksa

Producer

Austin Wood

Producer

Greg Tonge

Social Producer

Andrew Feeley

Social Producer

Matt McMullen

Sr Team Reporter

Dan Meers

Mascot Coordinator

Elyse Ricigliano

Sales and Marketing Producer

Lucas Boyd

Editor, Special Projects
Digital & Social Media Strategy
Alex Merry

Director of Social Media

Gabrielle Timmen

Social Media Manager

Atipa Mabonga

Influencer & Culture Coordinator

Nathan Brunzie

Digital Media Manager

Quintin Lash

Digital & Social Analyst

Luke Hammontree

Digital Media Coordinator
Community Outreach
Chuck Castellano

Director of Community Outreach

Gary Spani

Director of Community Engagement

Andrew Smitka

Youth Outreach Manager

Alex Martin

Hunt Family Operations Manager

Ishmael Shumate

Philanthropy and Community Programming Coordinator

Caitlyn Allen

Community Outreach Operations Administrative Assistant

Leesa Rockhold

Alumni Relations & Community Activation Coordinator
Communications
Luke Shanno

Sr. Director of Corporate Communications

Cydney Ricker

Director of Communications and Administration
Finance, Strategy & Analytics
Jeff White

Data Science Manager

Andrew Schutte

Data Scientist

Rebecca Swank

Business Intelligence Manager

Will Garza

Business Intelligence Analyst

Aaron Dzaboff

Data Scientist
Accounting
Sherri Lathrop

Director of Accounting

Kim Rutter

Sr Accounts Payable

Sherri Brown

Accounting Assistant

Kristin Conlon

Payroll Director

Lisa Mehrer

Sr Payroll and Accounting Coordinator

Matt Schulte

Senior Accountant

Brianna Reno

Staff Accountant

Kayla Bock

Staff Accountant
Information Systems
Justin Johnson

Director of Information Technology

Mark Williams

Director of Solutions Delivery

Scott Fletcher

Director of Infrastructure

Chris Swatzell

Manager of Service Delivery

Sy Kim

Software Developer II

Brent Barnes

Lead Application Developer

Jason Forester

Systems Administrator

Jeremy Armstrong

Network Administrator

Patrick Martin

IT Service Deck Technician III

Branden Frasier

IT Service Desk Technician

Caleb Summers

IT Service Desk Technician

Dave Felsen

Special Projects
Corporate Partnership/Suites/Sales
Anthony Matthies

Sr Director of Premium Sales

Justin Sauser

Sr. Director of Ticket Sales and Operations

Kellen Begnoche

Director of Service & Activation

Megan McMullen

Director of Client Services

Claire Early

Director of Performance Marketing

Sam Gehling

Director of Business Development

Chris Stathos

Sr Manager of Corporate Partnerships

Bobby Adamson

Corporate Partnerships Account Manager

 Zach Nizolek

Corporate Partnerships Account Manager

Bailey Swyden

Corporate Partnerships Account Manager

Lucy Mooney

Corporate Partnerships Account Manager

Emily Rowland

Account Coordinator

Matt Diemand

Account Coordinator

Morgan Dannewitz

Client Services Manager

Shelby Blankenbaker

Client Services Manager

Nicole Johnson

Client Services Manager

Mark Nacpil

Ticket Operations Manager

Lori Young

Ticket Operations Coordinator

Tristin Kuhn

Digital Marketing Coordinator

Ty Fowler

Data Systems Manager

Trishie Cosgrave

Ticketing Data and Technology Analyst

Kurt Whitlow

Business Development Manager

David Bronson

Premium Sales Manager

Eric Short

Premium Sales Manager

Matt Montgomery

Sr. Business Development Account Executive

Sam Cruse

Sr Business Development Account Executive

Jake Cuevas

Business Development Account Executive

John Meissner

Business Development Account Executive

Chris Oldenburg

Business Development Account Executive

Drew Blair

Business Development Account Executive

Dalton Blackwell

Business Development Representative

Jeffery Garrison

Business Development Representative

Keaton Haack

Business Development Representative

Trevor Martin

Business Development Representative

Sam Minnick

Business Development Representative

Shelia Sickau

Business Development Representative

Michael Waters

Business Development Representative

Devin Masek

Business Development Representative

Kaden Brannin

Business Development Representative
Stadium Operations & Events
Rocco Mazzella

Sr Director of Facilities

Pat Mitchell

Project Director MEP and Construction

John Reardon

MEP & Construction Engineer

Tonya Idel

Project Cost Coordinator

Travis Hogan

Head Turf Manager

Terry Lee

Skilled Landscape & Field Maintenance

Doug Schallenberg

Skilled Landscape & Field Maintenance

Alec Wickey

Skilled Landscape & Field Maintenance

Tyler Gosney

Skilled Landscape & Field Maintenance

Brian Patterson

Stadium Services Manager

Garrett Wittmaier

Stadium Services Supervisor

Abbey Kortz

Cleaning and Conversion Supervisor

Jarrod Gravatt

Stadium Services Cleaning & Recycling Supervisor

Drake Wells

Cleaning & Recycling Coordinator

Elizabeth DePasquale

Stadium Services Coordinator

John Bishop

Skilled Maintence

Kevin Hutsell

Skilled Maintenance

Don Edmondson

Skilled Maintenance

Danny Thoman

Skilled Maintenance

Gary Cooper

Skilled Maintenance

Jack Bagby

Skilled Maintenance

Mark Freeman

Skilled Maintenance

Peter Davis

Utility Maintenance

AJ Shelton

Utility Maintenance

Brian Sloan

Utility Maintenance

Jon Bird

Utility Maintenance

Alan Johnson

Utility Maintenance

Sean Glassburn

Utility Maintenance

Shane Vittengl

Utility Maintenance

Dontae Jones

Utility Maintenance

David Finkemeier

Utility Maintenance

Maddie O'Brien

Utility Maintenance

Trei Brown

Utility Maintenance

Marvell Green

Utility Maintenance

Julie Matthews

Utility Maintenance

Dexter Brown

Utility Maintenance

John Allen

Utility Maintenance

Chris Boyer

Utility Maintenance

Ahmad Abdelnassar

Utility Maintenance

Blake Kincaid

Utility Maintenance

BreeAnn Boone

Utility Maintenance

Edith Degraffenreid

Utility Maintenance

Chris Grippando

Utility Maintenance

Revis Grigsby

Utility Maintenance

Jamil Miller

Utility Maintenance

Boyce Fields

Utility Maintenance

Jackson Foster

Utility Maintenance

Shaun Bruce

Utility Maintenance

Abigail Turley

Environmental Cleaner

Erin Hillbrand

Environmental Cleaner

Tony Rush

FT Environmental Cleaner

Stephen Rowe

Skilled Maintenance

Marc Sparks

Skilled Maintenance

John Franiuk

Skilled Maintenance

Scott Smith

Skilled Maintence

Joseph Defrees

Skilled Maintenance

William Jones

Utility Maintenance

Josiah Cobb

HVAC Technician

Bradlee Ryun

Skilled Trade Assistant

Kim Kruse

Event Sales Manager

Sarah Kay Ison

Event Sales Manager

Caitlin Ogren

Event Services Manager

Jackie McMahon

Assistant Manager of Special Events

Meghan Malone

Event Services Coordinator

Jacquelyn Luedtke

Corporate Events Manager

Emily Capps

Corporate Events Assistant Event Manager

Madison Green

Corporate Events Assistant Event Manager

Xochitl Glaser

Fan Experience Manager

Maggie Sprague

Fan Experience Representative

Sarah Kettering

Fan Experience Representative

Emma Hardeman

Fan Experience Representative

Brian Shafar

Sr Director of Team Security

Ryan Gilbreth

Team Security Manager

Andrew Ramirez

Team Security Administrator

Colby Harrison

Director of Safety and Event Security

Richard Cox

Security Shift Coordinator

Gary Banks

Security Shift Coordinator

Bryan Van Fleet

Security Shift Coordinator

Marty Brashear

Security Officer

Mark Robertson

Security Officer

Randy Spearman

Security Officer

Steve Weissman

Security Officer

Blake Jordan

Security Officer

Albert Palmer

Security Officer

Donald Porter

Security Officer

Logan Williams

Security Officer

Bryan Hilgemann

Security Officer

James Tucker

Security Officer

Anthony Wright

Security Officer