The 2018 version of the Kansas City Chiefs might not take the field at training camp until mid-to-late July, but the work it takes to put together the 90 players who will make that journey has already begun, and it continues this week in Mobile, Alabama—site of the Senior Bowl.
The Senior Bowl is a showcase of more than 100 of the best college football prospects for the upcoming draft, and unlike the NFL Scouting Combine, individual Pro Days or even private workouts at the team facilities leading up to the draft, this is the last time these guys will wear pads while they're interviewing for NFL teams.
It's a few days of practices followed by a game on Saturday, and every important decision-maker—from the coaching staffs to scouts, general managers, and everyone in between—will be in attendance.
And whether it's evaluating the top collegiate players who are there competing, including guys this year like Oklahoma's Baker Mayfield or Wyoming's Josh Allen, both quarterbacks who are considered by some as first-round picks, or the hiring of unemployed coaches and scouts, who flock there to network and hope to be hired with a team—this is one of the most important weeks of the year for NFL teams.
Much is always made of the first-round picks leading up to the NFL draft. They get the headlines, the publicity, and they're generally the most-talented players. But the good teams stay successful by hitting on picks in all rounds.
It's just as important, if not more important, for a team to find production and value with the later picks as well as the top ones. That's specifically important this year for the Chiefs, who don't currently have a first-round pick after sending it to Buffalo last year for the ability to climb up to the No. 10 overall pick, which was used on quarterback Patrick Mahomes.
It doesn't take much digging to find a player who helped the Chiefs last year that was a mid-round pick and who also competed at the Senior Bowl.
That distinction goes to rookie third-round pick Kareem Hunt, who spent the week competing in Mobile before leading the NFL in rushing and breaking numerous franchise records in the process last season for the Chiefs.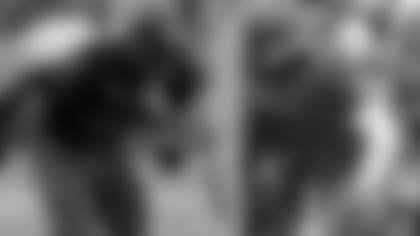 The Chiefs' second-round pick last year—edge rusher Tanoh Kpassagnon—also competed in the Senior Bowl.
And before Hunt and Kpassagnon, it was guys like Dustin Colquitt (2005), Tamba Hali (2006), Allen Bailey (2011), Mitch Schwartz (2012), Eric Fisher (2013), Steven Nelson (2015) and Eric Murray (2016), among others.
For teams to be successful, they not only need a great coaching staff and personnel department that understands the philosophy the team is putting forward from top to bottom, but they also need great players all throughout the roster.
And in order to find those players, teams must take advantage of every opportunity to look at evaluate potential additions to their roster. The Senior Bowl has always been one of the best opportunities to do just that.
This past season, there were more than 500 Senior Bowl alums on rosters across the NFL, including more than 20 Pro Bowlers this year.
Even beyond all of that, this is Chiefs' general manager Brett Veach's first opportunity to lead his staff at an event since he took over last summer.
And with it being such a critical offseason for the team—filled with important decisions to be made, which, in all actuality, is the case every year—there's even more reason to see the Senior Bowl for what it is—the unofficial kickoff towards 2018.
And for fans, it's a good time to turn the page and start looking ahead.
If you want to follow the process of how an NFL team is built and the origins of how a roster and the draft all comes to fruition, then pay attention to the Senior Bowl this week.
For Chiefs fans, you're in luck because we'll have you covered on-site in Mobile all week long at Chiefs.com. We'll talk to the experts in attendance as well as the players making a name for themselves, and we'll catch up with general manager Brett Veach and head coach Andy Reid, and have plenty of other exclusive content that you won't find anywhere else. For those on Twitter, follow @ChiefsReporter for live updates throughout the week.