As the 2014 NFL Draft continues to draw close, May 8-10, the opportunities for the draft-eligible players to improve their stock also winds down.
Following the college football season, their first 'job fair', if you will, was the Senior Bowl in Mobile, Alabama. Next, 300-plus college athletes were invited to showcase their talents in front of NFL general managers, coaching staffs and scouts at the 2014 NFL Scouting Combine in Indianapolis, Indiana.
When the Kansas City Chiefs brain trust traveled to Indy, the team's director of player personnel, Chris Ballard, identified the staff's specific objectives.
"It's a big piece of the draft puzzle, because we got a chance to get medical evaluations on the players, do physical testing and watch our coaches work them out," Ballard said. "We also got the chance to interview them. The combine is a big piece of the puzzle for us; the tape will always stand out, but it was a big, important step in the draft evaluation process."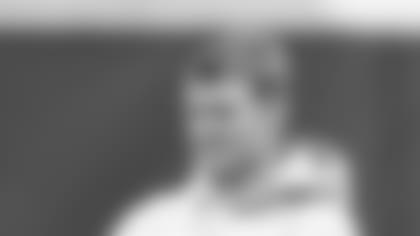 Following the combine, athletes began their own individual workouts, before participating in their school's pro day, which serve a two-fold purpose for the athletes. If the players weren't invited to the combine, they get their opportunity to perform any of the drills/workouts that they choose (bench press, 40-yard dash, etc.), aiming to prove their worth to the potential employers on hand. Secondly, if the players participated in the combine and maybe didn't perform as well as they would've liked, they use the pro day to try and improve their stats, right on their home turf.
During the pro day workouts, players may be asked by coaches, scouts, etc. to complete individual positional drills as well.
Regardless if the future NFL athletes are working out in front of NFL personnel departments at the combine or on their own college campuses, the roles of the talent evaluators never change.
"It gives us a chance to really hone in on guys that we think are going to be Kansas City Chiefs," Ballard said. "All our scouts will go out and attend every pro day. We are always trying to find the guys that might not have attended the combine. It's another chance to spend some more time with those players, to spend individual time with those players."
And when those visits and interviews are taking place, Ballard described his staff's approach to each and every one.
"We are very thorough," Ballard said. "Each guy has a duty. Some guys will time, but we have somebody looking at each and every station, when they are working out physically. Also, from an interview standpoint, this is a chance to really get to know the kid and get to know him and spend a little time with him, for our staff to spend time with him, for our scouts to spend time with him. It's a really good time to get to know the guy."
One of Ballard's staff members, Chiefs Area Scout Marvin Allen, says despite working in different departments, the Chiefs personnel and coaching staffs are constantly relying upon each other to ensure the 2014 roster will be the best it can possibly be by Week 1 of the upcoming season.
"We are working right together, personnel and the coaching staff," Allen said. "It's our job to find what they need to be successful. They have to be able to give us a definition and then we have to go find what they want. Absolutely, we are all working together."