Georgia LB Ramik Wilson – Round 4 – No. 118 overall
Wilson (6'2", 237 pounds) was a second-team All-SEC player at Georgia last season, finishing with 110 tackles, including seven for loss.
"I play hard, I play fast, I'm a sure tackler," Wilson said.
He ran a 4.62 40-yard dash at the Georgia Pro Day.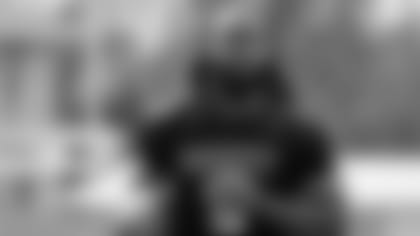 Wilson spoke about the opportunity to play with Chiefs linebacker Derrick Johnson.
"I think he's perfect for someone to learn under and I can't wait to work with him."
While at Georgia, Wilson played with current NFL players and former first-round picks Alec Ogletree (St. Louis Rams) and Jarvis Jones (Pittsburgh Steelers).
"I learned a lot from him– how to use my hands, how to use leverage, everything," Wilson said of Jones. "When I moved to inside linebacker, I had another great player in front of me—Alec Ogletree; I sat behind him and learned, too. How to prepare for the games, how to practice hard, how to study film and how to play fast."
Chiefs Assistant Director of College Scouting Dom Green on Wilson:
"He's big, he's fast and he can run and hit," Green said. "Those are the things that jump out on you on tape when you're watching him. He led the SEC in tackles his junior year. You watch the Georgia Tech game, South Carolina game this year and all of those traits are evident.
"Georgia does a really good job. They're in their first year of their new defensive coordinator getting there, Coach (Jeremy) Pruitt and he did a nice job of picking up their new defense and getting in there and making plays for him."
Green continued about what he looked for in studying Wilson.
"When you are doing defensive players, you like to watch if Georgia Tech is on their schedule," he said. "You really like to watch that game. There are several plays in that game because you have to play assignment conscious football. You have to read things and then flow to the ball. That game really stood out, 19 tackles. Then if you cut on any of his junior tape he is flying around making plays."
"The big thing as a scout, what you really need to know is what are they asking him to do? What are they teaching him? Because in today's day and age of spread football, something that you may think he's this or that, he's doing what he's taught to do.
"I think (Wilson) can find the football and he can play physical and all those things. I don't think that's going to be a negative for him."
---
Oregon State LB D.J. Alexander – Round 5 – No. 172 overall
Alexander (6'2", 233 pounds) played in 44 games (32 starts) in his four-year career at Oregon State. He finished last season with 70 tackles, which included 12 for loss and also added four sacks.
He spoke about the pre-draft process on a conference call on Saturday.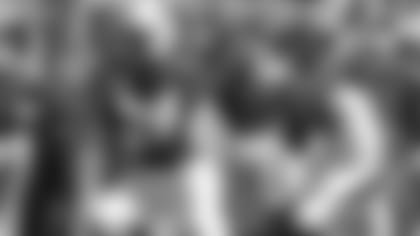 "I took a visit out to Kansas City; it was one of my first visits. I fell in love with it out there. I felt like the coaches really liked me. I had a good feeling that they could pick me up but you never know with the draft. Strange things happen so you have to hold on and wait for that call."
Alexander spoke about joining his college teammate Steven Nelson, who was drafted by the Chiefs in the third round (No. 98 overall), in Kansas City.
"When I saw him go earlier yesterday, I was like 'It would be great to be on the same team as him.' I think he's a phenomenal player. We both work hard and we came from the same kind of background at Oregon State. I think we're going to be a good fit for the Chiefs too, like I said, win more games next season."
Alexander broke down his game a little.
"I love hitting. I'm just fast. I'm just a really aggressive player and I try to be physical as soon as I get on the field."
Chiefs Area Scout Trey Koziol on Alexander:
"I think first and foremost, this kid has outstanding speed. He's got some rare physical traits just getting from point‐A to point‐B on the field. He made a lot of plays for them. He's been a four‐year player for them at Oregon State. I just thought he was an explosive athlete who could really help us both at inside linebacker and on special teams as well."
"He played their base 43 defense, and he's played both the strong and the weak side linebacker over the course of his career there. For how that transitions to us, he would compete for one of those inside linebacker spots in our scheme."
Koziol was asked about Marcus Peters, Steven Nelson and DJ Alexander's competitive nature and attitudes.
"You don't have to dig too deep because you see it on tape. That's the one thing with all three of these guys – their love for the game and that killer instinct, that chip on your shoulder. You have to kill him to beat him type of personality. That's something that you look for and I think those three guys really show it on tape."
Illinois State TE James O'Shaughnessy – Round 5 – No. 173 overall
O'Shaughnessy (6'4", 245 pounds) played in 49 games and recorded 67 catches for 1,170 yards and 14 touchdowns during his career for the Redbirds.
He spoke about the opportunity to join the Chiefs.
"I'm ecstatic, I'm excited, I'm happy. It's a mixed bag of emotions right now. I'm just really appreciative to have this opportunity. I really appreciate being involved in such a great organization. It's difficult to describe."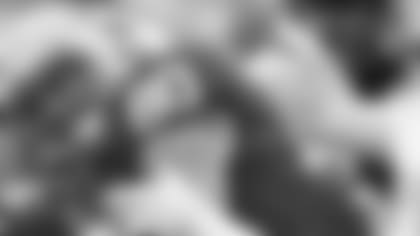 One player O'Shaughnessy said he has paid attention to while studying others is Chiefs tight end Travis Kelce.
"I watched (Kelce). Obviously he is a tremendous tight end, extremely talented and does so many things. His versatility is extremely impressive at the tight end position, which makes me even more ecstatic to be able to be a young guy, to be able to see from an older guy like him and learn from the things he does.
"Obviously he was a great success last year and I'm assuming he is going to have great success for the rest of his career. So I am just very fortunate and happy to be able to be behind him and learn as much as I can from him. I'm just very excited to be a part of Coach (Tom) Melvin's group."
O'Shaughnessy made one guarantee.
"I guarantee you this. I will bring everything I've got. I understand this league is not an easy league to be a part of, it's not an easy league to make it in. Every day I am going to fight and scratch and make sure that I can be a part of a roster and contribute to a winning team whether it be on special teams or it be on offense or other facets of the game that you need me to be a part of.
He did take a pre-draft visit to Kansas City and one thing that stood out to him—Arrowhead Stadium.
"I saw Arrowhead Stadium, I saw the 80,000 seats and I got ecstatic. Because obviously I've never played in anything near that big. It's a beautiful place and I can only imagine what it looks like filled up with 80,000 raving fans. I'm very excited."
Chiefs Area Scout Terry Delp on O'Shaughnessy:
"What jumps out is he's got some speed and big play ability. He averaged 18 yards a catch, which is pretty unusual for a tight end. Really good hands, very competitive, very tough kid. Got some run-after-the-catch instincts too. He's a small‐school kid, so he is kind of raw.
"He played receiver in high school, so blocking he is really competitive and tough and he does enough, but he's got legitimate upside there so that's an exciting part of it too. Special teams, the kid is great. He is one of the first guys down every time. In the North Dakota State game, he knocked himself out. He was running down and ear‐holed the linebacker. This dude is just 100 miles per hour. Competitive, tough dude."
Delp said he lined up both in-line and split out while at Illinois State.
"They played him all over the place."
Southern Miss. DL Rakeem Nunez-Roches – Round 6 – No. 217 overall
Nunez-Roches (6'2", 307 pounds) finished last season with 58 total tackles and 14 tackles for loss. He also added seven quarterback hurries.
"Every coach, they always tell us they can't teach effort, they can't teach running to the ball," Nunez-Roches said on Saturday. "That's one thing I always emphasize on myself. Nobody will ever beat me to the ball, nobody will ever make the tackle before me. I know realistically it can't be like that, but in my mind, that's how I play."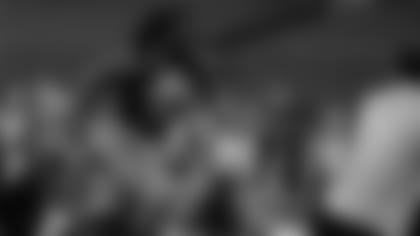 He was also a pretty good baseball player (as he tells it).
"I was phenomenal," Nunez-Roches said of his baseball ability. "I loved first base. (Baseball) was one of my best sports. I don't even know why I didn't stick with it. I think I was more of a physical guy; I wanted to get anger off. You can't hit too many people in baseball, you can just hit the ball."
Nunez-Roches was born in Belize and moved with his mother to the United States when he was eight years old. He spoke about that transition.
"Really when I got here, I was excited," he said. "Everything amazed me from the little things – running water to electricity. Because that's not what I'm used to, that wasn't what I was accustomed to.
"Growing up and seeing the hardships of my mom from job to job, being homeless periodically from here and there, having to move a lot of places, relocating depending on job security. I really took that and I ran with it. Just seeing my mom and I knew I wanted to be in the best situation where I grew up to put her and my kids in the best situation. I think that's what motivated me to be the best I can be. On and off the field."
After being drafted by the Chiefs, Nunez-Roches shared what the whole process has meant to him.
"It is the biggest accomplishment I've ever accomplished in my life. Not just being in the NFL, just standard for my generation. I wanted to be that guy who creates new levels."
Chiefs Assistant Director of College Scouting Dom Green on Nunez-Roches:
"He played on the nose (at Southern Miss). He played some three, a little end. They kind of moved him all over the place because he is an athletic guy."
"He's a big dude. He has weighed 326 before. His best weight is probably where he is at now, 307 to 312. Guys that can run a 5.0 flat 40, you put on the Alabama tape you can see the speed. You can see the motor. You can see the explosiveness in his body."
Green thinks there's a good chance for improved development with Nunez-Roches.
"They've had like three different positon coaches at Southern Miss. You bring him in here with Coach (Tommy) Brasher, he's the best one in the NFL in terms of teaching technique. You look at what he did with Jaye Howard and some of the younger players and how they have ascended under his watch. Rakeem has all the tools to do those things."
Green even got to spend a little time with the family.
"He's got a great mother," Green said. "I spent a lot of time with her at the pro day. I worked him out personally, myself at his pro day. Good kid. Definitely an ascending player who has all the talent to come in here and play three and some nose for you."
Northern Illinois receiver Da'Ron Brown – Round 7 – No. 233 overall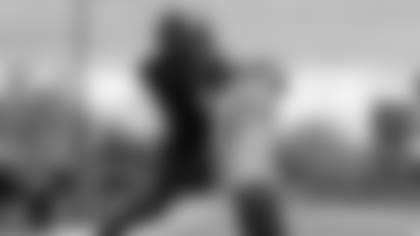 Brown (6'0", 205 pounds) had 68 receptions for 1,065 yards and six receiving touchdowns last season for Northern Illinois.
"I played inside and outside," Brown said. "It was just a matter of what they needed me to do at that moment. We'd work on it during the week and then game time comes, and we'd plug in the play and let it go."
"As a receiver, my strengths are my catching ability. I've been able to make a few plays happen. I'm physical in the run game as well. Some things to work on overall just to improve your overall game, you can never stop getting better. You can always improve. Overall route running, anything. I say that catching is one of my strong suits, but I can still improve on that. So improve overall, not just one thing just your overall game."
Brown said he's comfortable playing on special teams.
"My first three years at Northern, I was on the kickoff coverage and punt coverage teams. I also practiced with the punt return team as well."
Brown said the best game of his career came against Ball State.
"I had over 200 yards receiving, two touchdowns. Also, I played against a former teammate of mine, he's almost like family to me, a brother, Brian Jones, he plays at Ball State, we came out together. Every time we play each other, it's one of those fascinating moments that we look forward to. To be able to play against him and perform the way that I did, it was a memorable moment for me."