Third-year quarterback Aaron Murray and second-year center Mitch Morse were already familiar with one another before they joined the Kansas City Chiefs.
They had used the same trainer down in Atlanta, Chip Smith, for their pre-draft preparations.
Although they were selected in different years—Murray in the fifth round back in 2013 and Morse in the second round a year later—their paths had crossed before their NFL careers had intertwined.
When Morse decided that he was going to stick with what he knew this offseason as far as a training program, which was with Smith down in Atlanta, he knew he'd be seeing a familiar face every day in Murray, who had a house not too far away from the facility.
In March, Morse decided to move down to Georgia and spend six weeks living with Murray and his sister, who watches the place when Murray is out of town.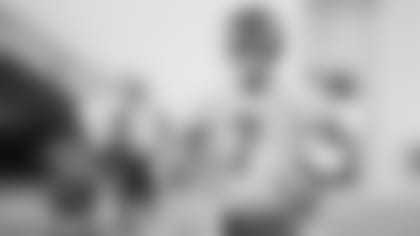 They were joined by second-year tight end Ross Travis, who spent last year on the Chiefs practice squad.
"I knew I wanted to be around a quarterback," Travis, who is working through a transition of playing college basketball at Penn State to now an NFL tight end, said of the decision to move down to Georgia with Murray and Morse in the offseason. "My biggest thing was taking that time to learn some things about the offense."
It was a full house, and the 6-foot-7 Travis was relegated to the bottom level.
"They had me sleeping in the basement," Travis jokingly said. "I was on the couch the whole time I was down there, but hey, that's what I had to sacrifice.
"We'd work out in the morning, and we kind of felt guilty sitting around all day playing video games," Morse joked. "So we're like, 'Let's do something productive.' We had these little dummies in the yard that we would set up as offensive linemen and they'd walk through stuff, and I'd walk through some stuff.
Twice a week, Murray, Travis and Morse would recruit some receivers in the area, which for a while included second-year player Chris Conley, who worked out with them before joining Jeremy Maclin and Albert Wilson in Kansas City. Together, they worked out at a local high school.
After the morning workouts each day, the three players would get together in the afternoon and watch film together.
"It was really good for me to be able to be on the same page with the center with calls and protections," Murray explained, "and it was good for Travis to kind of start seeing the plays because the majority of his stuff was on the scout team last year.
"We talked about things like what we're looking at as a quarterback based on safety rotation, or how a linebacker may be giving hints away about what guy might be rolling where, so it was great I think for all of us.
"I know I learned a lot working with them."
While Murray and Morse were both drafted, Travis is working his way uphill as an undrafted free agent transitioning to a sport he hadn't played since the ninth grade.
After turning heads on the scout team last year with his combination of size and natural athleticism, Travis has been making plays so far at offseason workouts for the Chiefs, even getting some key reps with the veterans.
"I'll tell you, he's so dedicated," Morse said of Travis. "He's here before anyone and he's dedicated to his craft. That's going to be exciting to watch."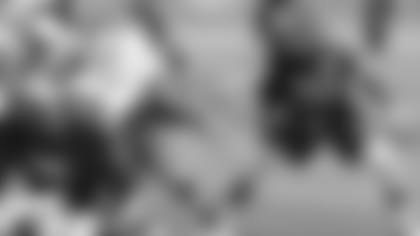 Morse did mention that the transition from basketball to football does have one major key, and it's something that won't take place for Travis until training camp.
"It's going to be weird to see what happens when he gets hit for the first time," Morse joked. "We've already hyped him up to get up as fast as he can because it's going to happen. But after that, get up, talk some smack, and you roll."
Morse was also impressed in what he saw from Murray during their time together and gathered what the opportunity to compete for the backup quarterback job meant to him.
"I think Aaron knew that it was a very important year for him," Morse said. "He's not going to say that but he works like it. He takes care of himself more than anyone I've ever seen, and mentally, he's taking control of the pocket."
The time they spent watching film together and communicating what they're looking at on each play has only helped Murray feel more comfortable here in his third year of OTAs.
"You kind of start to picture it and put it together like a puzzle," Murray said. "So now when I get the play call, I can actually picture the play instead of my first year, even last year a little bit. [Back then I was] kind of trying to memorize and just trying to say the play (in the huddle).
"Now, you can picture it and spit it out pretty fluidly."