Two days after signing his new contract with the Kansas City Chiefs, S Husain Abdullah met with the media, via conference call, to discuss his return to the City of Fountains, expectations in 2014 and much more.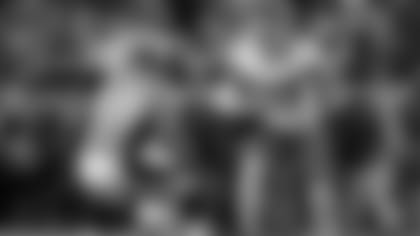 Q: What interests you about Kansas City and playing here, again?
ABDULLAH: "Everything, from the fans, to the way the organization is run, to just the way we gelled last year as a family and everybody coming together and being successful and playing for a contender, being around people who you like and people who like you; there are just so many positives."
Q: Talk about coming back and working with your coaches.
ABDULLAH: "Yeah, Coach (Bob) Sutton, definitely loves his team and is able to get a lot of DBs out there. We're all out there running around, (doing) all different kinds of blitzes and everybody is getting a chance to make plays and have fun. And (Dave) Toub, that was one of the, since college, the best special teams units I've played for and was fun to play for. It's kind of a no brainer in coming back."
Q: How would you like to see your role expanded?
ABDULLAH: "That's really, as I said before, you just have to sit back and wait and let the offseason shape out and let the coaches, Coach (Andy) Reid and General Manager (John) Dorsey, kind of do their thing. Whatever they ask me to do, I'm going to be here. I'm just excited for the future and I'm here (for what's) necessary."
Q: How comfortable are you playing different positions in the backfield and would you do that on a full-time basis?
ABDULLAH:"Yeah, like I said, whatever they ask me to do. I think they looked at me and said – you know, I've always been looked at as kind of a 'tweener – so they look at me and say 'We can use Husain here, we can use Husain there.' Depending on what their game plan is for the week and however it is they want to use me, I'm going to be comfortable with it. I know that they're going to put me in the best possible situation to succeed."
Q: Do you feel good about the deal you made?
ABDULLAH: "Definitely. I'm excited about the entire experience as a whole, being able to get an opportunity. Kansas City being the first team to call me and the first team to give me a shot, then them being aware of who I am and of me as a person and not just another guy. Of course, when it comes time to come back, I'm definitely leaning towards them, because these were people who took their time to actually truly scout me and not just the on-the-field stuff, but who I am as a man off the field as well. So, I'm very excited to be back."
Q: Did you get interest in other teams besides Kansas City this offseason?
ABDULLAH: "There was stuff here and there, but the whole time I was like, 'Okay, there are different things, but in reality, I want to stay in Kansas City.' I like Kansas City. My family likes Kansas City. There is no reason to kind of go out there and go to some place that you don't like. I really like it in Kansas City. So, I'm definitely grateful that we're able to get an agreement done."