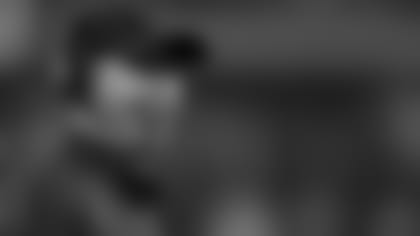 Houston Texans head coach Bill O' Brien described how he feels about former Chiefs head coach and now-Texans defensive coordinator Romeo Crennel.
"He's just a really good guy, really smart, a lot of experience, great staff member, a guy for me that has been a head coach and sat in this chair and you can bounce things off him and I think that's a really good resource to have too, and he's done a good job with our defense."
O'Brien said that it takes a special player, like defensive lineman J.J. Watt, to allow him to freelance on defense.
"I think from day one, what we've seen from J.J. is the guy has a unique skillset. He's a great player and he's smart. He understands our system, he understands how to play within our system, he also understands how to communicate with his teammates when he's going to move around and do something a little bit different. His teammates have his back and I think that's a big thing. We have a lot of trust in J.J. obviously. J.J. is a great player who understands the team aspect of things and we're lucky to have him.
O'Brien compared preparing for Watt to preparing for linebackers Justin Houston and Tamba Hali.
"I think it's difficult. I think that in order to game plan against a guy like that, I'll tell you what, we're going through it right now game planning for Houston and Hali. I think that you have to know where they are on every play. If you slip up and you're not sure where he is and you make the wrong check, or whatever it is, he's going to burn you and it could be for a big play. I see it the same way. I just think it's very difficult to game plan for J.J. Watt and for any great player in this league."
Defensive lineman J.J. Watt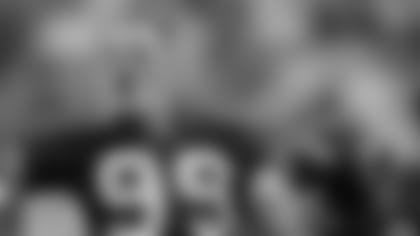 Defensive lineman J.J. Watt explained how Crennel has positively impacted the team's play.
"I think that we've done a great job and he's done a great job over the last year or two," he said. "We're in the second year with his defense now, so everyone's a little bit more well-versed in it and we all understand the concepts and the schemes much better, so now we can do some more things that maybe we weren't able to do last year. Just from an experience standpoint and myself personally, some of the freedoms that he allows me, it's a lot of fun to play in this defense."
Watt described how a shuffled Chiefs offensive line on game week alters his preparation.
"You just watch film and you really just kind of – the way that you picture their offensive line when you watch the film, really, that's what changes," he said. "You got guys lined up in one place and you hear a report or something and you go over and you readjust. We always readjust on the fly so it doesn't necessarily change a whole lot. You just go out there and at the end of the day, football is about playing your game and making sure that somebody else has to stop you as well. You can't worry entirely about what the other team is going to do. You have to make sure you do your job as well."
Watt commended Houston and his 22 sacks from afar.
"I think he had an incredible year last year and I think he's been a great player in his time in the league so far," Watt said of Houston. "22 doesn't just happen. I think he did a great job last season and obviously having him and Tamba [Hali] both come off the edges, that's a very formidable duo there."