The entire Kansas City Chiefs football team has been living in the Scanlon Hall dormitory on the campus of Missouri Western State University since Friday, July 26th.
Since that time, the players have endured 11 total practices, all but one of them occurring in the morning. After watching the back-and-forth battles between the offense, defense and special teams, many questions have been asked by the media, as well as fans; in this edition of "Here's What We Know", Chiefs head coach Andy Reid, assistant head coach/WRs coach David Culley, offensive coordinator Doug Pederson, special teams coordinator Dave Toub and defensive coordinator Bob Sutton address some of the inquires that are most-often asked, heading to Friday night's preseason road game against the New Orleans Saints in the Mercedes-Benz Superdome.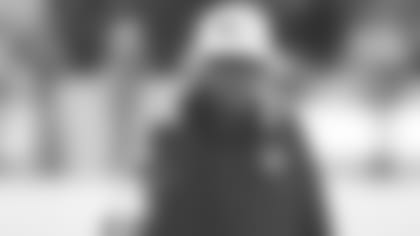 Chiefs wide receivers coach David Culley has the plan for Friday night's game in New Orleans.
"Basically, what's going to happen during the game is that our rotation, as far as how we play, will be based off of the quarterbacks. Alex (Smith) is going to have the first quarter. Chase (Daniel) is going to have the second quarter. Tyler (Bray) is going to do the third quarter and maybe some into the fourth quarter. Ricky (Stanzi) will end the game. As far as everybody else, their playing time will roughly be based off of how our quarterbacks are in there. When he's in the game with the first group, our first group will be in the game; then our second group will come in and play with the second group. Some of those guys will overlap because of the numbers. We'll have some guys playing into the second quarter. Some guys playing in the third quarter based on numbers that we have. Basically, that's how it's going to end. It's going to start that way, simply because we want to be able to see everybody. Everybody is going to play during the game. There won't be anyone that will not play in the ball game unless there's an injury or whatnot."
Chiefs offensive coordinator Doug Pederson thinks Alex Smith is the best QB fit for this team:
"I've had the chance to look at Alex Smith for the past couple of seasons, even back in Philadelphia. We just felt like as an organization and as an offense, that we've changed and one of the changes was to fill this position. We wanted to get the best out there. There are great quarterbacks in the National Football League, don't get me wrong. We just felt like Alex Smith is the best for our team and to lead us this season."
Chiefs special teams coordinator Dave Toub loves the potential of rookie Knile Davis.
"He's doing better. We've kept him after practice three days and he's catching extra balls in the jugs. His big thing is focus. He's never really done it in college, so we're trying to utilize his talents as a big guy that can run fast and we're really thinking we can develop a kick returner. So, it's going to take a little time, but we're looking forward to seeing him in some preseason games."
Chiefs defensive coordinator Bob Sutton is a big fan of his starting strong safety Eric Berry.
"Eric is obviously a really good football player that has a great skill set. He's one of those guys that can play on the back end and play deep. He has the ability, as in the past, to come down and play low in the box in sub situations. He can cover, he can blitz and he's a very active run defender for a DB that is down in the box. He has a feel for it; he can slither in and out of the box, so he gives us a lot of flexibility. The more things he can do, the more difficult it is for the opposing teams to say 'this is what he is.' That's what we're doing, like all our guys that we have, we try to identify what they do well and try to plug them in accordingly. I think that's one of the things that they are gathering and understanding; if you do something well, you might not be a starting player, but you may find your way onto the field."