The Pro Bowl didn't feature any members of the Kansas City Chiefs this year as the team prepared for Super Bowl LIV, but that didn't prevent a pair of Season Ticket Members from enjoying the experience of a lifetime.
In fact, they wouldn't have had it any other way.
"We were just beside ourselves," said Season Ticket Member Darryl Franke. "We were strutting around in our gear and there was no doubt who our team was."
Franke won the experience as part of the "30 Prizes in 15 Days" sweepstakes last offseason, which provided fans with the opportunity to win a series of prizes for renewing their season tickets early. It was only a few weeks after renewing his tickets that Franke learned that he had won, but he refused to believe it.
"I've never won anything in my life," Franke recalled. "When I got off the phone, I looked at my wife and just remember saying, "This can't be real.'"
Disbelief aside, Franke was headed to Orlando in January to enjoy the Pro Bowl and the various festivities surrounding the annual All-Star game alongside his son, Cooper. Franke – who originally became a Season Ticket Member back in 1989 – primarily utilizes his Chiefs season tickets as a way of spending time with Cooper, making it no surprise that the teenager would accompany his dad to Orlando.
"He's at the stage right now where we don't have as much that we get to do together, but Chiefs' football has been a huge thing for our family," Franke said, emphasizing that he renewed his tickets last year because of his son. "We're always talking about it, thinking about it and watching it. It's a way for us to connect."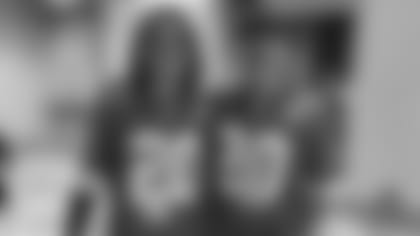 And while the Chiefs weren't there, the football atmosphere was alive and well. The duo enjoyed practice throughout the week, snagging an autograph from Indianapolis Colts' All-Pro linebacker Darius Leonard, while also participating in a handful of exclusive experiences such as a presentation from Al Riveron, the NFL Senior Vice President of Officiating.
It was the opportunity to meet and get to know other fans, however, that stuck with Franke the most.
"It was great just meeting and talking to everybody, especially with us wearing our Chiefs' gear," Franke said. "It was amazing how many similarities we had with others. We were on the bus with them just laughing and talking. It was fun seeing others who are as into football as we are."
And the weekend was still just getting started. The duo soaked in the game itself on Sunday, watching as the AFC defeated the NFC behind a second-half comeback. The contest didn't count in the standings, but the memories forged at the game were just as impactful.
"The benefit of being there is you can really see the players interacting and how close they all are. They were all having fun, which is great to see even though it's not a real game," Franke said. "The whole weekend was one of the best times that I've ever had associated with football, and I'll include the AFC Championship Game in that. The trip was just a lot of fun."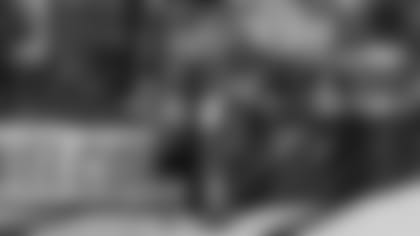 It really gets back to why football is so important to Franke and his family. It's about spending time with his son and crafting moments that will last a lifetime.
"The Chiefs really cared about us and wanted us to have a good time," Franke said. "It makes it easier to invest your money into something when you know they care about you."
The team wasn't down in Orlando for the Pro Bowl this year, but thanks to Franke and his son, Chiefs Kingdom was well-represented.
The "30 Prizes in 15 Days" sweepstakes for this offseason is currently underway, and fans who renew their season tickets for the 2020 campaign will be automatically entered to win an assortment of prizes.