On Wednesday afternoon at the University of Kansas Hospital Training Complex, Kansas City Chiefs quarterback Alex Smith confirmed what many pundits have been saying all week leading up to Sunday's AFC divisional matchup with the Pittsburgh Steelers.
Smith understands that his performance on Sunday will most likely have a major effect on his legacy and how he's viewed as a player, and whether that's fair or not—he knows that's just the way it is, saying, "It's part of the deal."
This is all to completely ignore the simple fact that he's 41-20 as the Chiefs' starting quarterback in the regular season over the past four years, which is the best start for any quarterback in franchise history, but this is also coming from a guy that will be the last to beat his own chest about his past playoff performances.
The truth is Smith has been phenomenal in his postseason career, completing more than 60 percent of his passes with 11 touchdowns and just one interception. His 99.1 passer rating is second best in the league since 2011.
Some teammates, including veteran Jeremy Maclin, will point to Smith's temperament and ability to stay even-keeled as to why he can perform when pressure is at its highest point.
"He's always so calm and under control," Maclin, who also pointed to Smith's preparation each week leading up to games as a reason for the success, explained. "As receivers and other guys on the offensive side of the ball, when you're seeing your quarterback take that much responsibility for himself and really dig into his preparation, I think it makes everybody want to play better for that particular person."
If you follow the Chiefs or own a television, computer or smart phone, there's a good chance that you've heard or seen these playoff numbers from Smith before.
They aren't a secret, but the bottom line is that he's 2-3 in his playoff career, and for a player that only cares about winning football games—not individual success—those numbers aren't good enough.
"I think the thing that's made this year different than years past is that this team has been in a bunch of battles," Smith explained. "We've been in a lot of games – good, bad and big time [games] in all types of conditions and stages. I think because of all that, this team has a really good sense of confidence about who we are, what we can do, what we're capable of and how to go about it.
"I think we've been battle tested and in years prior, that wasn't always the case. I think there's an easiness about this team - a calmness."
Smith's calmness and ability to handle the biggest moments of his career should help with Sunday's rematch against a Steelers team that handed them a 43-14 loss in Week 4.
It was a game that got out of hand quickly with a couple of early turnovers by the Chiefs, and before anyone knew it, they were trailing 22-0, and at that point, game plans can be thrown out the window.
"We can't talk about it, we just have to go out and prove it," Smith said of how different this team is compared to what is was at that point.
After that game, several players, including Smith, talked about looking in the mirror and challenging themselves to be better.
"I think everybody in that locker room remembers what that was like," Smith added of that time.
The Chiefs won 10 of their next 12 games on the way to their first AFC West title since 2010, and now they're hosting their first home divisional playoff game since 2003.
It's a chance for the Chiefs to show how far they've come, and that their performance that night in October was an outlier and not indicative of who they are.
"The whistle is going to blow and it'll come down to football," Smith said of handling the moment on Sunday. "It'll come down to executing. Every team wants it and everybody is going to be emotional, but I think the team that can handle this stage, lock in and focus in attention on the details will win the game."
The good news for the Chiefs is that they're playing in the friendly confines of Arrowhead Stadium, where opposing teams have scored more than seven points below their season average this year (15.8 to 23.6).
When that's combined with a Steelers team that's also averaged about a touchdown less on the road compared to home (28.3 to 21.6), that's a recipe for the home-field advantage playing a huge role in this matchup.
"You learn pretty quickly when you put on the jersey and go out there in front of this crowd and these fans what a special place it is," Smith noted. "This is so unique, and there's nowhere else like this."
This season, the Chiefs are 12-0 in games the offense puts up at least 19 points, and they're 7-1 against teams that finished in the top 10 in the league in scoring. That one loss was on the road to the Steelers, although it's worth noting that the Steelers are 0-3 on the road this year when giving up at least 21 points.
In three career playoff games with the Chiefs, Smith's offenses have averaged 31.3 points.
"He loves that challenge and does well with it," Reid explained of Smith in the playoffs.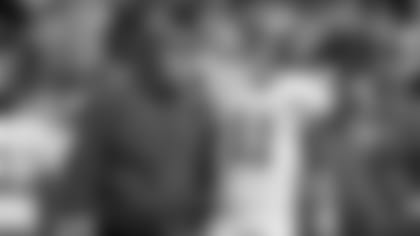 Since Smith, Reid and company arrived prior to the 2013 season, the Chiefs have steadily improved each season—going from a wild card appearance in 2013, to a wild card win in 2015, to a first-round bye and divisional title this year, and the next step in that progression is an appearance in the conference championship.
"The expectation for this team and our goal is to take that next step," Chiefs co-offensive coordinator Matt Nagy explained. "I think [Smith] is doing the same thing in his position, but he doesn't put any more pressure on himself. He's so focused and driven that I think that's where you might see [his experience].
"Not that he wasn't [driven] before, but, man, this year you can really see it."
In terms of his legacy, this chapter of Smith's story is one based around an opportunity, not just for the Chiefs, but also for Smith, to help change a perception that may not be fair to what he's already accomplished, but the two can coalesce with a similar playoff performance to what we've seen from him in the past.
"We gave ourselves an opportunity," Smith said. "That's all it was, and that's what we talk about. We got the opportunity—now let's go take advantage of it."