If there's a consensus after speaking with a number of national media members at radio row in Houston, Texas, on Tuesday, it's that Kansas City Chiefs head coach Andy Reid and general manager John Dorsey have earned plenty of respect from those who have been covering this sport for more than a couple of decades.
"First of all, John Dorsey is one hell of a personnel man, and two, Andy Reid is a hell of a football coach," CBS Sports' Pete Prisco explained of the turnaround of the franchise over the past four years. "Andy Reid doesn't get the credit he deserves around the National Football League for being as good a coach, as he's been over the years. I mean all the guy does is win games.
"When you combine those things together, you have a team that's in the playoffs and in the mix every year."
In the four years before Reid and Dorsey arrived in Kansas City, the Chiefs were a combined 23-41 with one playoff appearance (2010), and in the four years they've been leading the Chiefs, they flipped that around and went 43-21 with three playoff appearances (2013, 2015, 2016).
It has been Reid and Dorsey's ability to work together to create a roster stocked full of talent and the right kind of people, and then an ability to take and develop those players and place those guys in spots to be successful, that's led to a four-year stretch that's only been surpassed in wins one time in franchise history (1994-97, 44 wins).
"They're two tremendous individuals and I respect them both immensely as human beings," CBS Sports' Jason La Canfora explained of Reid and Dorsey. "We tend to forget some of the adversity that they've dealt with and there's been some things that have happened there that are far outside the norm, but they've continued to galvanize that team and that community.
"There's a level of an expectation of success that's there now and we'll see if they can make that jump to greatness. You can't plateau at this level, you've got to jump that next hurdle."
The Chiefs won the AFC West division this past year for the first time since 2010, but their season was cut short after an 18-16 loss to the Pittsburgh Steelers at home in the divisional round.
It's the second straight season the Chiefs lost in the divisional round, just one shy of playing for the AFC championship and the hopes of bringing the Lamar Hunt trophy to Arrowhead Stadium.
With the Chiefs' impressive 33-10 win over the Denver Broncos on Christmas night, Reid picked up his 183rd career win and entered the top 10 in NFL history for wins by a head coach. 
The New England Patriots' Bill Belichick, who is fourth with 262 career wins, is the only active coach ahead of Reid on that list.
In his 18 years as an NFL head coach, Reid has only had three losing seasons.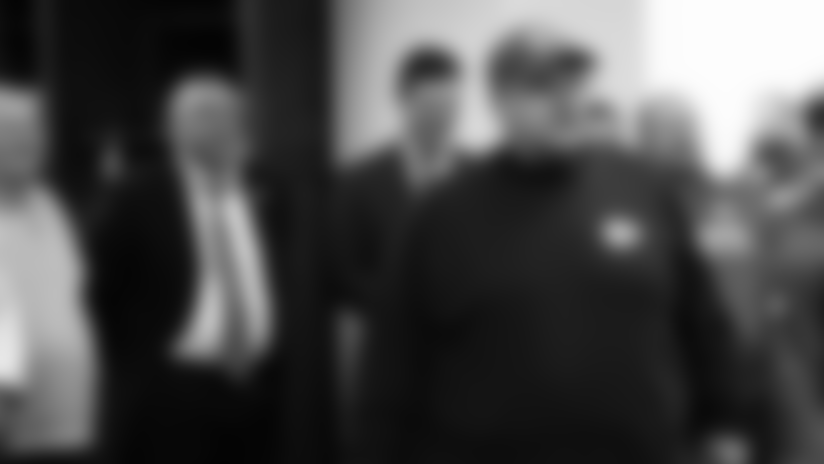 "I think he's continuing to build a Hall of Fame résumé, whether he wins a Super Bowl or not," La Canfora said of Reid. "I covered the Washington Redskins for the Washington Post a long time ago and covered a lot of NFC East football. For him to go to five NFC Championship games, and people point out how he only won one of them, but in this day and age and especially in a division like that with all those big market teams and invested owners who are trying to win, [is amazing]. There weren't a whole lot of easy outs, and for him to build what he did in Philadelphia was incredible. 
"Then we talk about how quickly he's turned around the Chiefs and how that respect level is now back around the league. He's a guy that people want to work with and that people want to play for. He found the perfect partner there in Dorsey and they've done a tremendous job."
La Canfora then expanded on what he knows about players wanting to play for Reid.
"They believe that he genuinely acknowledges, respects and bonds with them as human beings," he added. "It's a human connection. I've gotten to know guys like (former Eagles) Brian Westbrook and Donovan McNabb really well over the years and these guys connected with him in a way that was very real. While upper management of the Eagles always got dinged or criticized for being callous and cutting guys too soon, that didn't really stick to Andy.
"Guys were always like, 'Well, coach Reid has my back and if they're not going to pay me what I think I should get, well I know he tried.'
"He's a genuine human being and I think that transcends what he does as a coach. It's about keeping guys with a singular vision and making them feel a part of something that isn't just a business product for three hours every Sunday."
According to ESPN's Adam Caplan, who also spent time around Reid and the Eagles during his time working in Philadelphia, that respect doesn't just happen with players, but with coaches too.
"He takes care of his coaches," Caplan said of Reid. "(Co-offensive coordinator) Matt Nagy is the ultimate example. Nagy was basically Andy's personal assistant (in Philly). I would see him at practice throwing the football and I didn't know anything about him. He was an Arena League quarterback and a local product out of Delaware. Andy gives guys chances. If they work their way up, do the right thing and treat people with respect, he gives them chances.
"Matt, to me, is one of the rising stars in the coaching community and I think next year he has a chance to be an offensive coordinator. He also has Brad Childress, who's his friend and a really good coach— a former head coach.
"When you look at his staff, Andy has an all-star staff."
The success that Reid and Dorsey have had this far in Kansas City doesn't take away that the ultimate goal hasn't yet been reached, and they'd be the first to tell you that, but with the consistent kind of success they've had and the opportunity being attainable by being in a position to get there every year, there's reason to feel optimistic about the future of the Chiefs' franchise.
"We're not too far off," Reid said last week at the Pro Bowl. "We're in pretty good shape. Dorse will continue to do a great job in the personnel department, and then let's roll. Let's get ready for OTAs and then training camp will be here before we blink. Then it's time to go one more time, man."
The top photos of head coach Andy Reid during the 2015 season