For the first time in almost 50 days, the Kansas City Chiefs (7-3) lost a football game, falling to the Tampa Bay Buccaneers (5-5) by a score of 19-17 on Sunday afternoon at Arrowhead Stadium.
When he spoke with the media on Monday afternoon, Chiefs head coach Andy Reid said after watching the film that it was a matter of execution—not effort—that led to the loss.
"They're fixable things," Reid explained of the issues needing to be fixed to get back on track, specifically mentioning third downs on both sides of the ball. "I've got to make sure that we're giving the guys the things that they're best at and putting them in a position to do those things. I'll make sure that I get that honed up a little bit better, and then when you're given an opportunity we all share the responsibility.
"We have stand-up guys and they'd tell you this—when you're given an opportunity, you have to make a play. Whether you're an offensive lineman, a running back, a quarterback, a wide receiver—you have to make a play and you have to do that consistently at this level if you're going to be a championship-caliber team.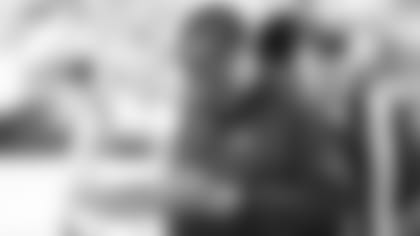 The Chiefs were without key starters on both sides of the ball in veteran receiver Jeremy Maclin, cornerback Marcus Peters and defensive lineman Jaye Howard, not to mention that the NFL's co-leader in sacks, Dee Ford, left in the first half with a hamstring injury and did not return, among others.
But as Reid stated on Monday, the expectation for a championship-caliber team is that the next man steps up and does his part to help win a football game in those situations.
The evaluation process now takes place on how to correct the mistakes that were made on Sunday and figuring out how best to position guys to make plays for the next game.
"You get in early as a coach and you make sure you go through (the film), knock that out, watch the game, grade it, then you come back and meet as a staff," Reid explained. "Then you go back through again, grade it and you discuss it. What could we do better?
"The players come in (on Tuesday) and you can go back through it one more time. We coach them up and teach - teach, teach, teach."
As it has been discussed many times before, the veteran leadership in this locker room is critical in times like this—to trust in the process of evaluating the mistakes, while at the same time, not making it seem bigger than it was, which is just one game of the 16 on the schedule.
The Chiefs currently sit with a 7-3 record with key divisional games coming up over the next few weeks, and while a win on Sunday over the Bucs would have been nice, the fact is everything this team wants to accomplish is still possible.
There's only one team in the AFC (two if Oakland wins on Monday night) that have more wins than what the Chiefs have right now.
"I think you need to learn from your mistakes," Reid added of what needs to be learned from Sunday's loss. "Whether it's me, the coaches, the players – you better focus in and be real with that, and don't sugar coat that one bit. You get in and you go work on it to get those things straightened out in practice when you have an opportunity to do that.
What's also real is of the Chiefs' final six games this season, four of them are AFC West divisional games—starting on Sunday night with the Broncos, who have won this division for five straight years.
When asked if this game on Sunday is a potential measuring stick for his team, Reid just said he's looking forward to the opportunity.
"I would say that's every game in this league, but when you play within your division – you get each team twice – you want to make sure you do well and take advantage of that," Reid explained. "[The Broncos] are a good football team and they've won it last few years.
"What a great challenge. It doesn't get any better. You have an opportunity to play up at their place and you're on national TV, let's roll, man. "It's going to be a great atmosphere for a football game."