On Monday afternoon when he spoke with the local media, Kansas City Chiefs head coach Andy Reid provided another update on linebacker Justin Houston, who continues to work his way back from offseason knee surgery.
When the Chiefs began having Houston practice with the team on Wednesday, October 19, the 21-day window allowed by NFL rules regarding the Physically Unable to Perform (PUP) list began.
According to those rules, Houston, who was placed on the PUP list prior to the season, would be allowed to practice no earlier than six weeks into the season.
So when Houston began practicing on October 19, which was right after the conclusion of the NFL's sixth week—that was technically the earliest Houston could have begun practicing with the team.
Houston now is in the midst of a 21-day window that allows him to practice with the team while still being on the PUP list, but he must be activated by the conclusion of that window or he'll stay on the PUP list and his season will be over.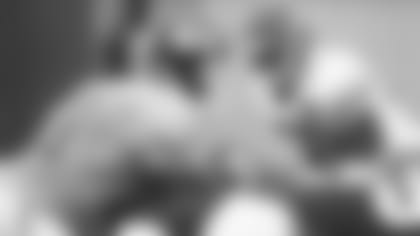 It was a good sign for Houston that he began practicing as early as two weeks ago, and Reid provided another optimistic update about his All-Pro pass rusher on Monday—explaining where they're at right now in his process to get back on the field. According to Reid, they're in no rush to make a decision on him right now.
"We really don't have to make a decision (on when to activate him) until a week from Wednesday, I believe," Reid told reporters on Monday of the plan right now for Houston, who has until the end of that 21-day window, which is Wednesday, November 9, to be activated. "We're going to take it like we have been and see how he does this week, and then keep communication with him and if he needs the week, then he's got that week, all the way up until the next Wednesday.
"If he's ready to go, then he can go. I'll listen to the docs and talk to Justin and see how he's doing."
Reid said that over the past couple of weeks, Houston has been making progress as he works with the scout team and gets back into "football shape," as Reid often calls it.
"I can tell you that he's made tremendous strides from that first week that he was out there to last week," Reid said. "I know he was sore because he was moving around and taking a lot of reps last week, so he's pushing himself through it and we'll just see how he does."
When asked what things he's specifically seen from Houston that display marked improvement, Reid explained that it was a collection of things, starting with the fact that two weeks ago Houston had only done seven-on-seven work, which has very little contact, but that he did a little more last week leading into the game against the Indianapolis Colts.
"[Houston] jumped in and did all the contact things last week, and you could tell that his awareness was better out there and the speed of the game, it looked like he was settling down a little bit to that," Reid added.
Even with the optimism and improvement, Reid said it's unlikely that Houston will see his first action of the season on Sunday at home against the Jacksonville Jaguars.
"It'll be a stretch for him to play this week, I'd tell you that, but we'll see."