Monday's press conference with Kansas City Chiefs head coach Andy Reid posed numerous questions regarding the timetable of a return for the franchise's all-time leading rusher, Jamaal Charles, who has yet to play this season as he works his way back from a torn ACL suffered in Week 5 of last season.
Over the past two weeks, Charles has worked with the scout team at practice in a limited capacity, but as Reid has said, he's improving every day.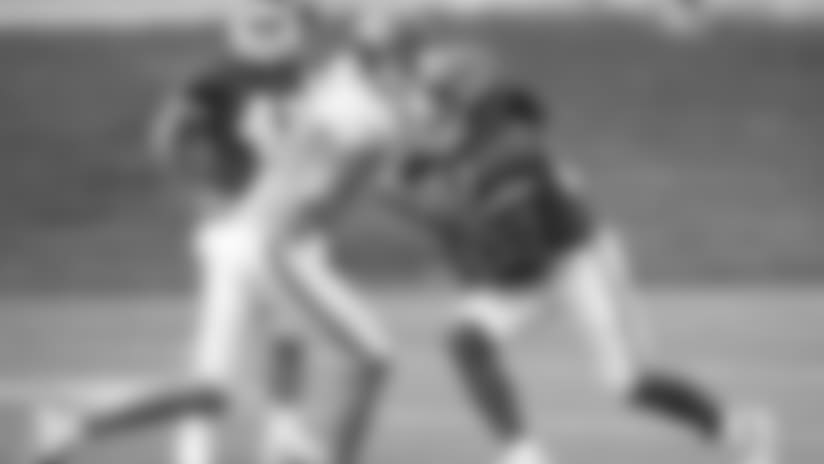 "I thought he practiced better last week," Reid explained of Charles. "But I haven't even got that far with the docs (on a return date), or (head athletic trainer) Rick [Burkholder], or Jamaal for that matter.
"I can't give you accurate information on that."
Despite not giving a timetable, Reid wouldn't necessarily rule out Charles for this week.
"I just don't have information for you to put it out there," Reid added. "I wouldn't do that today."
Reid also mentioned that Charles told him early last week that he wasn't quite ready to return to the playing field, but that, again, he was feeling better and improving.
Over the last three seasons, there's not a player in the NFL with more touchdowns than Charles with 38, despite playing in at least four fewer games than everyone else listed in the top 10 of that category.
It's important to everyone—Reid, Charles and company included—that he doesn't step on the field for a game until he's completely ready to go.
"Just make sure [Charles] is in a position where he's safe," Reid reiterated is the most important thing as he works his way back. "You surely don't want to take a step backwards. He's a pretty good player, so you could rush yourself and you don't want to do that.
"Listen, I mean we're not playing tiddlywinks. It's a violent sport, so you want to make sure he's fully recovered."
Reid did admit that it'll be easier to monitor Charles' snaps on a limited basis once he returns because of the success the other running backs—Spencer Ware and Charcandrick West—have had in his place.
Over the first two games of the season, Ware has accumulated 304 yards of total offense—leading the Chiefs in both rushing (127) and receiving yards (177). He also has five plays of at least 20 yards.
That said, the return of Charles will only add even more firepower to this offense.
"I thought last week, [Charles] looked good," Reid said. "You could see him getting in and out of his cuts. It looked like Jamaal. It's just a matter of the endurance part of it and the security on how he feels about the leg.
"But yeah, he can still scoot."
Reid also spoke on Monday about the holding penalty called during rookie Tyreek Hill's 105-yard touchdown return late in the fourth quarter.
"I think if it was basketball, it probably would have been ruled as a flop," Reid said of the penalty when speaking to reporters on Monday. "That was one that got away from us there on the touchdown (return)."
The holding call was on second-year cornerback Steve Nelson, whom Reid defended on Monday after having a chance to go back and watch the play again.
"The kid knew he was out-flanked, and so, he literally flopped. If you look at it close, Nelson put his hands out, and the kid just kind of jumped into his body. Obviously from the officials' perspective, it didn't look like that, and that official has been doing it a long time and he's a pretty good official.
"But that one—in the NBA—probably would have been considered a flop."