It was a simple idea that made all the sense in the world as members of the Kansas City Chiefs made their voices heard this summer.
The organization – led by the those in the locker room – decided to make voting and voter registration a point of emphasis moving forward in order to empower our communities with the means to affect positive change.
It's not about a particular election or agenda, but rather encouraging every member of our society to make their voice count.
"If more guys like me can make voting cool – if we can make it a trendy thing – then we're really changing the future," said Chiefs' safety Tyrann Mathieu back in June. "We're setting up kids to access more opportunities, more education and more resources, and I think the way to do that is to put people in office who are going to do that. The most important thing is to vote, and a lot of folks don't think that's cool. Maybe we can make that a cool thing again."
That message has been put into action through a partnership with "RISE to Vote" – which has provided players, coaches and staff members with invaluable resources related to voting - numerous awareness campaigns and a voter registration drive at the Truman Sports Complex in September, and it's not stopping there.
In fact, Arrowhead Stadium will serve as a polling location for the general election on Nov. 3 for those who live in the Kansas City limits of Jackson County.
"We asked ourselves if we could somehow create a more efficient way to vote, and that really manifested itself in Arrowhead becoming a polling place," said Chiefs President Mark Donovan. "We're really proud of that, but it's a lot easier said than done. We've received a lot of support from state and local election officials in understanding how that works."
There were several hurdles in the way of making that idea a reality, notably a sizable financial contribution needed to purchase the voting machines that will be utilized at Arrowhead moving forward.
That's where Chiefs' quarterback Patrick Mahomes, whose voice has routinely inspired others over the last several months to stand up for what they believe, got involved. Mahomes' foundation - "15 and the Mahomies" - split the costs associated with the new machines evenly with the Chiefs, ensuring that Arrowhead Stadium would serve as a voting location on Nov. 3.
"It started off with great communication [on] trying to use Arrowhead - such a historic place and such a great spot in this community - as a place for people to come together and vote and use their voice," Mahomes said. "Talking with them and the people in my foundation, we were able to make that stuff come to life. I'm proud of this organization and my foundation for being able to do that along with other guys on the team who were really impactful in making it a polling place so everybody can use their voice and have a neutral ground to go do it."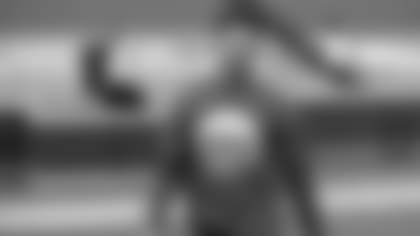 It's a mentality that helped create the largest polling location in the history of Kansas City.
"For us, I think it's about team spirit - the camaraderie," said Lauri Ealom, the Kansas City Election Board's Democratic Director. "I think we should vote like champions."
"We are very excited to team up with the Chiefs on election day," added Shawn Kieffer, the board's Republican Director. We know it will be a great success. Thanks to both the Chiefs and Patrick Mahomes for helping us make this happen."
And while the upcoming general election is at the forefront right now, this is about far more than just one day of voting.
"Those machines and that investment will be in Kansas City for the long run," Donovan said. "They're brand new – they were not in existence before we decided to make Arrowhead a polling place – and we're really proud of that."
As for who can come to Arrowhead on Nov. 3 to cast their ballot, you must be a registered voter with an address located in the parts of Kansas City, Mo., that are within Jackson County. Voters with Kansas City addresses in other counties (such as Clay and Platte) are not eligible to vote at Arrowhead, nor are Jackson County residents whose registered address is outside of Kansas City, Mo.
Voters are encouraged to visit their city or county's election website to confirm if they meet the geographic qualifications to cast a ballot at Arrowhead in advance of election day or to find their polling location.
For those who are eligible to vote at Arrowhead, the polls will open at 6 a.m. and close at 7 p.m. As long as you're in line by 7 p.m., you will be permitted to cast your ballot.
It was no small effort to make this idea a reality, but thanks to numerous parties – from the Chiefs and Mahomes to city officials – Arrowhead will not only serve as the home of the defending Super Bowl Champions, but also as a place where individuals from all walks of life can determine our future.
It's the kind of thing that resonated with Chiefs' Head Coach Andy Reid.
"I think that when you look at the big picture of this, it's been a great job by our players of having something that they wanted to put their time and energy into…The organization – [Chiefs Chairman & CEO] Clark Hunt and Mark Donovan – is supporting them in a full-fledged way, so they're all in with it," Reid said. "That's the beauty of this whole thing when you look at it. It's not only good for the guys that are here, but it's good for the community."