"Behind the Lens" is an article series onChiefs.com* that will highlight the top 10 photos from the 2015 archives every Wednesday over 10 weeks.*
Chiefs photographer Steve Sanders, who has been with the team for more than 20 seasons, provides the commentary.
The Top 10 Chiefs Photos of 2015
No. 9 – Demetrius Harris Makes Outstanding Catch for First Career TD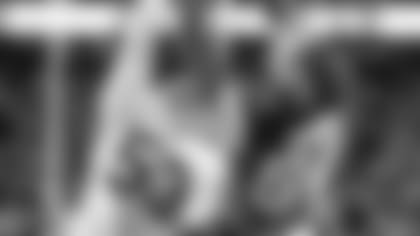 Model:Canon EOS-1D Mark IV
Steve Sanders comments: "It's in a short-yardage situation. We were in the red zone, and it's always a challenge to get the actual catches, especially when the distance is short. This is Harris' first touchdown, so you know you're not always keying in on him in the offense. As he came across the middle, he high-pointed the ball.
"It was a perfect throw from Alex Smith over the linebacker and Demetrius was able to make a great catch for his first NFL touchdown. We added a little bit of contrast and detail to the photo, but it was straight out of the camera like that.
"When the quarterback releases the ball, there are so many possible targets that he can go to and just to be able to be in the right spot to get that right receiver that's open, to get that picture, it just takes a little bit of practice and skill and as the season goes on, you're idea of what's happening on the field makes it easier to achieve that."
"Behind the Lens" is an article series on Chiefs.com that highlighted the top 10 photos of 2015 over the last 10 weeks.