"Behind the Lens" is an article series that aims to highlight the top photographs from the 2017 season as captured by Chiefs' photographer Steve Sanders and his staff.
We began to explore those photos last month and will continue to do so throughout the offseason along with Sanders' commentary.
Here's a look at what we've covered so far.
We'll continue with No. 6 –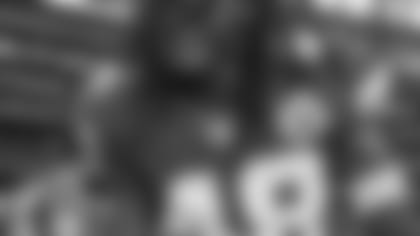 Date: Sunday, November 5, 2017
On why he likes it: "Terrance (Smith) has the best hair on the team," Sanders said. "I always try to capture the guys who have the dreadlocks because you see them flipping it back when they put on their helmet. This was before the game in Dallas and he was just messing with it. I saw him off to the side and tried to get his attention, and when he looked over I was able to shoot that shot right where you can see his eye cleanly. The light is also coming in over his hair, creating some highlights up there. It just worked for me. It's not a great football action photo, but it's kind of a mystery where part of his face is hidden but his eye is looking right at the camera."
On how this shows a younger player's personality:"You can always get the newer and younger guys to do just a little bit more," Sanders said. "Maybe they're not playing as much, so it's fun to get to know their personality a little bit."