"Behind the Lens" is an article series that aims to highlight the top photographs from the 2017 season as captured by Chiefs' photographer Steve Sanders and his staff.
We began to explore those photos last month and will continue to do so throughout the offseason along with Sanders' commentary.
Here's a look at what we've covered so far.
We'll continue with No. 7 –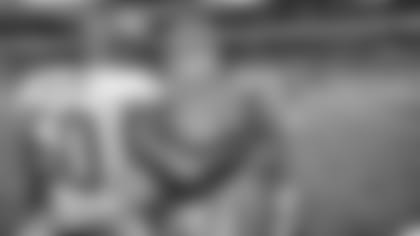 Date: Thursday, September 7, 2017
On the photo: "I look at this as our two team leaders – Justin Houston and Coach Reid," Sanders said. "This is at the end of the New England game. You can kind of see the score up on the top side – there's 56 seconds to go and we're up 35-27. It was just great to see these two together and you could tell they had their minds on a great season after a great game. I just like the story that the whole picture tells."
On why he chose to make it black and white: "When you turn photos black and white, it gives it a little more of an evergreen feel…it can be timeless," Sanders said. "I just thought that it looked better - with the skin tones and with the mix of the color and the backgrounds - it just worked together in black and white. I just felt it."
On how he captured it: "I'm right on the bench area at the end of the game," Sanders said. "On games that we're winning, I try to wander to the bench in the last minute or so to get some different stuff that we don't normally get access to, and it just led to that."
On how long this moment lasted: "It was maybe 10 or 15 seconds," Sanders said. "Justin came up to him and gave him a congratulations hug and they were just looking on as the game finished up."