It's been a whirlwind of a season for Kansas City Chiefs' running back C.J. Spiller.
The veteran tailback was signed and later released four times this season, just briefly seeing the field in Week 8 against Oakland, and he's back for a fifth time as of Tuesday ahead of Kansas City's postseason clash with the Tennessee Titans this Saturday at Arrowhead Stadium.  
It's been anything but an ordinary season for the eighth-year running back, but his preparation never wavered.
"I mean that's the stuff that you can't control," Spiller said. "I just made sure that I stayed ready and when this opportunity came, it wasn't a surprise to me. I'm glad that I did what I had to do when I was away, and I'm glad to be back now."
Spiller spent his time away from the team back in his native South Carolina, where he stayed in shape and waited for a call.
"You just continue to work out and go and do stuff with your trainer," Spiller explained. "You just stay in shape as much as you can and try to keep everything fresh and when an opportunity comes, be ready to go."
That included keeping up with the Chiefs, who he still followed when he wasn't on the field.
"I kept my mind in football-ready mode, so I followed the games as much as I could," Spiller said. "If I didn't have anything going on each Sunday, I definitely kept track and wrote down notes. I kept my mind sharp."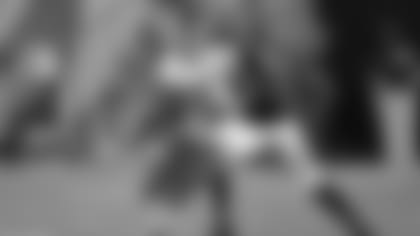 All that work, both physically and mentally, appears to have paid off as Spiller is set to take the field in the postseason for the first time in his career.
"This is the first time in eight years, so that's what makes it even more special for me, and to do it with a team that I know and have followed," Spiller said. "That's what you do all the hard work for - all those hours in the weight room and running - to have the opportunity to be a part of something special like this."
Spiller finally has that chance on Saturday.
"It's a great time for this team," Spiller said. "I'm just glad to be here."