And they finally collided.
Two of Santo's childhood best friends—one from Brazil, João Carlos Velso, and one from Florida, Levi Moore— got to see him play in the NFL in person for the first time this season.
Velso attended the season opener in New England to cheer on his best friend—not a bad for his first NFL game.
"And this is like my really childhood friend," Santos explained. "I remember us playing Pokémon together back at his birthday parties. We came up together all through middle school."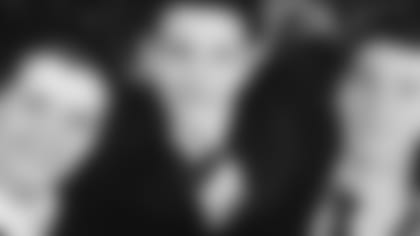 Velso is studying in Boston, and reached out to Santos during training camp about wanting to come to a game.
Santos told him he wasn't sure yet if we would be playing due to an injury at the time, but would let him know.
As soon as Santos was cleared to play, he texted Velso to check if he was still in Boston.
Velso replied, "Yeah, you good?"
"I said find a way to get to Foxborough," Santos said. "And he did."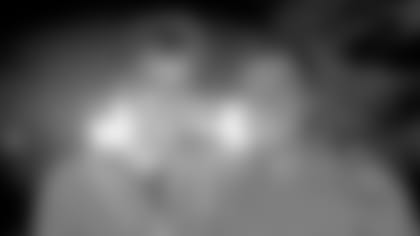 Velso may be the only childhood friend who has had the opportunity to watch Santos in person, but the rest of their childhood friends don't dial back on the support.
They usually gather to watch Santos' games at one of their friend's houses.
"He has a sweet barbeque area where we will go watch soccer games, go to the pool and he has my jersey on the wall," Santos said. "It's very special."
And for the season home opener, Moore got to see Santos play in person for the first time.
"I'm still very close to all the friends that I had when I came to Florida as an international student before I discovered what football was," Santos said.
Santos came to the United States as a soccer player. And one afternoon it changed when his host brother, Tyler, and friends asked him to kick a football.
"I kicked it like three houses down and I asked was that good?" Santos said.
He had kicked it around 60 yards.
By that Monday, Tyler and their friends had convinced Santos to join the football team.
And that group of friends travel to watch Santos play till this day.
But for Moore, the 2017 home opener was the first time he'd seen Santos play in person since high school.
"He went to my games in high school, most of us played, but he never went to a college game," Santos said.
Being from Florida, Santos said his friends often go to Jacksonville Jaguar games, but Moore had never experienced anything like Arrowhead Stadium.
"So first, he was stunned by the atmosphere of the game and it was a bit emotional, seeing me in the middle of the crowd and that sea of red," Santos said.
Moore told Santos that he was amazed to see how far he's come, yet still remain the same kid they challenged to kick a football for the first time.
"It's very humbling and sane to hear these things from my close friends," Santos said.
Helping Moore through his first Arrowhead experience was Santo's host brother's cousins.
"They live up in Des Moines, Iowa, which is where my host mom, Cathy, is from, so since they're so close they come to a lot of the games," Santos explained. "They're not my immediate family or the friends I grew up with back in Brazil, but I'm blessed to have two families and two sets of childhood friends."
And for Santos, the more the better.
"I love having people because I'm so by myself here in the United States, since my immediate family is still in Brazil," Santos said. "Any time I have people come to the game, I feel like there's less pressure, like you're at home."
That home feeling puts Santos at ease just knowing he gets to see people that he's been so close with before and after the game.
And that feeling has Santos scheming up something big.
"I always think if we can make it to the Super Bowl, I want to make a fund just to get all my friends and family, I'm talking like 50 people I want to bring from Brazil, to come watch," Santos laughed. "That'll be a dream and something I work towards, so we can all enjoy this together."