CHIEFS DEFENSIVE LINE COACH - TOMMY BRASHER
What was your evaluation of the Week 9 win against the Bills?
"We didn't play as well as we did the previous eight weeks, but we found a way to win."
During OTAs and training camp, did you anticipate this kind of a start?
"I don't think anybody could anticipate that. I did think we'd do well. After I got to know these players and even in OTAs, I told them I thought we'd do well."
What do you appreciate most about your guys?
"Their willingness to work. Their willingness to do what they're asked to do. I think these guys really like football and look forward to their job. They're doing a pretty good job of it."
What are your initial thoughts about Denver?
"We're doing that right now. Obviously, we're seeing a very good football team. One of the great quarterbacks of all time. He is running a very-well executed offense, so we've got our hands full and we understand that. I think these guys will be ready."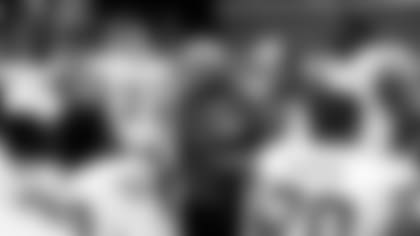 How do you measure progress with your guys?
"You measure progress by wins; second of all, by how you control the game during the week. You break it on down to the various fundamentals of the game and where we are in that and what needs to be tuned up."
Before taking this job, what did you see here, with the players on the roster?
"It was a really bright spot to me. I came in and the first thing I did was watch all 16 games from last year. I developed a high opinion of these guys, not only their physical attributes, but how they played the game and the way they approached the game."
How would you describe Dontari Poe?
"Dontari Poe is a very unusual, physical person. He's a big, powerful man, who has quickness. He's very smart and has a great feel for the game. I think he has a great future."
You've coached a lot of great players in your career (Reggie White, Jerome Brown), where does Dontari compare?
"I think it's a little early in his career to compare him to those guys. He certainly compares favorably to the best I've ever coached at this point in his career."
What do you appreciate most about Chiefs head coach Andy Reid?
"He just lets you do your job. He just turns you loose to do your work, the way you want to do your work. I like him as a person. I think he's one of the most positive people I've ever been around.  I like the way he lets me and the other guys do our work."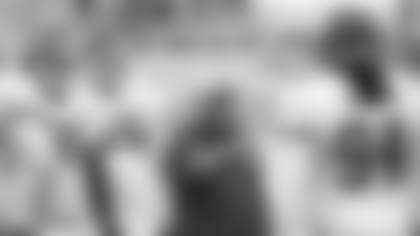 Below are just a few of the things some of Coach Brasher's guys are saying about him:
CHIEFS DL - MIKE DeVITO - On the impact of Coach Brasher
"Coach Brasher is a huge part of our success. He's a guy that demands a lot from us and teaches us all those years of coaching and the wealth of knowledge that he has that he instills in us. He gives us so many different tips and reads and things of the game, that you may not have known before, to help us grow."
CHIEFS DT - DONTARI POE - On what Coach Brasher brings to the Chiefs
"All the knowledge he has is unbelievable. His passion for the game is contagious and what he teaches us, how to be better players and to not waste the day is motivating. We'd all run through a wall for coach."
CHIEFS DE - TYSON JACKSON - On the skill Coach Brasher has helped him improve the most
"Coach Brasher's been doing a good job getting us to get our hands up, so we can help the guys in the back by getting knockdowns."
CHIEFS DL - ANTHONY TORIBIO - On the skill Coach Brasher has helped him improve the most
"Pass rush and getting out of the two-gap mentality. He's a great coach. He's coached a lot of great players in his past; he's had success with the pass rush and he's teaching us the same thing he's taught those other guys."
CHIEFS DE - ALLEN BAILEY - On what he appreciates about Coach Brasher
"His knowledge of the game. His presence commands respect. When coach talks, we listen and apply it on the field."