Edward Burnham is a former colonel in the United States Air Force with 37 years of military service to his name. He was born in Connecticut in 1919, moved to the Kansas City area in the late 60s and is a former Chiefs season ticket member who still watches from home.
He has run in 143 marathons, one in every state and more overseas, in countries including Siberia, Finland, England, Germany, Canada, Mexico and Poland.
"It's a nice open course between the stadiums out here, and you had a good turnout, so I hope you got some pictures," he said of the race, moments after finishing in one hour and 14 minutes. "It's pretty colorful with the wall-to-wall runners on these big streets out here."
After his military service, Burnham worked for Veterans of Foreign Wars, the organization that fosters camaraderie among United States veterans of overseas conflicts. He started as the director of youth activities and eventually was promoted to the Assistant Adjutant General in charge of administration.
Burnham's running hobby, which seemingly turned into a passion for the sport, originated when he retired in 1988. Now at 95 years old, he says he still tries to run a road race every weekend.
The nearly 2,000 fans that joined Burnham had the opportunity to explore much of the Truman Sports Complex in this year's version of the race.
First, the course brought fans by Kauffman Stadium and the nine-foot statue of Lamar Hunt in Founder's Plaza. Next, they entered inside Arrowhead, where in the upper concourse, they were greeted by Chiefs Mike DeVito, Andrew East, Eric Kush and Charcandick West at the water station.
"It's great being out here doing this 5K event and seeing all the people come out," DeVito said of the second race he has been involved with. "The weather held up and made it a little easier for these guys today. It's always great doing something for the Chiefs and we always focus on the community, so it's great to be out here."
For East, who joined the team as an undrafted free agent, it was his first chance to mesh with the fans of Kansas City.
"It was really special," East said. "It's pretty evident how passionate they are about not only the Chiefs football organization, but the community as a whole and everything around it, so it was really cool to be out here and to be able to see that."
The race concluded at the 50-yard line of the Chiefs' indoor practice facility and Burnham was the last to finish to cheers from cheerleaders, staff on hand and the runners who had completed the race before him.
Several runners quickly surrounded him for photographs as he walked off the field.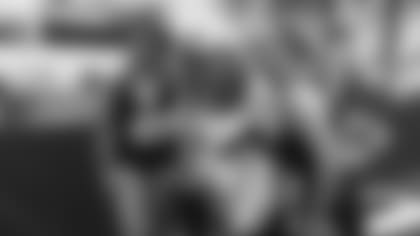 After finishing, he revealed that a year and a half ago, he suffered a hip injury, and the Chiefs 5K was another opportunity he was using to make his comeback.
"I'm just getting back into running," he said. "That's why it took me so long. I could do a 5K in less than an hour."
It sounds like Burnham will be back again next year.
---
Local runners participate in a 5K finishing on the 50 yard line of the Chiefs indoor practice field.