Chiefs historian Bob Moore added four critical Kansas City Chiefs artifacts to the Gridiron Glory exhibit on Monday afternoon—items that were near and dear to team founder Lamar Hunt.
Fans now have the opportunity to view Hunt's 1962 AFL championship ring, his 1969 Super Bowl IV championship ring, his Pro Football Hall of Fame ring and his Order of the Leather Helmet pin, all placed in the exhibit with the Chiefs' Super Bowl IV trophy.
"They're significant because it's the beginning of this whole ring culture," Moore explained. "The fact that [the rings] belonged to Lamar Hunt, the fact that he came up with the name 'Super Bowl,' the fact that he has so much associated with the Super Bowl, I think is probably one of the reasons why getting to see these rings.
"I also think it's something fans like. They love these rings more than some of the other things you've seen in museums."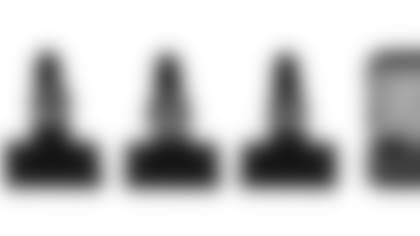 The items (descriptions via Moore, from left to right):
1962 AFL championship ring: "A pretty rare ring because consequently, rings really came into fashion at that time for all the major sports. As you can see by the sizes of the rings, even in our first four or five years, they grew a little bit, but not to the extent that they have grown today."
1969 Super Bowl IV championship ring: "By the time we get to the '69 season ring, it's really last of the ones and it more or less is not an AFL championship, it's the world championship. It includes the usual things— the city, the players' names are on the side and so forth."
Pro Football Hall of Fame ring: "Everyone more or less remarks about how small it is. Well, they're not small today. What you see essentially is the logo. It includes some small things on the side, which give you some indications of the fact that it's for you."
NFL's Order of the Leather Helmet pin: "It's an NFL Alumni Association of the players who give it to people who make major contributions to the sport. That would certainly be Lamar Hunt. Lamar is the first person to go in from the AFL and consequently, probably should be, given the fact that he founded the league and had seen the league through. It was only obvious that he'd be the first particular person to."
Gridiron Glory](http://www.unionstation.org/football/) is the largest and most comprehensive traveling exhibition ever created on America's favorite sport and will includes more than 10,000 square feet of the most iconic pro football artifacts of all time. In total, more than 200 football artifacts, photos and rare documents from the Pro Football Hall of Fame collection are on display.*