Kaprisha Wiley hustled through the door at United Inner-City Services Metro Center alongside her two young kids, moving quickly out of fear that she was late. Wiley was recently hired as a toddler support teacher at UICS, and after finishing a virtual orientation earlier that day, her new boss had asked if she could stop by for some additional instruction.
But unbeknownst to Wiley, who – like countless others - has endured so much this year, this particular afternoon was about to provide some much-needed relief.
Wiley was laid off in March, and to make matters worse, she was recently told that she had to vacate her home by mid-November. The circumstances have seemingly piled on top of one another for this single mother of two, making her ability to make ends meet increasingly difficult.
"It has been really, really hard," Wiley explained. "It's hard to find a place right now, and I don't really have money for storage, either, so my things are at my sister's house. I also had to sell some things just to pay [my bills]. It's been a struggle."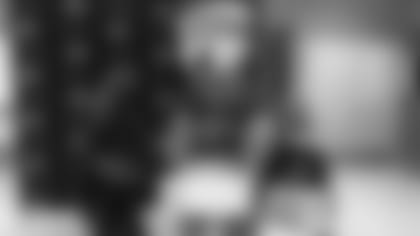 Which brings us back to UICS, where Wiley walked inside to find an unexpected guest.
"I was walking toward the back and that's when I saw KC Wolf. I wasn't paying attention to his shirt though, so my first thought was that 'Chuck-E-Cheese' was visiting," Wiley said laughingly. "I thought he was there for the kids."
On the contrary, the Chiefs' mascot – alongside representatives from GEHA – were there for her.
"Hi Kaprisha, my name is Cristi. I'm with GEHA," said Cristi Allen, Director of Communications at GEHA. "Do you have any idea why you're here today?"
Wiley shook her head, confused as ever.
"The Chiefs talked to the folks here at UICS about identifying a deserving family for some special recognition," Allen continued. "They told us about you."
Allen then flipped around the piece of cardboard she had been carefully holding throughout the conversation.
"We heard you were looking for a new place in the next few weeks, so we wanted to help you out," Allen said. "So, on behalf of the Chiefs and GEHA, we want to help cover your utilities and furnishings with a check for $5,000."
Wiley buried her head in her hands in disbelief as shock transformed into tears.
"I had to sell so much of our stuff, so I basically have to start all over," Wiley said. "I'm just speechless."
The holiday season is about celebrating the blessings in each of our lives, but for far too many – particularly this year – the everyday hurdles are difficult as ever. With one simple gesture, the Chiefs and GEHA partnered to make Wiley's situation a little bit easier.
"There's just so much to worry about nowadays, but this was a huge surprise and it's going to help me so much," Wiley said. "I didn't have a choice but to cry."