The Kansas City Chiefs are ramping up the fight against cancer this season unlike any other team in the NFL, and as of Monday, there's a local researcher leading the charge.
The Chiefs announced a historic partnership with the V Foundation and The University of Kansas Health System earlier this month, awarding a $200,000 grant to a researcher at the KU Cancer Center in an effort to eradicate the disease once and for all.
That researcher is Mary Markiewicz, Ph. D., who is working to increase the effectiveness of the body's own immune cells, or "natural killer cells," in fighting cancer cells.
"This is a type of immunotherapy where you take immune cells out of the patient, in this case natural killer cells, and do something to them to try and make them better at killing tumors," Markiewicz explained. "We manipulate them in culture so that when we transfer them back into the patient, they will go and find the tumor and destroy it."
It's been a focus of Markiewicz's since 2003, and it's research that wouldn't be possible without the grant.
"We would not be doing this specific research on natural killer cells if we hadn't gotten this money," Markiewicz said. "We cannot do research without grants. We do get support from the university, but we cannot do the research without the grant funding."
The funding is through the V Foundation's "junior investigator grant" program," which identifies the best and the brightest in the world of cancer research and provides them with the resources needed to make a difference.
"The Cancer Center asked for letters of intent for people who would like to apply for this money," Markiewicz said. "The heads of the Cancer Center looked at all these letters and picked two to actually submit to the V Foundation."
The result was a $100,000 contribution from the V Foundation to Markiewicz's research, which matched the funds already raised by the Chiefs, the Hunt Family Foundation and The University of Kansas Health System.  
"I was very, very happy," Markiewicz said. "I'm sure my neighbor in the office next door heard me…I ran over and screamed, 'Yes!'"
In order to celebrate the announcement, Chiefs' defensive tackle Chris Jones visited the KU Cancer Center last week.
"It was amazing," Jones said. "Just finding out what goes on behind the scenes and how those people put in countless hours for their jobs. It's incredible."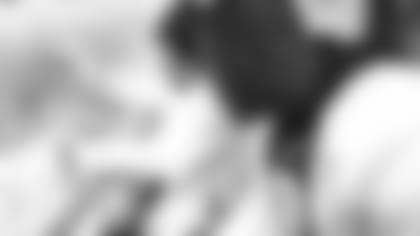 Jones toured the facility for the scheduled allotment of time, but asked to see more even after the tour had ended.
"It was awesome, he was so excited," Markiewicz said. "He just wanted to learn about what we were doing and about all the science, so it was great to see him so excited for it. It's really great to see someone like him just really interested in what we do here."
It was a moving experience for the second-year defensive tackle.
"You know, you never really think about the people behind the job," Jones said. All you know is that people get cancer, and they're trying to find a way to fight it. I was actually seeing what they go through and how they do it."
Jones was so impressed that he decided to make a gesture of his own, offering tickets to all the researchers he met that afternoon for Monday's game. 
"Since they let me in and showed me their field of work, I wanted to invite them to my field of work," Jones said.
It was a fitting illustration of how the Chiefs and the KU Cancer Center have worked together in the fight against cancer, and how they'll continue to lead that fight in the future.
"I think it's huge just to know that people care, that they're supporting our research and that they're behind us," Markiewicz said. "It's important people know what we're doing so that they can continue to help us and know that we're really trying to fight cancer."
Chris Jones visits Kansas University Cancer Center