The Kansas City Chiefs, well-hydrated and rested from a day off on Wednesday, returned to the practice fields on Thursday, along with more intense rays from the sun. From the first day of camp through today's practice, competition has been intense, exactly what Chiefs head coach Reid described during his post-practice press conference.
"All in all, a good day at work," coach Reid said.
"We had a chance to move the play; play the game, in other words. Everybody was off to the side of the field; spotting the ball, where it goes, calling the penalties that were the obvious ones. I thought the guys handled it well. We're making progress; a long way to go but we're getting there. We're getting better every day."
The Chiefs defense was once again active, early and often and coach Reid made mention of it.
"I thought the defense did a nice job," coach Reid said.
"That's how you'd expect it, early on in camp; you want that defense to be dominant. The offense always takes a little bit longer to get going; that's how it normally works. I was proud of the way they handled each other, getting after it, competing." Coach Reid would later say about practice, "It was back and forth."
Joining coach Reid, his staff and the players, were two new additions to the team, OT Mike Tepper and CB Kamaal McIlwain, who literally hit the ground running Thursday morning.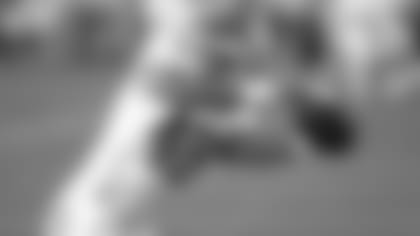 "I'm just trying to get my feet back under me right now," McIlwain told me. "I haven't had a chance to really get into the playbook, but once I do, things will start going a lot smoother."
As for the pace of practice, the team's news CB was quick to the point.
"It's really a relentless pace," McIlwain said. "It's not much lagging between the turnaround. It's really quick; the guys are getting a lot of reps in and so, they get a chance, if they make a mistake, to go back and correct it."
McIlwain's new teammate, Mike Tepper also evaluated today's first practice under coach Reid.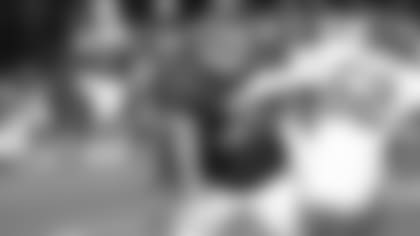 "He demands excellence," Tepper said. "Every coach on every team demands excellence, but he does it to every step, every movement, every motion; he is demanding nothing but the utmost of perfection."
Chiefs fans, after just one day for both new players, they're immediately struck by the attention to detail and perfection that your head coach is demanding of this team; yet another reason to get excited for 2013. As well as the Chiefs defense played, all four Chiefs QBs made some great throws on Thursday, including a deep TD toss from QB Ricky Stanzi to Chiefs WR Jamar Newsome.
"We were third-and-long and we got a little bit of it back and we needed a big play," Stanzi said.
"So, that had to be the throw and Jamar did a good job of leaning into his guy, getting a little bit of separation and the guy kind of made a comeback on it, but he (Newsome) was able to have great concentration and hands, stayed with it and pulled it in."
Newsome also described the play.
"Stanzi put the ball up at a good time," Newsome said. "I just fought to get back outside and stayed with it. It was good concentration on my behalf and a good ball on Stanzi's behalf."
As coach alluded, both offense and defense went back and forth with each other, which will be confirmed in the film sessions that are soon to follow.
"We all have a lot of work to do," Stanzi said. "I think the defense had our number today and we'll look at the film, but it was fun to get out there and do a team, move-the-ball situation, where it was actually more realistic and now, we'll go back and look at the film."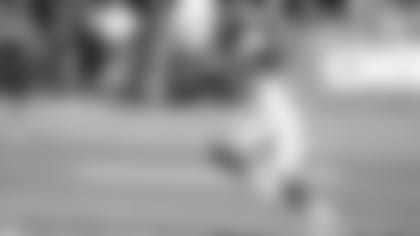 The Chiefs defense totaled three INTs on the day, throughout various drills. Two came against Chiefs QB Alex Smith, during 7-on-7s, one each by Chiefs CB Brandon Flowers and Chiefs S Kendrick Lewis.
"I got a good read and break on the ball and was able to jump in front of it and make a play on it," Lewis said.
"Alex is a very smart QB," Lewis stated. "He doesn't put himself in bad situations and he doesn't force things, so any time you get a chance to get a jump or get a break, you have to capitalize on Alex, because that's something he doesn't do often."
Flowers later described his pick and agreed with Lewis about Smith's intelligence.
"(Devon) Wylie ran a route and I was on it," Flowers said.
"As soon as he (Alex Smith) wound up, I just went for it. I was like, 'If you pump fake me, it's a TD the other way,' but sometimes as a corner, you have to take chances like that, so, I got the right jump, he actually threw it, so I had to finish the play off."
Like Lewis, Flowers admits that intercepting an Alex Smith pass doesn't happen very often.
"That says something about Alex," Flowers praised of Smith. "He's not back there, going to turn the ball over; he makes smart decisions. He's very patient, reading his keys. If he ever does slip up, like he did today, we just have to make him pay as a defense and try to get him better."
As for any trash talk towards their team's QB, Lewis guaranteed it.
"Absolutely," Lewis said. "Because Alex is one of the guys who always talks trash. He comes over to us and says his slick stuff and gets in our business, but I'm going to let him know that I got him (today)."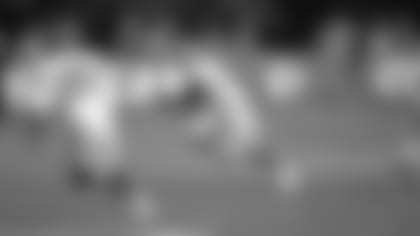 As for the third INT, Chiefs rookie safety Brad McDougald made the most of a tip-drill to pick off QB Chase Daniel.
"I read the out-break by the receiver," McDougald said. "I got a defensive PBU from one of my backers (Nico Johnson) and I just came up and dove for the ball.
Also pictured above with McDougald is Chiefs LB Edgar Jones, who continues to flourish in camp.
"I got my nose more in the playbook," Jones said.
"Just understanding what's going on, knowing my assignment first and then learning as a whole, what we as a defense can do. After I do that, that's when I take a step, as far as what the offense is trying to do and this offense that Andy Reid is running, it's an offense that's always high-tempo, so, you have to think on the run; you have to think fast. Just getting my nose in the playbook and playing my butt off, not being one of those guys whose effort the coaches are questioning."
Near the end of Thursday's practice, Chiefs LB Derrick Johnson reminded Chiefs rookie RB Knile Davis why he's a two-time Pro Bowler, taking Davis down with a textbook tackle.
"Knile's a big guy," Johnson said.
"So, I kind of went low on him a little bit to get him down on the ground with a little veteran-savvy move. Knile Davis is a big, fast, strong running back, who is going to give Jamaal Charles some help during the season."
Just like coach Reid said, the guys are competing against one another, helping each other to become better players, thereby making your Kansas City Chiefs a better team.
The Chiefs get back at it on the practice fields tomorrow morning at 8:15 AM CDT, not a moment too soon.