The Chiefs celebrated the fourth annual Military Appreciation Day on Wednesday as training camp came to a close. Over 150 uniformed servicemen and women from the Army, Navy, Marines, Air Force and Coast Guard were in attendance.
"It's a great opportunity for us," said Gen. Sgt. Jason H. Scott. "We're always on the clock - we're Marines 24/7. This is a great opportunity for us to come out and just experience the atmosphere, to get in touch with some of the other Chiefs fans and then also for a lot us, all the Marines out here who are actually from the Kansas City area, to have that common bond as Chiefs fans and share this experience. It's pretty great."
The troops watched the Chiefs final practice in St. Joseph from the VIP tent before rain forced the team indoors. The military personnel were then invited inside to watch the remainder of practice from the sidelines.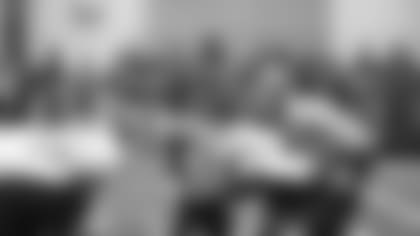 As practice concluded, Chiefs Head Coach Andy Reid brought everyone in to the huddle and presented seven game balls – five for the branches of the military in attendance and one each for veterans and foreign officers.
"These men and women allow us to do what we do," Reid said. "They protect our country like no other. I had a chance to go to Afghanistan one time and see it from the other side. If every 16-year-old man and woman could go over and see the efforts they put forward to protect our country and what the flag means to them, it's an amazing deal to be a part of it."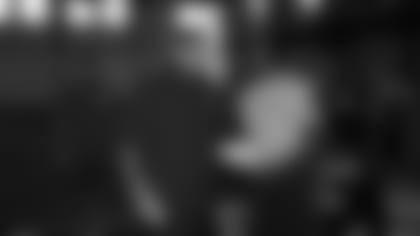 One of the game ball recipients was Billy McGinnis, a World War II veteran who fought at Iwo Jima.
After Reid handed out the game balls, the players and troops met and talked on the field. Players took pictures, signed autographs and a few even tossed around a football with a handful of soldiers.
"It's one of those experiences that I'll treasure for a while," said Cap. Robert Lovelady, who played catch with long snapper James Winchester. "They're pretty down to earth-type guys. It's kind of refreshing to go up to them and they're just like you and I. It's been a really neat experience."
The event brought together servicemen and women from a variety of different backgrounds and even nationalities. Soldiers from Brazil, Germany, Japan and the United Kingdom, who are representing their countries at local bases, were also in attendance.
"I watched the Chiefs on television last year and tried to learn the rules of the game," said Col. Danilo Alencar of Brazil. "I don't know everything yet, but I can watch and understand enough and have a good time at the games. I think it's similar to military duties. You need to work together, like a team, and you need to plan the next play."
While the event was an opportunity for the troops to meet some of their favorite players, it's also a powerful lesson in perspective.
"We get to do what we do because of these people and the sacrifices they've made," said Chiefs President Mark Donovan. "For us to take a second out of our day to say thank you, to give them access that nobody else gets and to create a really special experience - I mean you can see it on their faces. There are people here who have been through stuff we don't ever want to be through, and they've done it for our freedom."
"To see how excited they are to be here, it's special."