In the midst of making his rounds on radio row Friday morning, Kansas City Chiefs chairman and CEO Clark Hunt stopped by to catch up with local media about the Chiefs' season and answer questions about a handful of the major storylines the team faces this offseason.
Here are a few other interesting nuggets from Hunt on Friday:
"Eric Berry is somebody that, as a player and as a person, I have tremendous respect for, and it really goes back to even before he had cancer. He's somebody that's been a team leader the entire time he's been here. He's shown maturity well beyond his years, and if you look in the last couple of years, with his cancer diagnosis and the battle he had to get back on the field as quickly as he did in 2015 and then the tremendous year that he had this year, and really the leadership he showed in helping the team get to a AFC West division title, you just can't say enough about the type of player and the type of person Eric Berry is."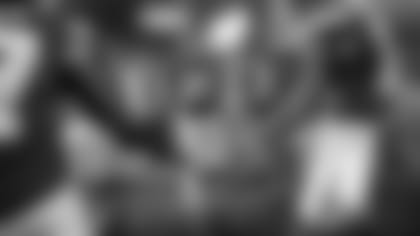 "I think Alex did a great job for us this year. Obviously, when you have the success that we had, a large part of that can be attributed to his play. He played a crucial role in those games where we came back from big deficits. That was really something that we've not done in recent history, and I thought that was a sign of growth for the team and also for Alex."
On John Dorsey's future with the Chiefs:
"There have been some reports out there that he was not under contract for this upcoming season and that's incorrect. He is under contract. It ends after next year's season. With both he and Andy, I would expect to sit down with them in the next year and talk about an extension."
On the quality depth that Dorsey has brought to the roster:
"I think those were probably areas where we were weak when he joined the franchise. I think that's made a very big difference for us. Certainly, a number of his draft picks have played well; not only the first-round guys, but down through the rounds."
On Chris Ballard leaving:
"First of all, when you build a successful team, it goes without saying that you're eventually going to lose some of your top people. We saw that last year with Doug Pederson going to the Eagles and this year with Chris going to Indianapolis. Chris had a number of opportunities over the last several years and it hadn't worked out. He obviously found a very good situation in Indianapolis. We're sad to lose him, but that's just part of the business. We have a great staff, and John and I have already talked about it, and he feels like we'll be in great shape."
On if he's good with their cap situation:
"Well, you're never good with your cap situation, but that's part of the business. That's part of what makes it exciting and part of the challenge every year – managing your cap. Any time you're talking about the cap, you're not just talking about this year, you're talking about the implications for the next couple of years. But we're in good enough shape to do what we need to do."
On how he deals with playoff losses and not getting to the Super Bowl:
"It's very, very hard to get over because those opportunities don't come along as often as you would like. We've been [fortunate] with Andy and John making the playoffs in three of the last four years. But getting that home game and being a step away from winning the AFC Championship game, you want to take it. I wouldn't say I was angry, but the disappointment was hard to get over. During the regular season, if we lose it usually takes me two or three days to get over it, but a playoff like that, it was well past a week and there will be a lot of times this offseason when I look back and try to come to terms with the fact that we didn't get there. The great thing is we get to start focusing on next year already."
*On what he was like while grieving the playoff loss: *
"What I would like to do is have no outside influence and hear nothing about the National Football League for a week or so. Once we got past the conference championship games, I was able to tune back in. But I still have friends that are either calling me or when they run into me, they can't help but bring up our season. They want to tell me what a great season it was, which is true, but it's also a tough pill to swallow because they all start off by saying, 'I know it didn't end like you wanted it to.'
"If it's a close friend, you slug them," he joked.
On any potential changes to the NFL's digital policy for next year, and the impact of the international series:
"From the digital media standpoint, that world is changing so quickly that every year we're talking about something new, whether it is having games on Twitter, which was the change this year. I'm not sure what next year's issues are going to be, but the way that fans consume NFL games is changing – it's going to tablets and it's going to smart phones – and the league needs to figure out what the right distribution channel is. There will be some changes there.
"On the international front, we're playing four games this year in London – two at Wembley and two at Twickenham – and then another game in Mexico City, so there's five games. I think there's a lot of momentum on those UK games already in terms of ticket sales, and I'm sure the Mexico City game will be sold out as soon as it goes on sale."