The Kansas City Chiefs officially began their training camp Friday, July 26th and complete their stay in St. Joseph on August 14th, with an 8:15 AM CDT practice. Between the practices, team meetings, road travel and more, we will bring fans closer to the entire team, including the Chiefs rookies and free agents, who were signed in the offseason.
Today, we catch up with Chiefs rookie DE Rob Lohr and free-agent signee DL Miguel Chavis, as each participated in OTA and minicamp practices, bringing them to today, where they're competing for spots on the 2013 Chiefs roster.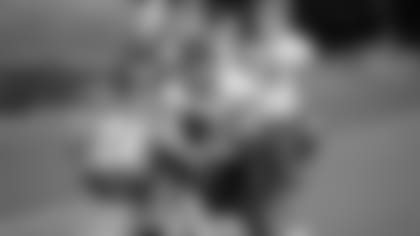 What was your college career at Vanderbilt like?
"I was there for five years, redshirted my first year, put on about 60 pounds, played DT three-technique and one; it was a weird transition. I had a good time down there. I think I could've been more productive, if anything, when I look back on my career. People told me I had a successful career; in my eyes, I didn't do nearly as well as I could have. I had a decent amount of TFLs and sacks but I know, in my own mind, I could've done a lot better. Being on the Chiefs team is an opportunity to show what I'm really all about and what I can do."
Adding 60 lbs, what was your diet like?
"Eating a lot of food, that's pretty much it. Pretty much anything and everything for a while, you don't just want to stack on fat. You're stacking on muscle, but also, the transition from the high school workouts to college workouts, they aid you in the process, because you're just getting bigger the whole time, getting stronger."
What was your most memorable game in college?
"2012 against Ole Miss. We were down 23-6 after Old Miss' first drive after the first half; it kind of looked out of reach but the defense stepped up and the offense put the ball in the end zone a couple times. We scored on a fade at the very end of the fourth quarter. It was a good way to go out. It started us on a streak; not many people know but Vanderbilt has the longest winning streak in the SEC currently, so we're proud of that and I was proud to be a part of a turnaround in the organization."
How has the transition been for you, going from college to now with the Chiefs?
"It was a quick transition. You go from bowl game, we were in the Music City Bowl this year and we were able to win on New Year's Eve and the next day I hopped into the car and I drove up to Indianapolis, where I was training. I started training that first day and then I went down to the East-West Game and flew right back to Indianapolis and was there. So, it's just a matter of training and getting your mind right and taking as much advice from current NFL players and previous NFL players on what to expect when you get here. When you get your opportunities, especially as an undrafted free agent, you have very limited opportunities in OTAs and such; you have to take advantage of those, not make mistakes and just show what you're all about."
Are you living your childhood dream?
"Anybody who plays football has aspirations to play in the NFL. I used to be in the back alley, behind my house, throwing the football to myself, running up and down the back alley. I was myself and I was playing with all the great players. I never imagined reaching this point, where I am, but now that I'm here, I have aspirations that are much higher. I want to not only play in this league, I want to be a great player in this league."
Who do you most thank for helping you get to where you are today?
"It's a compliment to a lot of people. Obviously, my family has been a tremendous help for me. If it weren't for my dad, I never would've gone to Vanderbilt. I actually had nationals for track, my junior year, that same weekend, I used to throw javelin and my dad was like, 'I think you should go on this visit down to Vandy'; so, I went there and worked out at a camp and ended up getting a scholarship offer and the rest is history. I feel like, if I wouldn't have had the opportunity to play in the SEC and the high level of ball that's down there, with the coaching staffs that are in that league, I wouldn't have made it to where I am. A lot of where I am is a result of just my dad; he and I are very similar. He's helped me to get where I'm at, just being a good guy and a good dad." What exact emotion were you feeling, when you became a member of the Chiefs?
"It was very emotional. It's just one of those things where it doesn't hit you until you get that call and you're standing there, I'm looking at my dad, he's never missed a game in my high school or college career; he used to drive 13 hours down from Philadelphia to Nashville every week and go to all the games and to see him there was really special."
Thoughts on playing at Arrowhead Stadium?
"I'm just really excited to be able to play at Arrowhead Stadium; it's such a well-known stadium. I've heard it's extremely loud, especially if you're a defensive player. I love playing in front of big crowds. In the SEC, I was able to play in front of those big crowds. The first day that I got here, just putting on that Chiefs helmet; it's very humbling and it's a great experience. I'm soaking in every moment, being on the field with all of these guys will definitely be an achievement itself."
What can Chiefs fans expect from Rob Lohr?
"They're going to get a hard worker, a very high-motor player. I'm very athletic. I just like to play the game. I just love being out on the field. I'm very high-energy and I like celebrating."
Do you have fun trash talking with any of your Chiefs teammates, who also played in the SEC?
"I get on Nico (Johnson) a lot; him and I played each other one time, back in 2011 but, there's a lot of Ole Miss guys here, so I can talk a little smack to them, because we beat  them a couple of times. A couple UT guys as well, Tyler Bray and Eric Berry, but I can only do so much talking, we've only been successful the past couple of years, so, come this next season when Vandy plays all those teams, hopefully I'll be trash talking."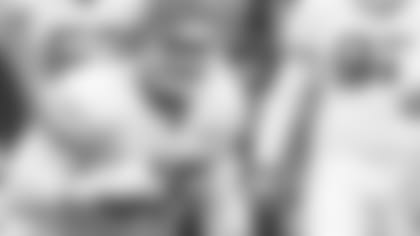 Tell Chiefs fans a little about yourself:
"I'm Miguel Chavis, number 65, defensive lineman. I'm originally from Fayetteville, North Carolina, played my college ball at Clemson University, one year with the Pittsburgh Steelers and this past year in the UFL, and it's my third year in professional football with Kansas City. I'm excited to be here. 6'5", 305 lb., love playing hard, love the game, love learning, being a student of the game, just excited to be a Chief."
The ACC, what's it like playing at Clemson?
"Playing in front of 87,000 never gets old. Playing against Florida St., Virginia Tech, Miami and all the big schools, it's an honor and exciting, because it's such a high level of competition. It makes your play that much better so, you are tested even more as a freshman. Having the honor and the opportunity to play at Clemson and to run down the hill was just amazing."
You talk about playing in front of 87,000, Arrowhead gets pretty loud. Are you excited to play in front of the Sea of Red?
"Yeah, I'm excited. I haven't played in the NFL in a year and a half, and last time that was on Heinz Field, so, I'm really excited to be, number one, back playing professional football, but most importantly being a Kansas City Chief. As good as Pittsburgh was, I'm excited to be around the fans, play for them, play for my teammates and I'm sure we will feed off their energy."
If you could pick a favorite game in college what would it be?
"It would probably be beating Georgia Tech my senior year. We didn't beat a team from Georgia or in Georgia for four times in my career, so probably beating them my senior year was the best game."
You played with the Steelers, how is that experience going to help you here with the Chiefs?
"It was a great experience, I was behind guys like Aaron Smith and Brett Keisil, learning from, playing on the inside from Casey Hampton, from Ziggy Hood. Just being with those veterans and guys who have been in the NFL for such a long time and learning from them has definitely helped my play and to be a student of the game more importantly, to know not just what to do, but why am I doing it and I hope that I can bring that knowledge and ability to the Chiefs organization to succeed." What do you look forward to the most in the upcoming year?
"I think just dominating and learning how to dominate, really playing as hard as I can. I hope by God's grace and will, I can be on the Chiefs roster to win a championship. I don't think anyone plays that doesn't want to win a championship. If they do, I don't think they should be playing the game. This is a wonderful game. A lot of people are invested in this game, coaches with their time, and the amazing fans, as a player you have to be invested and give them all that they give you, so I think the desire is to win a championship, here in Kansas City."
What's it like playing for Chiefs defensive line coach Tommy Brasher?
"The man has been doing this for forty years. Our defensive coordinators, it's just a blessing to be around these guys who know the game so well and want to give you every opportunity to succeed and it's an honor to be around such a great coaching staff." Who would you like to thank for helping you get to where you are today?
"Christ alone, specifically. A lot of people talk about God alone, when they say the word God, but Jesus Christ is the only reason I'm here. It's by His grace. I'm an undeserved sinner and I attribute to Him that He allows me by His grace and inspires me to play football and empowers me to do so. Also, my mom and my father; my family has encouraged me all along. I have a great wife, who encourages me. I have great coaches, coach Dan Brooks from Clemson, coach Dabo Swinney from Clemson, coach Wayne Inman from high school, but it's all by the grace of Jesus Christ."
What do you think of your Chiefs teammates?
"I like them a lot, specifically the defensive line. They're a great bunch of guys; everybody works hard and pushes each other. Everyone is competitive and everybody is very good and so every day you come to practice, you have to bring you're A-game, because you know you are fighting for a spot."