Over the past few years, Kansas City Chiefs special team's coach Dave Toub has consistently been asked about young up-and-coming players he's excited about.
Three years ago, Toub mentioned an undrafted free agent safety by the name of Daniel Sorensen, who quickly became a staple of his units, and then two years ago it was linebacker D.J. Alexander, who was a Pro Bowler in 2016, and last year, he praised safety Eric Murray.
Obviously, Toub has shown a great track record of finding guys early in the process who will contribute in a major way to his units.
Now, with Alexander recently being traded to the Seattle Seahawks, Toub spoke about who might be next in line to step in carry that torch.
Without hesitation, Toub mentioned fifth-round pick, linebacker Ukeme Eligwe.
"I have already got him started on punt team, so that says a lot about him," Toub said of Eligwe—the former Georgia Southern inside linebacker. "I really see a bright future for him. He may not be with me for a long time because he may be on defense because he is that good."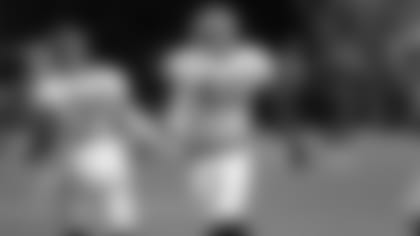 With veteran Derrick Johnson missing Monday's practice because of an abscessed tooth, the opportunity presented itself for some other guys to mix in there at inside linebacker, including Eligwe.
It didn't take long for Eligwe to make the most of his reps as one of the top defensive plays of the day actually came when he was working with the first-team defense.
As running back Spencer Ware raced down the seam on a passing route, Eligwe carried him in coverage and was able to knock down the pass 15-20 yards down the field.
It was a fantastic display of athleticism, which is what Eligwe was known for coming out of college.
"You put the tape on and you'll see him covering tight ends down the seam, you'll see him buzzing on the flat," Chiefs' area scout Ryne Nutt said of Eligwe's ability back when he was drafted. "He ran a 4.58. The kid is fast and finds the football. He plays multiple roles."
Eligwe finished last year at Georgia Southern with 104 tackles (11 for loss), and three forced fumbles.
"I think he is going to be a really good player," Chiefs' defensive coordinator Bob Sutton added. "He loves to play. I think he has a physical presence in there. He studies—knows the game. He's just going to get better and better. I think he has a bright future."
Considering Eligwe has already earned Toub's trust enough to be on his punt coverage unit, and the fact that Toub is arguably the best special teams coach in the NFL, and has been for a while, the arrow seems to be pointed up for Eligwe.
All the signs are good right now.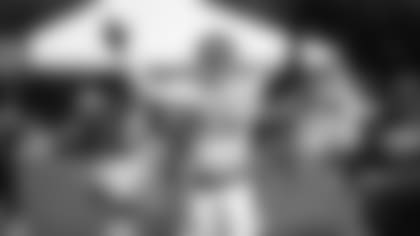 If Eligwe is able to keep making plays like he did on Monday, there's perhaps a chance he could continue to grab reps in an ultra-competitive inside linebackers room.
In any case, Eligwe seems to have understood from the moment he was drafted that he's in a good situation, whether it's working with Toub or with the veterans like Johnson in his linebackers' room.
"It's a blessing, honestly," Eligwe explained of joining the Chiefs when he was drafted. "Going into an organization with linebackers who have been in the league for countless years and who hold records and are of that status, all you can do is go in and be humble, learn from them, keep your mouth shut and ears open and write it all down.
"Right now, I have my notepad ready to receive any words [Johnson] is speaking, and learning how to get better each and every day."
All indications so far suggest those words weren't in vain.