They gathered by the hundreds on this warm August morning, adults and children alike.
An impromptu football game broke out on the pavement, others played Madden just inside the doors and the youngest among them darted for a newly-inflated bouncy house while the man in the middle of it all – an individual who knows more than any what it's like to ask for help – gave back to those in need of it.
This was just the second day in nearly two weeks that the Kansas City Chiefs weren't on the practice fields at training camp – and just a day removed from the three-toughest practices thus far - but for defensive end Frank Clark, this was where he wanted to be.
After all, it wasn't too long ago that Clark – one of the National Football League's most-tenacious pass-rushers – was one of these kids. He's talked openly about his childhood throughout his career – an upbringing that included spurts of homelessness while growing up in Los Angeles.
He understands what it's like to struggle, and with school starting soon across the Kansas City metro, this was his opportunity to make sure that those facing struggles of their own were well-prepared.
It was Clark's first-annual backpack drive at Arrowhead Stadium, and from VIP tours of the locker room to Clark's words of advice, it was an experience that nobody in attendance will soon forget.
"This is the start of something great," Clark said as kids filed down the line keen on grabbing a new backpack and a shirt. "It's great just to see the reaction from the kids. That's really the most humbling part – when you see kids and they show you how appreciative they are. It's just an honor to be here and to impact their lives."
Clark organized the drive with the help of the Community Services League – which supports those in need right here in Kansas City – and the Chiefs through an "Inspire Change" grant funded by The Hunt Family Foundation, all of which combined to deliver the backpacks and other items provided at the drive.
Chiefs Chairman & CEO Clark Hunt even joined the venture himself, choosing to stop by and distribute items to the kids alongside the veteran defensive end as both men sought to inspire excitement for the upcoming school year.
"What we're trying to do at the root of all this is to create an environment that is supportive of education," said Doug Cowan, President & CEO of the Community Services League. "We don't want to just hand out a backpack and tell them good luck, we're connecting kids with resources, we're building it around fun activities and re-emphasizing that school is critical, but also fun. The Chiefs and Frank are really helping us amplify that message."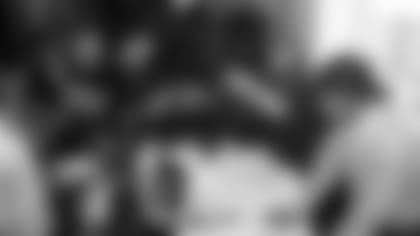 The drive certainly accomplished that, to say the least, but it was Clark's words that served as perhaps the morning's most valuable prize.
"I grew up in shelters with a single mom who raised me by herself," Clark explained in front of the crowd. "Some of the things that you've faced and have gone through, my mother and I went through those same things."
Clark didn't have to speak – the event itself was more than enough – but he chose to anyway. He stood in front of hundreds and detailed his past in the hopes of encouraging others, and as the expressions of those listening seemed to indicate, that message was heard.
"They see a man who has been resilient and who has overcome," Cowan said. "We talk about how kids need to have influencers and models in their life - kids have to see themselves in somebody else or they won't be engaged. If they're going through a struggle with their family and they can relate to somebody like Frank, he has now modeled the way for them."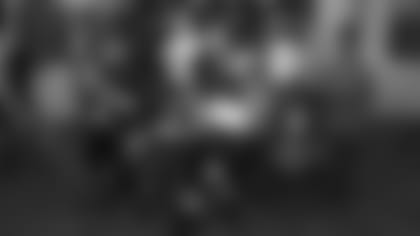 It's part of who Clark is – a man forged by struggle and the willingness to break free from it – and now with the platform of a lifetime, he's committed to helping others do the same.
"If you can take one thing from this, shoot high and never give up. Never settle. If you have a goal, do everything you can to reach it," Clark told the kids. "It's a long journey, but if you keep on chopping wood and you keep on grinding, one day you'll look up, and you'll be in a better place."
Kansas City Chiefs Linebacker Frank Clark spent time on Tuesday with local kids and families handing out school supplies, having lunch, and playing some games at Arrowhead Stadium.