The Kansas City Chiefs defense has received a lot of attention during the recent weeks of OTAs and with good reason. While the phrase, "It starts up front," usually refers to the offensive line, the same can be said for the Chiefs defensive line; a group that continues to please the team's defensive coordinator Bob Sutton.
"The entire d-line, the Powe/Poe brothers (Jerrell and Dontari), both of them, Powe and Poe, they've both done a good job," Sutton said. "(Chiefs DE) Mike DeVito has come in and done a good job; I think the entire group up there has really embraced it."
Coach Sutton spoke more about the "it" factor, after one of the Chiefs OTAs.
"One of the things that we've really tried to get everybody to understand is that we're trying to develop a culture here, not only how we do something but the way we do it," Sutton said.
"To me, that's just as critical as learning the X's and O's, the blitzes, the coverages, etc., because I think that's the one element that allows you to sustain through all parts of the season. We know every season in the NFL has its ups and downs. When you have this culture, which is just a learned behavioral pattern, I think it really helps you. That's one of the things that the guys have really tried to embrace, buy into. Anytime they start to reflect those same views out there, I think you're moving in the right direction."
The strong play of Chiefs DL Jerrell Powe and Chiefs NT Dontari Poe isn't solely being recognized by the team's coaches.
"The Powe/Poe brothers," Chiefs DT Daniel Muir said. "Both of them are extremely powerful; Dontari is a little bit quicker, but they'll both be great against the run. Great, great defensive tackles against the run."
Fellow Chiefs DL Marcus Dixon also spoke to what the Powe/Poe brothers bring to the defensive line.
"The Powe/Poe brothers mean a lot to this defense because they're both very big and athletic," Dixon said. "They're definitely going to stop the run and also get to the quarterback."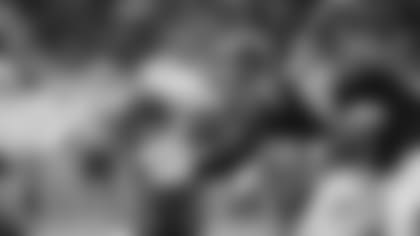 I told Dontari what coach Sutton said about the "Powe/Poe brothers", which immediately drew a smile from the team's top draft pick in 2012.
"It's good," Poe said. "We're both kind of young guys, but we both have a big part in the defense; so, we're both ready to step in and do what we have to do for this "D". I like it."
As for Jerrell Powe, he responded to coach Sutton's compliment much like Dontari did.
"It makes me feel good," Powe said. "Me and DP talked about it, kind of being similar as the Williams brothers, who played for the Minnesota Vikings; just trying to take on that role as being the dominant force up front, so, I think it's cool, coach called us brothers."
Powe also evaluated the defensive line's collective effort during the recent OTAs.
"I think it's going great," Powe said. "Guys are adjusting to the new system that they have us running. I think we're adjusting to it well."
Powe was asked to describe the Chiefs DL group as a whole; he needed just two words.
"Physical and dominant," Powe said. "We picked up a lot of pass-rush linemen; DL coach (Tommy) Brasher has emphasized more of a pass rush this year and I think we're definitely going to dominate up front."
New Chiefs DE Mike DeVito likes the depth of the defensive line and what it means for the team overall.
"We have so many different types of guys on this defensive line," DeVito said.
"We have pass rushers, we have run stoppers, so, with the types of guys that we have, Marcus (Dixon) and Dan (Muir), the Powe/Poe brothers, we can roll so many guys in and out and we can handle different situations and scenarios that the offense throws at us, because we're so dynamic up front."
Chiefs fans have yet another reason to be excited for the upcoming season; a stronger and deeper defensive line, which may lead to bigger and better things for the team's LBs and secondary players, hopefully in the fashion of more sacks, INTs and most importantly, wins.