The Kansas City Chiefs defense found another way to impress its fans on Sunday, again allowing its opposition no more than 17 points for the eighth-straight week in 2013.
The Chiefs have allowed only 98 points through the first eight games of the season (12.3 avg.), good enough for the fifth-lowest total in franchise history in a non-strike-affected season. The 98 points allowed are also the second-fewest points allowed in the first half of a non-strike affected season since the NFL moved to its 16-game schedule in 1978, trailing the Chiefs 1991 team that allowed 95 points.
But what was unique about the Week 8 defensive performance, catching the attention of Chiefs head coach Andy Reid, was the way the players impacted the game by executing crucial plays at pivotal times, with just one QB sack and after facing adversity.
"Well, we didn't have our defense on the field much that first half and they were able to get some points and that can be defeating, in some cases," coach Reid said. "Then, they came out and had the long drive on us at the beginning of the second half and that can be defeating to a lot of teams, but, these guys kind of rallied each other."
One of the many players rallying the defense on Sunday was Chiefs Pro Bowl S Eric Berry, who took the lead from his head coach, dating back to the offseason.
"We worked on it during camp and OTAs," Berry said. "Coach Reid brought it in; you just expect something good to happen. We have to find ways to win. It's not going to always be the same way. It's not always going to be pretty."
Coach Reid described Berry's leadership skills that have impacted not just the secondary, but the entire team.
"You're talking about one of the primary leaders on that defensive unit," coach Reid said of Berry. "He made sure everybody was involved and everything was going to be okay as long as we keep fighting. Everything's okay, let's just keep fighting. He was able to kind of rally that up and guys made plays in different areas. Whether it was a deflected ball or whether it was a big tackle, whatever it might be, tightening up the coverage a little bit, allowing pressure on the quarterback, even though we didn't get sacks, maybe Browns QB Jason Campbell was throwing off his back foot at times; he's a good quarterback, too. He's a veteran quarterback. But, just making him throw from different levels, those are the little things that might get overlooked."
Chiefs S Kendrick Lewis spoke more to the unshaken demeanor of the defense.
"We have confidence out there," Lewis said. "You have to play with confidence. That's one thing that our defense does; no matter what's pitched at us, we always feel like we'll withstand the blow and come out there and compete and take the next blow."
It's been said that nothing meaningful in one's life comes easy and the Chiefs have embraced that approach, according to Chiefs CB Brandon Flowers.
"Winning in the NFL is hard, period," Flowers said. "Everybody wants to be the team to knock us off. We're getting everybody's best shot, but just credit this coaching staff for getting us ready each week. Like we said, 'bend don't break.' This year, we feel like we have to take it by force; that's the mentality that was installed in training camp."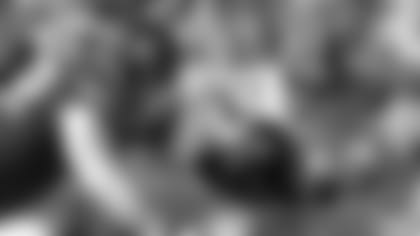 Helping to anchor the Chiefs defensive line is DT Dontari Poe, who fittingly summarized what he's learned about his team's defense in the first half of the year.
"We're just playing hard each and every day," Poe said. "We're trying to be where we want to be; we're trying to be one of the best teams in the NFL, kind of bend, but don't break. We're playing hard, playing as a team, playing together and people are making plays when they need to."
The Chiefs defense has made countless plays all season, helping lend to the team's unbeaten record. It is the very bend-but-don't-break attitude the Chiefs will continue to embrace, fueled with a confidence that started from the top.