Overcast skies and comfortable temps graced the practiced fields Tuesday morning for day five of Chiefs Training Camp.
The players yet again welcomed the cooler-than-normal temperatures in St. Joe, especially given the speed-of-light pace of practice, led by Chiefs head coach Andy Reid. Make no mistake about it, coach Reid is taking full advantage of every second of the practice time he's allowed by the league. The plays and reps the Chiefs are completing are almost astronomical, allowing for more details to be evaluated, corrected and improved.
Today's roughly two-and-a-half our practice, which kicked off in usual fashion with team warm-ups, position and individual work, before splitting off into other drills, also included work in the two-minute drill.
I headed to watch the DBs battle the WRs in 1-on-1s, early on in practice.
The first thing I noticed, which has been evident since day one, was the vital role Chiefs WRs coach David Culley has on his group. The passion and leadership he showcases is second to none. As he watched his guys compete against the DBs, it was constant evaluation and correction as needed and when appropriate, congratulations.
During the drill, Rico Richardson had one of the best catches of the day, matching Chiefs TE Travis Kelce's one-handed grab, later on in practice.
From 1:1s, it was time for 11-on-11, ones on offense vs twos on defense, which continued it's attack-style pressure, including Chiefs DB Tysyn Hartman, who had another great practice, as did Chiefs S Husain Abdullah, who forced a fumble Tuesday.
"I'm really just competing every day," Hartman said. "We have a lot of new guys in that are pushing me and I'm trying to do the same and push them; that's what happens when you get so many talented guys, all on the same team, all going for the same spots, we all rise up as a group."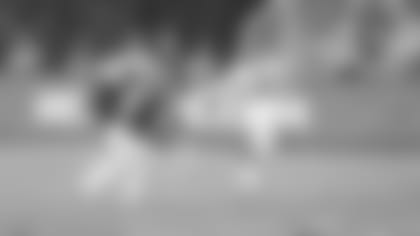 Hartman's fellow DB Jalil Brown made plays that are sure to please Chiefs defensive coordinator Bob Sutton, totaling one INT, as well as a few pass breakups (PBUs).
"I think it went pretty well," Brown said after Tuesday's practice. "I feel like the tempo was very up, both sides of the ball were getting after it. Offense was coming up, trying to make some plays and on defense, we're trying to stop them and fortunately for the defense, it look like we made a few big plays out there and it happened to work out pretty well for us."
Joining Jalil Brown in the INT department on Tuesday was Chiefs S Quintin Demps, who made a beautiful two-handed pick of Chiefs QB Chase Daniel's throw during 7-on-7.
"I was just doing my job," Demps said. "Playing my role and I happened to fall into a play. I've just been trying to do what I've been doing, concentrate, focus and get better at one thing every day (sounds like Chiefs GM John Dorsey, during his introductory press conference)."
During one-on-one work between the offensive and defensive linemen, one of the standouts was Chiefs DE Austen Lane, who also proved strong in 9-on-7 and 11-on-11 drills.
"I thought it went really well," Lane said. "I feel like I'm really starting to get the defense down, using my speed, my size and my quickness to my advantage. This defense, it lets you fly around and play. I think the best thing I like about it, if you stand out, they're going to find a place for you."
While the defense played well throughout most of practice, the offense wasn't as nearly as efficient as it'd prefer, despite some nice completions from Chiefs QB Alex Smith to  WRs Dexter McCluster, Dwayne Bowe and Jon Baldwin.
"I'm just working," Baldwin said. "Doing what the new things the coaches are asking me to do and trying to drill those different things in one-on-ones, seven-on-sevens and the team periods, to try to keep building and building and getting acclimated and accustomed to exactly what the coaching staff wants me to do."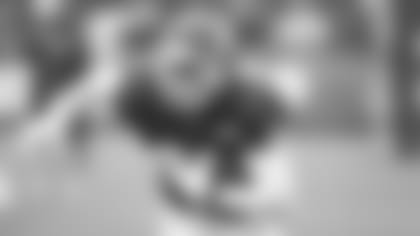 Baldwin spoke to the fast pace of coach Reid-led practices.
"That's a good thing," Baldwin said. "When you just keep running and running and running, we did a lot of things in the offseason to get us prepared for this training camp, because when we first started, it was unbelievable. It's a good thing to be able to have that type of pace because it puts defenses off-balance."
One of the best moves of the day was from Chiefs WR Josh Bellamy, who against two defenders, came down with the throw, reverse spun, avoiding both tacklers and went up the left sideline.
"It was just a natural reaction," Bellamy said. "I just did it. I didn't really even realize that I did it. I just saw him coming inside, so I spun back outside and tried to get back to the sideline."
Before heading back to the office, I saw Chiefs LB Frank Zombo and asked him about the one-one-battles against his former CMU teammate and current Chiefs T Eric Fisher. Zombo said the duo has had some "pretty-good battles" and ended by saying, "I'll have to take it out on him on Thursday."
I'll be sure to keep an eye on that match-up, as well as the rest of the team, when it practices again on Thursday at 8:15 AM CDT, following it's off day on Wednesday. As for coach Reid's expectations of his players during their day off, he advised the media after practice.
"Relax and keep the liquids in," coach Reid said. "Remind them of that, if you see them."