The Kansas City Chiefs celebrated Hispanic Heritage Month with an artistic flair on Tuesday, as defensive linemen Chris Jones and Rakeem Nunez-Roches joined students from Alta Vista High School for an Arrowhead Art Collection workshop.
The event invited the students to creatively interpret a drawing of the iconic "65 Toss Power Trap," the play that helped Kansas City win Super Bowl IV.
"We took a play from the Super Bowl, the 65 Toss Power Trap, and turned it into abstract art," Nunez-Roches said. "We took the art and traced it across multiple pieces, and then moved them around and saw what we had from that. The kids love it, so I enjoy it."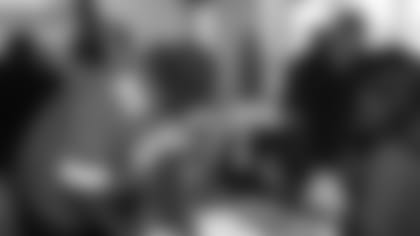 The workshop was led by local artist Jose Faus, a native of Colombia who has made Kansas City his home.
"We just did a little drawing exercise," Faus said. "I drew a template of the 65 Toss Power Trap, and we used that template for a free drawing exercise. Then the players came in and just brought this incredible joy to the whole thing. It was a very fun experience."
The Chiefs made a commitment to featuring local art throughout Arrowhead Stadium with the "Arrowhead Art Collection" in 2012. The workshop served as a chance to inspire a love for art in the students while also giving them an opportunity to spend the afternoon with two of the Chiefs' most enthusiastic players.
"You don't know where these young kids are coming from, and just one interaction with us could change everything," Nunez-Roches said. "Maybe one day they'll want to give back or they'll want to play ball, so anytime you're able to give back and interact with the kids – to give them that hope, that dream and that will - that's why it's so big and so helpful."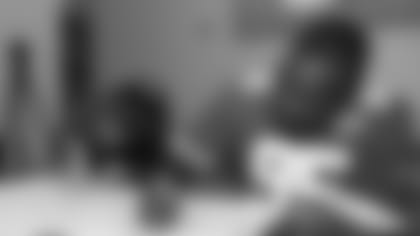 The event was also a celebration of culture, as Hispanic Heritage Month began on Sept. 15. Many of the students from Alta Vista come from a Hispanic background.
"You can learn a lot from these guys," Jones said. "It's a different heritage, so you can learn a lot from just who they are."
A native of the Central American nation of Belize, Nunez-Roches shares a connection with the Hispanic community.
"There are a lot of things that are similar and that are different," Nunez-Roches said. "I speak Garifuna and Creole, and they speak Spanish, but there are things that tie us together such as food and our culture. I understand where they're coming from and their background. I feel them."
It was a fun afternoon for the players, exemplified by a friendly banter between the two about who was the better artist, as the duo created a lasting memory for the students in attendance.
"This is why I play the game," Jones said. "To influence the next generation."
In honor of Hispanic Heritage month, Chris Jones and Rakeem Nunez-Roches help to host a workshop with local art students and featured artist Jose Faus