It had been in the playbook for over a year, and finally on Sunday, Kansas City Chiefs defensive lineman Dontari Poe got to live out his dream.
Poe had 4 total snaps on offense last year in this "Poe-heavy" formation, in which he'd line up as a fullback. He was never was given the football, although that play was in there and was even practiced.
On the previous four occasions, he was just there to block.
He knew his big moment would come at some point. He just had to be patient.
Over the past year, every time the Chiefs would get into a short-yardage situation, Poe would make sure Chiefs coach Andy Reid knew he was ready to go.
"I do it every time," Poe explained of getting in line of sight with Reid on the sideline. "I try to make sure that coach Reid sees me standing over there."
On Sunday, Poe's name was called for this personnel group for the fifth time in two years, although this time would be different.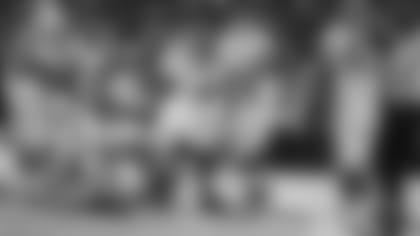 It was his big opportunity.
On fourth-and-goal from the 1-yard line late in the first quarter in a scoreless game, the Chiefs went with their 346-pound Pro Bowl nose tackle lining up in a three-point stance behind Alex Smith.
"We keep putting him in as a blocker," Reid said. "I told him I'd give him the ball, but I didn't know he was going to jump over.
"I didn't know that was going to happen."
Poe took the handoff from Smith and with the help of a great initial block from rookie center Mitch Morse, who pushed his assignment backwards right off the snap, Poe was given a clear path to the end zone—although it meant leaving his feet and leaping into the end zone.
Poe said after the game that he wasn't predetermined to jump like that—it just happened.
"I didn't know," he said. "I just struck it, man, and once you get that close, you have to get in. There's no turning away."
At 346 pounds, Poe became the heaviest man in NFL history to ever score a touchdown, edging out former Chicago Bears star William "Refrigerator" Perry, who was 335 pounds when he last found the end zone.
After the game, Reid confirmed that he knew about the record, although he laughingly said they needed to make sure it was legit.
"I think it was an NFL record," Reid noted, "but we'll have to go weigh him, here."
Poe said it was his first touchdown since high school, but he hadn't forgotten how to properly spread the love.
"I have to give credit to the OL like a true running back would, so the OL did a great job," Poe said.
Photos from the Chiefs Week 11 matchup against the Chargers