People love comparisons, and most of the time they're made by people on the outside looking in, not necessarily from the people who have been around each of the players in question.
But that's not the case with Kansas City Chiefs veteran defensive lineman Mike DeVito, who made the comparison of rookie cornerback Marcus Peters, the Pro Bowler in his first season who recently added a NFL Defensive Rookie of the Month award to his résumé, and Darrelle Revis, the standout cornerback widely known for being one of the best in the game over the past decade.
Back in 2007, Revis was the New York Jets first-round pick out of Pittsburgh, and that same year, the Jets signed an undrafted defensive lineman out of Maine, Mike DeVito.
DeVito and Revis would spend six years together with the Jets playing under defensive coordinator Bob Sutton, and DeVito said he sees some of the same things in Peters now that he saw back then in Revis.
"The biggest comparison I can see with [Peters] and [Revis] is their confidence," DeVito noted. "Darrelle came in with the same thing, and so you've got the making of a Hall of Fame player right there."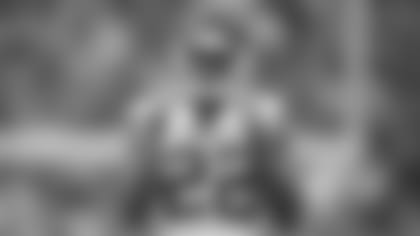 Peters broke the franchise record for passes defensed in a season with 26, which also tied him for the NFL lead, and the 280 return yards on his 8 interceptions leads the NFL outright.
"You can't even tell that he's a rookie," DeVito said. "I mean, just the swagger, the confidence he has—his knowledge of the playbook. It's so early.
"On the first pass in training camp, he intercepted it. The first pass in his first game, he intercepted it. It's just like this kid has been doing it for years."
DeVito followed Sutton from New York to Kansas City back in 2013 because of his belief in what Sutton can do as his defensive coordinator.
"I've never seen somebody be able to break down an offense and build a game plan the way [Sutton] can," DeVito explained. "And I remember in New York, he'd do a run game meeting on Wednesday mornings, and it was a short 20-minute meeting, but by the end of that meeting, you knew what that team was going to do as far as running the ball.
"He's incredibly smart and it's easy to buy into what he says because here's a guy who knows the game, and knows what he's talking about. So it's easy to follow somebody like that. He brings in a culture of this tenacity; this dog in us, that we're going to be this nasty defense, and guys buy in to that."
Sutton, DeVito, Peters and company take that dog in them to NRG Stadium in Houston on Saturday in the first game of the NFL playoffs against the Houston Texans, whom they beat back in Week 1. "This is my fourth time in the playoffs, and I've never been more excited to get in there," DeVito said. "And you're always excited about it, but this team we have, I've never been more confident with a group going in to the playoffs.