On home Sundays in the fall, time and time again, Kansas City Chiefs fans have proved that all you need is a grill and great company. It's a tradition that spans since before the mid-1800s. 
Some may call it a pastime, but to many in the Kingdom, it's like a religion.
Tailgating is part of the culture for those who fill the seats of Arrowhead Stadium, and each week, the Kansas City Chiefs will highlight an upcoming matchup-themed recipe. So whether you're filling the lots at Arrowhead or catching your Chiefs from the comforts of your own home, you'll have a suggestion to make your Sunday's a little bit better.
If you missed our Week 11 tailgate item, you can find it here!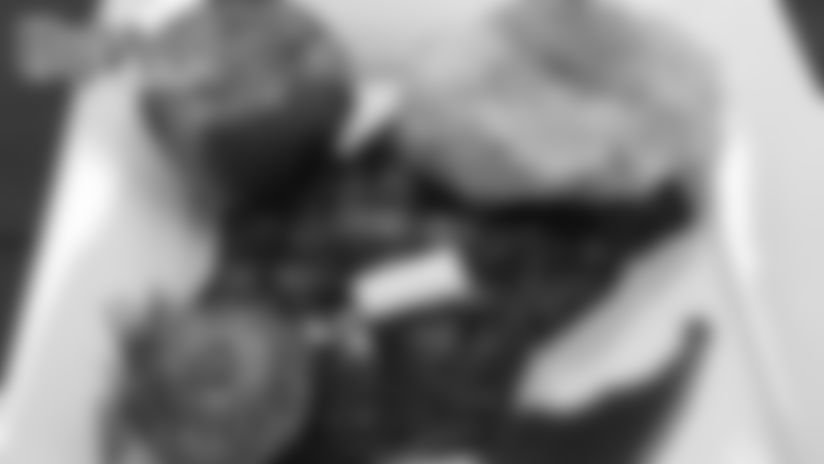 Pregame tailgating is a long-standing tradition for the Broncos fans at Sports Authority Field in the Mile High City.
Many of the tailgate gurus at Sports Authority Field at Mile High may focus on their beers with the Coors Brewery just down the road in Golden, Colo., and the amount of local microbreweries in the area. But steak can be considered at the top of the list when it comes to the tailgater's menu in Denver. The Buckhorn Exchange restaurant in Denver, for example, served up their first steak in 1893 and continues today.
This week's Chiefs eats features "Grilled Ribeye Steak with Cheddar and Roasted Garlic Mashed Potatoes, with a Parmesan, Gouda and Italian Bread Crumb stuffed Roasted Tomato," presented by Hy-Vee.
3 TB Sauvignon Blanc Wine
2 TB unsalted butter (for topping steaks right off the grill)
1 QT heavy cream (add the cream according to how thick you like your
5 cloves, roasted garlic, cooked until well done and smashed into
6 oz. cheddar cheese, shredded
2 cups Hy-Vee brand Italian seasoned panko bread crumbs
4 oz. gouda cheese, cut into small chunks
2 TB Italian flat leaf parsley minced to garnish the tops
Take the olive oil and whisk together in a slow steady stream into the Sauvignon Blanc Wine. This emulsion will combine the two together for you to marinade the steaks in. Allow them to sit in this marinade for up to an hour. Before grilling, dust each side with the Montreal Steak seasoning.
The grill should be at a medium-high temperature and should take approximately eight minutes for each side of the steak to get to a medium-rare state. If you are looking for a more well done steak, just increase the time per side.
The butter in the recipe should be applied to the top of the steak just prior to serving.
(You can make a flavored butter, but for this tailgate recipe regular unsalted butter works great).
For the cheddar cheese and roasted garlic mashed potatoes, you first need to roast the garlic in the oven. Pre-heat your oven to 400 degrees. You can also use a toaster oven for this. Toss your peeled garlic cloves in a small amount of olive oil, place on a pan and cook in the oven for approximately 30 minutes. You want the garlic to have a dark brown color (not burnt), and they should be very soft and smash easily with the side of a knife blade. You want to make it into a paste.
Peel the potatoes and cook in a saucepan in salted water over high heat for about 10 minutes or until the potatoes are fork tender. Drain the potatoes and use a potato masher or mixer to whip the potatoes together. Add the butter first to the hot potatoes, and then the cream and smashed roasted garlic. Add the cheddar cheese, saving just a little to top the potatoes later. Taste for seasoning adjustments.
The tomato is a fun and different dish that goes very well with steak. Lightly cut the very bottom of the tomato off, so it has a flat surface.
Remove some of the meat of the tomato forming a cup. Spoon together a blend of the bread crumbs, Parmesan and gouda cheese. Fill the tomatoes to the top with this blend. Lightly drizzle with olive oil.
Place in oven at 350 degrees for 30 minutes, or can be grilled. Garnish before serving with minced Italian flat leaf parsley.
This is definitely a steak and potato meal that everyone will love. Simple to prepare and they are flavors we all love. It may seem like a lot of potatoes, but believe me, with this meal they will eat everything and will make your cleanup a snap.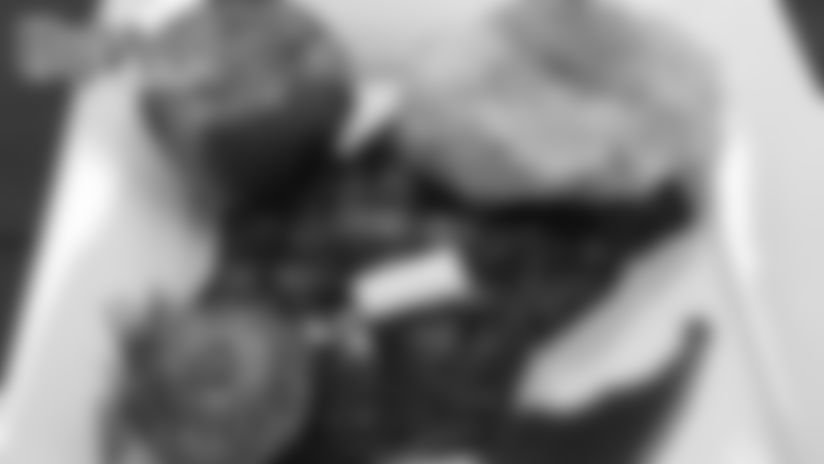 Tweet us a photo of your tailgate@Chiefsand your Chiefs Eats dish could be featured onChiefs.com!*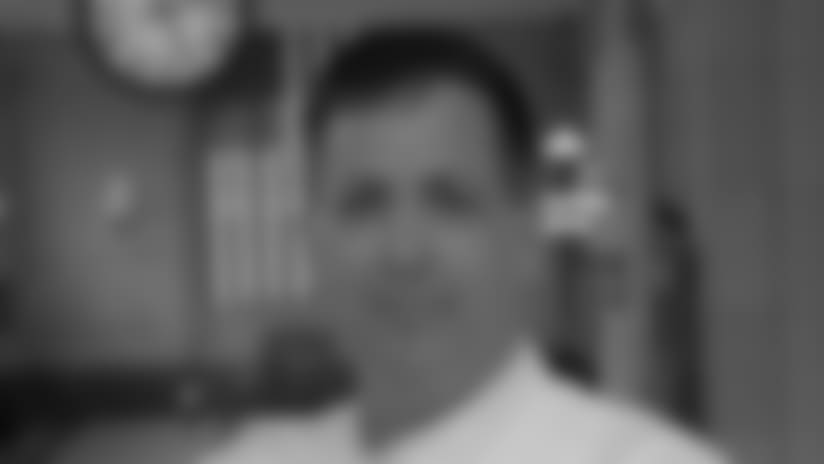 Recipe by Chef Mark Webster CEC,CCE,AAC,HGT - Retail Chef at Hy-Vee Lee's Summit West