Sunday is fan appreciation day at Arrowhead Stadium. This fan base is unmatched; the camaraderie is strong and the Chiefs organization would like to thank the fans for their continued support. Throughout the game on Sunday, the Chiefs will honor and recognize some lucky fans and give away tons of prizes.
Chiefs fans' faithfulness, dedication and loyalty is unparalleled to any other fan base. Their passion for the team and the stadium is strong and evident.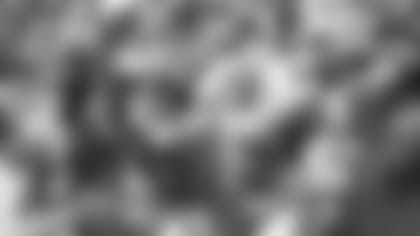 Recently, the NFL held the Together We Make Football campaign, calling all fans to tell their stories of how they became fans of football and why they are so passionate about this sport.
Among the number of applications submitted, there were a few Chiefs stories that stood out, one of which was about a young Chiefs fan, Tyler.
Although one of the smaller players on the team, Tyler is quarterback on his 8th grade team. He has severe hearing loss and cannot wear his hearing aids with his helmet. Instead, he is forced to read lips in the huddle, across the field and throughout the game.
As you can imagine, playing football without hearing the calls or communicating with your teammates or coach is a difficult task. However, Tyler has faced the challenge head on and as Carol describes it "he disguises these challenges with his determination, toughness and heart."
Another submission came from Buck Turnidge who nominated his mother, Debbie. He recounted the trials and tribulations of his mother's past, such as growing up in an abusive home, losing her husband and later battling heart issues.
Buck said that through it all she remained "one of the most selfless people I have ever known and worries more about others than herself at all times."
"Throughout my life there has only been one constant," Buck noted. "That is the game of football. Whether it was playing or watching she was always there."
The game of football brought them closer and distracted them from the difficult times that life brought. This game, this team, helped them overcome strife and created memories they were able to share together.
We were astounded by the incredible stories we have heard from so many Chiefs fans about their love for football and this team. Thank you Chiefs Kingdom for your loyalty, passion and enthusiasm We thank you for your unwavering support and devotion to the Kansas City Chiefs.