On S Steve Gregory:** "We got a veteran player, an experienced guy that has been in a lot of different systems, most recently New England. So, his biggest transition will be terminology. What he might have been used to calling apples, we call oranges. So, that's going to be his first transition. He's played in varied systems. Like I said, he's familiar probably with everything that we've done, and it's just terminology [and] getting his feet back underneath him. He's got to get back into pads and understand all that stuff, which we're going to give him the time to do that. But I think we got us a good football player, a guy that can take command back there—he's done that in the past in his career. He's played some different positions. He was a good football player at Syracuse and we're excited to have him."
On S Malcolm Bronson: "I think Malcolm has had a really good camp. He's showing the ability to take command back there. He has a pretty good handle on what we're doing. He's a young guy. Like I said, he red shirted last year. He didn't play at all, so this is really his rookie year and so he's learning a lot. And I think if you think of him as a true rookie right now and think where he's at, he's done really a nice job."
On the competition at the cornerback position: "The whole back end is going to be really competitive, which I think is a positive thing. We're fortunate we got several positions like that where not only with a couple that are undecided, but even ones that aren't undecided, we got some competition going on in that room and that's a positive for us. That's going to make every player a better player, and it's going to eventually make us a better defense and better team."
On his philosophy during positional competition: "What it comes down to in the end is who's the most consistent player. That's how you end up choosing the starting player I think is 'OK, whatever his limitations are, whatever his plusses are, we know we're going to get this kind of performance this percentage of the time.'"
On the NFL testing out extra points from 20-yard line:"I think it's good. I think it actually puts more emphasis on the kicker. I think it's going to make their job more important. It's not a gimmie, that's for sure. And I think they're going to test them for two weeks, see what the percentages are and if they're anywhere around 80, I think it's going to be something to look at going forward."
On how he will feel going with rookie K Cairo Santos: "If he wins the job, we feel good. That's what this is about. That's what training camp is about and the preseason games, we're going to find out who the best guy is and go with it."
On what characteristics a special teams player needs to be successful:"He needs to have great football instincts, he needs to play with great effort, great speed, strength, toughness—all those attributes are important."
On if there are any guys in particular he is eager to get a look at in a game: "Yeah, a lot of the young guys. I want to see Dee Ford. Dee Ford, I know is going to be a pass rusher for us, but he's going to play some special teams for us. I'm excited about seeing him. A lot of the young players. Albert Wilson, I want to see him in some coverage. We know he can be a returner. We believe he can. We want to see him cover some kicks."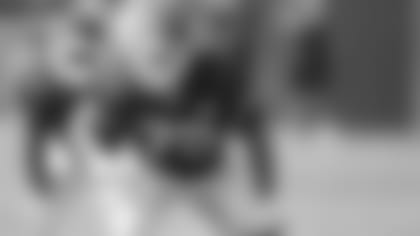 On being back with the team: "I'm feeling real good. Glad to be back out here with the guys. [I'm] working hard. Unfortunately, I wasn't able to participate in OTAs, but once I got up here, I got up here a couple days early to get back in the swing of things and [I'm] making the transition back to left (tackle). And everything feels real good."
On playing in the first preseason game: "As of now, I'm ready to go. Like I said, I'm going to do what I'm told, but, yeah. I think I'm ready to go."
On where he was two days ago: "Two days ago I was in Syracuse, New York hanging out with my newborn baby and enjoying some family time."
On getting the call from the Chiefs: "I've been trying to stay in shape all summer just waiting for my number to be called. I was happy that the Chiefs did call me. I'm really excited to be here [and] be part of this organization. They have a lot of great things going on here and I'm just really pumped to be here."
On meeting the team: "I'm still getting to know the guys. They seem like a smart group of guys, guys that really take pride in what they're doing. I've only been here a day but it's a good atmosphere. The coaching staff has been great. The whole organization has approached me really with open arms and welcoming. So it's exciting to be here."
On learning new terminology: "I think that's the biggest challenge. You might understand the concept of a defense but you got to get used to saying the words that they say. That's what I'm in the process of doing right now—understanding the terminology, transferring words that I correlate with something to the way that they correlate it here."
On his impressions of the Chiefs from afar: "Just a great organization. I spent six years in San Diego so I've had a lot of games against the Chiefs. [I've] always respected them. I've always enjoyed coming here to Arrowhead. It's a great atmosphere, great place to play. Love the city. It's a great city to live in. So I've just always had a lot of respect for the organization and I'm looking forward to being a part of it."