Chiefs general manager John Dorsey stopped by many suites in order to meet fans, joke with them and talk about the upcoming 2015 season.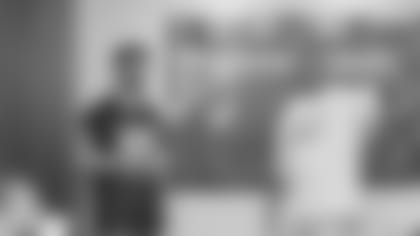 "This event kind of kicks off football season," Dorsey said. "It gets everybody in the mood. As you walk from suite to suite and see these people, they're excited for football to start. And what better way to get the fans engaged, because in Kansas City, football is pretty fun. People appreciate it, they love it, and the community, you couldn't ask for any more support. We're kicking off football with fantasy football leagues from around the area, and how much fun is that?"
Karth Path, who works for the Imaginative Consulting Group in Kansas City, hosted his league, called the "Dirty Dozen," at Arrowhead Stadium for the third season in a row.
"We've been playing fantasy football since 1990," he explained. "We've been in different leagues, and Arrowhead opened up to have a draft here. We've been doing it from the first year onward three years ago. It's exciting; it's fun to be drafting right in front of the stadium. It's a great experience and we love it."
The Chiefs general manager stopped by the "Dirty Dozen" suite to present the league trophy to the 2014 winner.
"He's so down to earth," Karth explained of Dorsey. "He comes in, he jokes around, he asks us why we didn't draft Chiefs players, but he just feels like the right GM for the team. As you can see, the team has improved and everybody wants to be there. He cares about the fans."
Dorsey, who is regarded as one of the sharpest NFL executives in the league, surprisingly admitted he doesn't have much to offer when it comes to fantasy advice.
"I think they're completely two different roles because I know zero about fantasy football," he said, "but what I try to do is see how they've got all the Chiefs players positioned, and I will say that I've walked in various leagues throughout the whole stadium here, and the one person that is consistently the number one pick is Jamaal Charles. That's pretty cool. I'm glad he's on my team."
In addition to meeting with Dorsey, fans were also treated to visits from former Chiefs Danan Hughes and Keith Cash, along with picture opportunities with K.C. Wolf and Chiefs cheerleaders.
The 2015 Fantasy Draft held at Arrowhead Stadium