The first question from Cris Carter, filling in for Mike Golic Friday morning, brought up the infamous no wide receiver touchdown stat from last season.
"Yeah, see, that's a moldy cheeseburger, brother," Reid said to Carter. "That's a bad deal, but the good part was we had a lot of other guys score touchdowns."
One of those "other guys" was tight end Travis Kelce (he had five), who Reid complimented for both his smarts and his desire to play the game at a high level.
He also mentioned the benefit of having a quarterback like Alex Smith, who threw just six interceptions last season.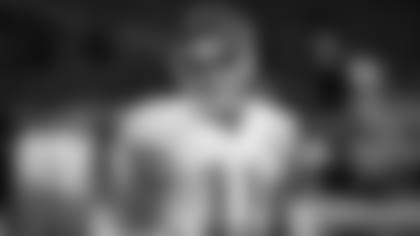 "I will tell you some of the pluses about the offense is that we don't turn the football over," he said. "That's a huge stat in the National Football League, so Alex Smith is phenomenal with that."
Later on in the interview, Carter and Mike Greenberg questioned Reid about safety Eric Berry, and the Chiefs head coach opened up about his struggle to come back from Hodgkin's lymphoma.
On Saturday, the Chiefs will cut down their roster to the 53-man maximum, and Reid explained to the listeners that the process never gets any easier, even after his 16 years as a head coach.
"It's a brutal day in that way," Reid said. The only positive that you can pull out of this thing is that John Dorsey has done a great job of bringing a lot of good players in here. So if they're not hooking on with us, they have a chance to go on with somebody else. The primary thing you want for these guys is that it's their profession. You want them to make as much money as they possibly can to be able to support their family, and then their grandkids and so on—build this thing so they can have a great life. I think a lot of the guys that we release [Friday] or [Saturday], whenever this thing takes place, will be someone who can hook on with other clubs."
Listen to the full Mike & Mike interview with Reid here.
---
The Chiefs will finalize their 2015 53-man roster by Saturday at 3 p.m. CT. Follow***Chiefs.com**** for the very latest updates and the official waiver release.*