As you sing the national anthem at Arrowhead Stadium, while the American flag is stretching the field, the players and coaches hold their hands over their hearts. The fireworks explode into the air and loudly boom as you sing, "…and the rockets' red glare, the bombs bursting in air."
 It's a moment that is sure to give you chills.
As the song comes to an end, you hear "home of the…Chiefs" and witness an extraordinary military aircraft flying over the stadium, it is a moment you will remember for a lifetime. It gives you a sense of pride and joy for your team and your country.
"If you're not ready to play a game when you see those jets, those bombers come in, it does something to you," Chiefs Hall of Fame fullback Christian Okoye noted. "If you're not ready to play, after that you'll be ready."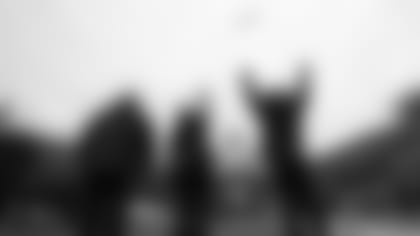 The most recent flyover at Arrowhead Stadium was performed by an incredible group of local airmen, the 442nd Fighter Wing.
The 442nd Fighter Wing is a unit of civilian airmen entrusted to protect America's troops in combat. The wing is responsible for the operation, maintenance and support of a squadron of A-10 Thunderbolt II aircraft, more commonly known as the "Warthog," or simply as "The Hawg."
"Being a former infantryman, the A-10s are my favorite plane," Jake Atkins, Chiefs Army Liason, noted. "They are the primary aerial platform that performs close air support to soldiers in contact with the enemy. This particular group just got back from a seven-month deployment to Afghanistan and we were honored to host them at Arrowhead Stadium."
The group's objective is to protect the U.S. Army and allied ground forces using the Air Force's only aircraft ever designed for close-air support, the A-10.
"This is what it's all about. This is why I joined. I didn't join to go to school. I joined to go to Afghanistan. I joined for my family and friends," Senior Airman Shawn Waters, 442nd Aircraft Maint. Squadron, said. "I want to know that some guy is probably going back home to his wife and kids and mom and dad because that A-10 came out of nowhere, swooped down and saved him."
These brave airmen and women are tasked with protecting the troops on the ground and are proud to do so.
"That is the big thing that we do," Master Sergeant Duston Ross, 442nd Aircraft Maint. Squadron, explained. "We bring guys home that are on the ground. We protect them and that is our job."
The unit is also well known for being made up of avid Chiefs fans, even proudly sporting their own version of the Chiefs logo on their planes. The logo was created when the unit was relocated to Missouri to be stationed at Whiteman Air Force Base.
"When we moved over to Whiteman Air Force Base, we were also going into a base that was the home of the B-2, an incredible weapon system," Major General Michael K. Lynch, (Ret.) Assistant to the Commander, explained. "We wanted to maintain a bit of our own identity. Each of the B-2's were named after one of the states so they had the 'Spirit of Missouri,' the 'Spirit of Texas,' the 'Spirit of Washington' and so we were looking for some way to keep our craft identified with the Midwest, with the Kansas City area."
Master Sergeant Ross created an image to help identify the unit and hold true to their Midwestern ties.
"In '95, I developed the emblem that we have, took it to Colonel Lynch, asked his permission if we could get this authorized to put on our A-10," Ross explained. "I asked him, 'Are you a Chiefs fan?' He looked at me, turned around and said 'What do you think?' with his flight helmet painted just like a Kansas City Chiefs helmet and said, 'We're going to do it.'"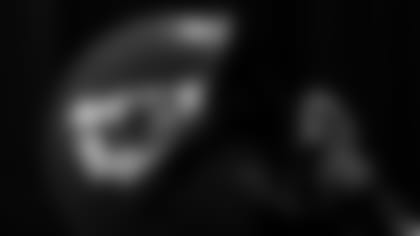 The emblem is more than just a sticker or a design on their planes; It's a sense of pride and a feeling of home.
"It's a symbol of Kansas City and what we're doing over there," Major Sergeant Michael Stephens, 442nd Aircraft Maint. Squadron, said. "It's pretty awesome. You see the Arrowhead on ours; you know that's a good A-10. That's the A-10 that's doing work."
The majority of the unit are Chiefs fans and remember growing up going to games at Arrowhead Stadium.
"We definitely identify quite a bit with the Chiefs," Major Lee Saugstad, 303rd Fighter Squadron, A-10 Pilot, noted. "All the pilots now even carry around an arrowhead-shaped coin that we have to have on us."
Recently, the Chiefs Community Caring Team visited the airmen and women at Whiteman Air Force Base, toured the facility and got a closer look at the planes that flew over Arrowhead Stadium during the Chiefs vs. Seahawks game in mid-November.
"Visiting the base was all about thanking these men and women and thanking them for allowing us our freedoms," Chiefs general manager John Dorsey said. "We wouldn't be able to play the great game of football if it weren't for these guys. We wanted to pay respect to these airmen and women who make this country so great."
From all of us at the Chiefs, we thank each of you at the 442nd Fighter Wing for your dedication, bravery and service to this country. We are proud of your service and are honored you choose to represent the Chiefs on one of the most respected aircrafts in the world.