There were one-handed catches, spin moves and plenty of celebrations at Arrowhead Stadium on Tuesday night as the Kansas City Chiefs hosted a Fantasy Camp for dozens of individuals with special needs.
"The energy has been amazing," said linebacker Dorian O'Daniel. "Seeing these kids' faces and knowing that we can impact them off the field is definitely a good feeling."
That energy was present on both sides, as the players did their part to provide a memorable experience for each of the athletes in attendance.
"It's amazing to come out here and to have the players not just going through the motions, but having a good time with it," said Adam Wright, Development Manager at Special Olympics Missouri. "It just means a lot, and you can see the smiles on all of our athletes' faces."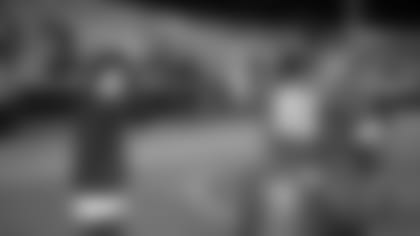 Of course, any night spent on the Arrowhead grass begins in the locker room, where each of the athletes found a personalized Chiefs' jersey hanging in their very own locker.
"They lit up the room. They couldn't believe that they actually had their names on the lockers and the jerseys," said Raegan Shurr, Senior Director of Adaptive Programs at the YMCA of Greater Kansas City. "That authenticity of being welcomed into a place and having something in that locker room that was their own was so special."
"It makes me tear up a little bit just thinking about it," added John Lair, President and CEO of Special Olympics Kansas. "Our athletes are often in disbelief that they can take the jersey home, and most of them will probably wear it to bed tonight. They're just so excited."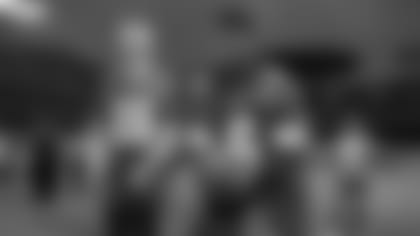 It was a certain enthusiasm that carried over to the drills themselves, and particularly the touchdown celebrations that often followed.
"I saw some good spikes, some Fortnite celebrations and a couple dabs, but my favorite would have to be when one of the kids did a 'Booker T Spinaroonie,'" O'Daniel said. "He threw it back with that one and I was impressed."
"There were so many good ones, but I had one kid do the macarena that I liked a lot," added fellow linebacker Ben Niemann.
And while the athletes were showing off their best moves, the Chiefs' rookies were often right there dancing with them.
"I don't know who had more fun tonight, our athletes or the Chiefs' players," Lair said. "Everybody just came together, and it was all about having a great time."
It was simply a special night, and one that left an impression on each of the evening's participants - from the athletes to the rookies - that won't fade anytime soon.
"It's much bigger than football anytime we can come out and do stuff like this," O'Daniel said. "You never know the impact that you can have on someone, and if I can put a smile on someone's face, then I'm all for it."
Athletes from Special Olympics KS, Special Olympics MO and YMCA Challenger received a customized locker room name plate and Chiefs jersey. Athletes then participated in a Football Fantasy Camp with Chiefs Rookies.