After finishing just 1 sack shy of breaking the NFL's all-time record for sacks in a single season set by Michael Strahan (22.5) back in 2001, Kansas City Chiefs fifth-year outside linebacker Justin Houston (22) doesn't think much about the record he did break – Derrick Thomas' franchise record of 20 set back in 1990. 
It was one of the most revered records in Chiefs history, but Houston is too busy looking forward to reminisce about something from the past, even if it was just last season.
"I haven't," he said with a bit of a laugh on whether he thinks about his name atop the record books in that particular category. "I dream big, I dream beyond the stars. I haven't looked back on what I did, I'm still trying to look forward to break more records if I can."
Even his teammates even try to get him to acknowledge what he did.
"Tamba [Hali] almost every day tells me, 'You don't know what you did last year. You just don't understand what you did.'
"But I feel like I can do that every year and I think everybody should feel that way. You should always feel like you can get better."
Houston is an artist and his masterpiece isn't done. That's what this really boils down to.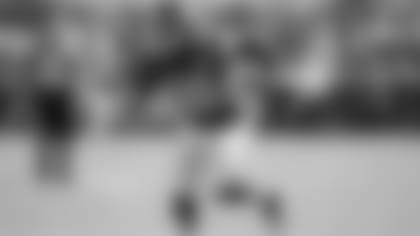 According to the people over at Pro Football Focus, Houston is still the best 3-4 outside linebacker in the NFL.
But now in his fifth season, Houston understands the process it took for him to develop as a player—something that was helped by Hali, his veteran teammate who had already established himself as one of the best pass rushers in franchise history when he arrived as a third-round pick back in 2011.
It's not the physical side of the game that Houston said has been the biggest difference for him in developing as a player. It's the mental side.
"Knowing what the opponent is doing," he explained. "When I first came in, I didn't have a clue. I was just lining up playing ball, doing my assignment.
"But now I can pretty much, before the ball is snapped, read their formation and guess what they're about to do."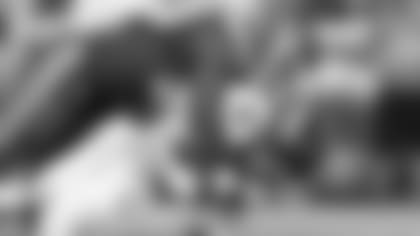 After the ball is snapped, Houston explained the art of a sack—something he knows pretty well considering over the past five years he's had more sacks than all but one player.
"You get off and you can't hesitate," he explained. "When the ball moves, you have to move. Have a move in your head before the ball is snapped. That comes from preparation, knowing your opponent, how is he set, what moves you'd like to do and how he likes to shoot his hands—knowing what he's about to do, have a move in mind and your first step is the key."
All that preparation goes into such a celebrated defensive play but one that statistically is very rare.
Last season, Houston finished just 1 sack shy of breaking Strahan's record of 22.5 sacks, but in order to get those 22 sacks, Houston had to play more than 1,000 snaps.
While they aren't all passing downs, the percentage of plays that ultimately result in a sack, or even a half-sack, is so small that there's one trait Houston said young pass rushers must have if they're dreaming of one day playing at this level.  
"You have to have will," he explained. "You've got to want to and you have to do it every snap. You're going to have games when you're not going to get there, but you can't let that break you.
"Mentally, you have to tune in every snap and every game because you never know when you'll have your opportunity to get back there."
While Houston and the Chiefs are currently on their bye week, there's no denying that everyone in the locker room knows of the opportunity that's just around the corner for them—a rematch with the Denver Broncos, who walked out of Arrowhead Stadium with a victory in Week 2 that many believe the Chiefs handed over more than the Broncos took on that particular Thursday night.
"I think a lot of guys want to redeem themselves from that game," he said. "We didn't play well as a group, so we just want the opportunity to redeem ourselves. There aren't too many chances in life where you get an opportunity to redeem yourself.
"This is one chance where we can, so that's exactly what we want to do."
Justin Houston during the 2014 season.